Susan Veale, BSc (Waterloo)
When it comes to your Wedding, it's all about the two of you! I have dedicated my career of 38 years helping people. Living life well is my credo . My husband and I call Calabogie home sharing our lives with our children and grandchildren. When I am not in my garden tending herbs and flowers, my summer hobbies include golf and tennis. Winter months are spent snowshoeing with our Alaskan Malamute. I've done some fun events including being a key-note speaker at wellness conferences and I've even been a guest on the "A" channel morning talk show with Angie. I'm mindful, sincere and have a sense of humour, and I would be delighted to make your wedding ceremony very special.
Request Susan Veale
Areas Served
Calabogie, Renfrew, Arnprior, Eganville, Perth, Lanark, Dacre, Griffith
Reviews
Lloyd & Juanita
Susan Veale was amazing despite us running a little late! Great ceremony customized to our style! October 2022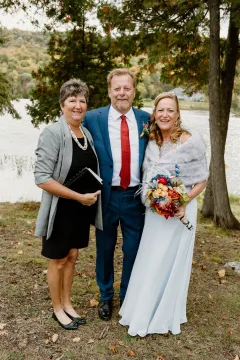 Joanne & Calvin
We were so happy to have Susan Veale marry us. She was so very very helpful. Oct 2022
Ryan & Chelsea
Susan Veale was absolutely amazing! The ceremony she put together was so perfectly us. We really appreciated her time and her attention to detail! We had the perfect day, thank you Susan! September 2022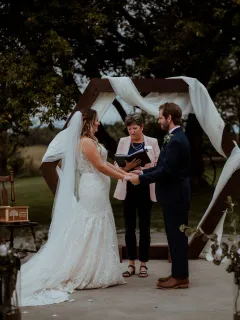 Dave & Jasmin
It was a pleasure to work with Susan Veale and have her officiate our ceremony. She is very knowledgeable and well spoken. She was easy to communicate with and get a hold of and helped us through the whole ceremony planning process. She crafted a heartfelt ceremony and was open to including certain prayers and scripture readings to make the ceremony truly ours. Our ceremony start time got delayed, but Susan was very calm, adaptive and professional through it all! She even took care of mailing off the paperwork afterwards which was very helpful! Again, thank you Susan for officiating a ceremony that was meaningful and heartfelt. It will be treasured in our hearts. ~ Sept. 2022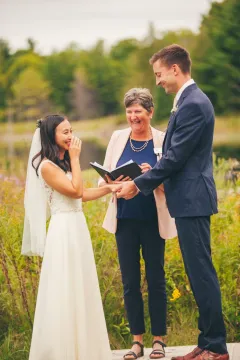 Caitlyn & Brandon
Susan truly played such a big part in making my day stress free, which is exactly what it was. She was so professional throughout the whole process. She kept in touch and was always available to answer any questions I had. She was so kind to my all family and friends involved in the wedding day. We were truly so proud and lucky to have such an amazing wedding officiant for our big day!" September 2022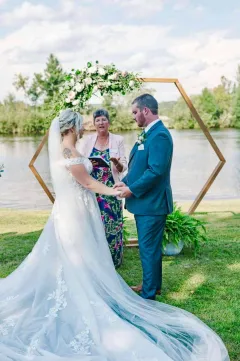 Katie & Chris
Susan delivered a well-spoken and personalized ceremony that was centered around what love means to us. She was patient and kind while she helped us navigate the ceremony process and took the time to get to know us and what was important in our lives. It was perfect!" June 2022 Photo credit: Stacy Kenopic Photography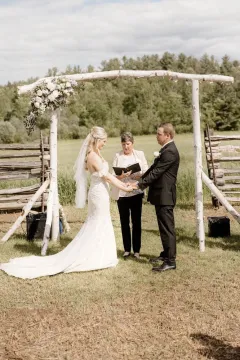 Élise & Ryan
Our officiant Susan Veale was fantastic. She was receptive to our preferences, kind, and punctual. It was easy to communicate with her either through phone or e-mail. She was flexible with our rain plan and came prepared with all the necessary paperwork. She is an excellent public speaker and made us feel comfortable and natural throughout the ceremony. We can't thank her enough. Oct 2021
Norm & Alix
Susan [Veale] was exceptional. She always got back to us in a timely manner and she has a great presence during the ceremony. We were extremely happy with Susan as our officiant. September 2021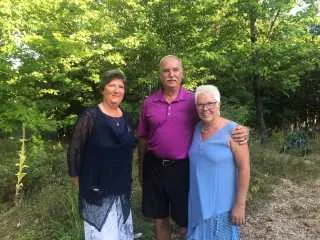 Warren & Laura
Susan [Veale] encapsulated our love and special connection perfectly throughout the entire ceremony. The words she prepared were heartfelt, beautiful and true. It is clear she truly enjoys officiating and being apart of people's special day. Her happiness for us as a couple was obvious and shone throughout the ceremony. She went above and beyond to be helpful and informative every step of the way leading up to, during, and after the ceremony. She was very accommodating to our wants and needs and truly did add such a special touch to our amazing day. Thanks again Susan. We are so grateful and beyond happy with the professional and sincere service you provided. August 2021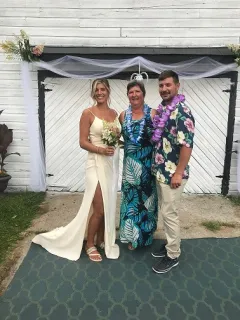 Lino & Lourdes
Susan Veale went over and beyond. The ceremony was beautiful as she took the time to get to know us and made it very personal. May 2021
Cheryl & Yones
Thank-you very kindly for your very professional divine sensibilities. You orchestrated our blissful union with utter grace. We thoroughly enjoyed every second of our ceremony. We all felt honoured and fortunate to have had your gentle and wise guidance and blessings that made our special day blossom magnificently. Everyone thought it was magical and adored you, even our kitten Tiger was smitten.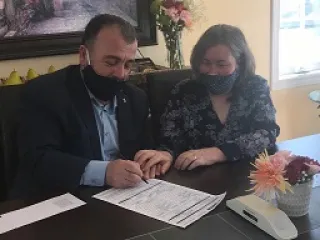 Zach & Lainy
Thank you Susan [Veale] for everything -- we couldn't have asked for a better day or ceremony. It was everything we wanted and more. September 2020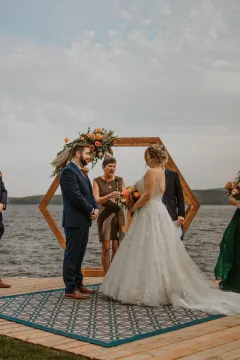 Scott & Sarah
Susan Veale was so very respectful and helpful .She was able to guide us through different formalities in setting up our wedding ceremony to help us make it our own. It was very special and she is wonderful to work with. September 2020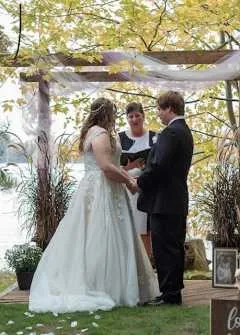 Shauna & Ian
Susan was awesome from the very first phone call. She made us feel so comfortable and at ease. We really felt that we could just be ourselves. She listened to our needs and then wrote and performed the ceremony exactly how we wanted. We are so glad we found her! I wish we could do it again! Thank you, Susan!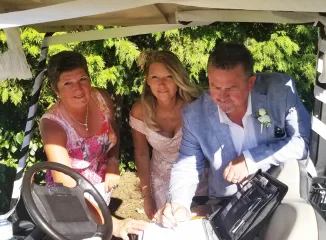 Kayla and Chris
Susan was so amazing to work with. On very short notice she was able to meet with us and helped us create a beautiful ceremony. She really knows her stuff and made it a breeze to plan the whole ceremony. My husband and I could not be happier with the ceremony Susan created and performed for us to make our wedding day perfect. I highly recommend her to any couples who are looking for an officiant. Thank you Susan!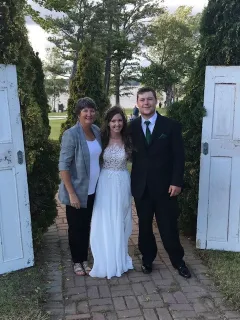 Tim & Sarah
We are so happy that Susan Veale was there for our special day. The service was perfect and exactly like we wanted it to be. We couldn't be happier with our experience with Susan. Thank you for everything! August 2019