Steven Stauffer, BA (Memorial U)
Steven is based in Edmonton, and was ordained as a Minister of Life Celebrations by Clergy Support Church in March, 2017 (Marriage, Baptism, Funerals). He would be honoured to help you create a wedding ceremony that reflects your love, your beliefs, and the family you are trying to build. Whether your dream wedding is wild and original, blissfully traditional, or a little of both, Steven is here to help. He has a BA in English and Philosophy from Memorial University and has also studied at the University of Alberta and Stockholm University. During his life, he has travelled as a writer, hiker, comedian, and rappel wildfire-fighter, and is proud to be the cool uncle for two nieces and a nephew. Conversation is his number one hobby and he'd love to meet you.
Request Steven Stauffer
Areas Served
Edmonton, St Albert, Sherwood Park, Spruce Grove, Stony Plain, Devon, Nisku, Leduc, Beaumont
Reviews
Scott & Jennifer
Steven Stauffer was incredible. His beauty, his grace, his utter magnanimity. Thank you Steven we will recommend you to all or family and friends. September 2021
Karina & Chance
We loved having Steven Stauffer as our officiant!!! He made us both feel super relaxed during the ceremony even when there were some mix ups. Definitely recommend Steven!!!! Karina & Chance August 2021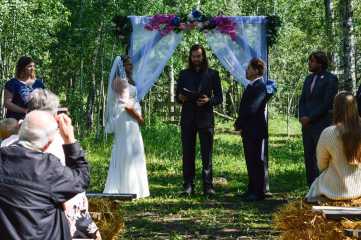 Trevor & Crystal
We were extremely pleased with our experience and Steven Stauffer was very professional and did an absolutely amazing job of officiating our ceremony. Everyone who attended came to us and asked where we found him and that he did a really good job. Trevor & Crystal June 2021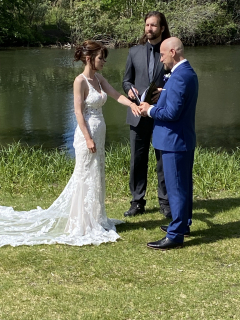 Zoe and Zachary
Steven Stauffer was so friendly, kind, and wonderful at his job. Thank you for an amazing ceremony Steven! Zoe & Zachary March 2021
Scott & Kimberly
Steven (Stauffer) was absolutely awesome! Thank you from the bottom of our hearts for being with us for our magical beautiful winter fairy tale wedding! Scott and Kimberly November 2020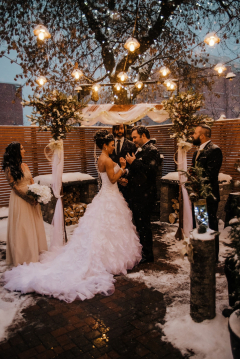 Ryan & Samantha
Steven Stauffer was amazing to deal with. He was punctual, humble, funny and so well articulated. Thank you for everything ! Ryan & Samantha August 2020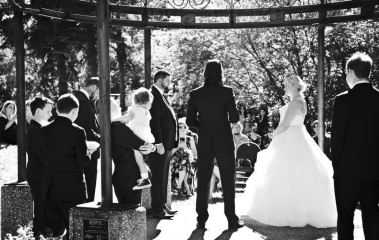 Scott & Kendra
Steven Stauffer was wonderful. He knew exactly what we wanted. Steven is a super great guy, we would recommend him to anyone. Steven is easy to talk to and even added a hand fast into our ceremony which we really wanted. Thank you for everything, the day was perfect . Scott & Kendra September 2019
Adam & Alex
Steven Stauffer was fun, friendly, and overall really awesome to work with! So glad he was part of our special day. Adam & Alex September 2019
John & Zorica
Steven Stauffer was awesome! Thank you Steven for making the ceremony amazing! John & Zorica July 2019
Breanne & Marc
Steven Stauffer was able to lighten the mood during a hiccup in our ceremony where the best man couldn't get the rings off the ring-bearer pillow. Thank you Steven for everything. Breanne & Marc July 2019
Jasin & Jennie
Steven Stauffer was extremely friendly, humble, down to earth, and very professional. Our handfasting was not traditional by any means, we really appreciated his enthusiasm to try something new with an open heart and open mind. We honestly could not have asked for a better officiant. All Seasons made finding our officiant the easiest part of wedding planning and your staff did not disappoint. It was very much appreciated by both of us to be able to have the Ceremony we have always wanted without having to fight for it or being judged over it. Jasin & Jennie. July 2019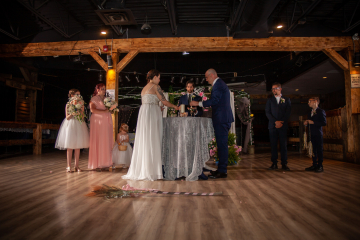 Meagan & Patrick
Rev. Stephen Stauffer was exactly what we were looking for. It was incredibly easy to establish everything. I would recommend Stephen to anyone who is looking for someone who understands what love and marriage is really all about.
Crissie & Nathan
Steven Stauffer went above what was expected including having us say our vows a second time because silly us forgot our rings in the safe :) It was a good experience with Steven overall and we are very happily married now! Just want to thank Steven again for the amazing ceremony! It was a good time even with us forgetting the rings, and saying our vows twice! Memories that won't soon be forgotten! Cheers
King & Mark
Rev Steven Stauffer was great and made us feel very comfortable during the ceremony. He even contacted us beforehand to see if we had any questions or concerns regarding the process.Steven was very friendly and helpful. He kept the ceremony light and meaningful and did his best to ensure we had a memorable ceremony. Great pricing, helpful officiant and a very easy process.
Elaan & Gary
Steven Stauffer did a fantastic job. We were very pleased.
Alice & Jonathan
Rev Stauffer was a great officiant! Very friendly and easy to talk to about how I liked the ceremony to go. I loved the way he handled an unexpected incident during the ceremony. The moment as seen in the picture provided! It was a pleasure to work with him. Thank you!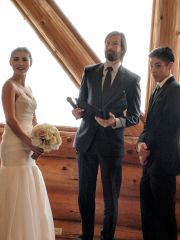 Darlene & Frederick
Rev Steven Stauffer was just a right fit for us. My daughter in law commented that it was one of the nicest ceremonies she has been to. It was simple and sweet. I loved it!