Sheila Wallace
Sheila Winter Wallace, who lives in Chelsea, is licenced in Ontario and Quebec. Her warmth and elegant presence can fill a room with love and insure a relaxed atmosphere. She is one of those people who believes life can be a joy filled adventure and that weddings are the perfect opportunity to allow the joy to shine. With her extensive knowledge and experience she is the perfect person to make your wedding day all you want it to be! She brings a fun, meaningful and easy approach to every wedding day. Her dedication and commitment touches the hearts of brides and grooms as well as their guests.
Request Sheila Wallace
Areas Served
Chelsea, Wakefield, Aylmer, Gatineau, Hull, Ottawa West, Ottawa Central, Ottawa East
Reviews
Payam & Mahsa
Sheila Wallace is a very kind and nice lady. Payam and I are so happy to have her as our officiant on our special night. We celebrate at a cozy cafe with this nice lady that performs our wedding. December 2022
Ian & Melinda
Sheila Wallace was a fantastic officiant for our special day. She was really helpful getting prepared, incorporated our requests and was always available to answer questions. I highly recommend her if you are getting married in the Ottawa area! Ian & Melinda September 2019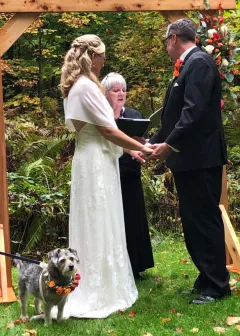 Joshua & Jennifer
Sheila Wallace was warm, professional and patient with us - she made our wedding a beautiful experience !would recommend Sheila to anyone seeking a personal, knowledgeable, and supportive officiant. Thank you for everything Sheila! Joshua & Jennifer August 2019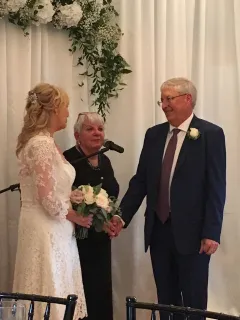 Glenn & Cathryn
Sheila Wallace made our wedding ceremony a unique moment that we will never forget. Sheila was wonderful and we appreciated how she understood and met our requests. Thank you! Glenn & Cathryn August 2019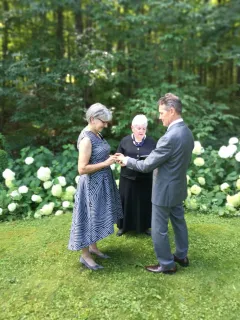 Stephen & Meaghan
Sheila Wallace was very helpful and explained everything along the way. The day of the ceremony Sheila was a wonderful and a calming influence. Thank you for everything ! Stephen & Meaghan August 2019
Shayne & Cyrianne
I assisted my son to acquire an officiant for his wedding and was referred to All Seasons from a friend. The person I had was well organized explained the process well and communicated with my son and myself on a regular basis to ensure which was reassuring. The fee is reasonable. The officiant we had was Sheila Winters who adapted the ceremony to the requests of the bride and groom. Sheila was early to arrive, patient with a slight delay and very articulated. The guests really appreciated her thoughtfulness she put into the ceremony and the fluidity of her words and gestures. I know my son and daughter in law were happy to have crossed paths with her since she made the process less stressful at a time of planning a guest list of over 250 people. I would highly recommend Sheila as I have had the privilege and honour of her guidance and reassurance that the right ceremony will take place on such as momentous occasion. August 18th, 2018
Cody & Amy
Sheila was an absolute pleasure to work with! Her friendly, calming demeanor and good sense of humour came in handy the day of when our ceremony was delayed by almost an hour. A big heartfelt thank you to Sheila for being a part of our special day! August 25th, 2018
Karyne & Michael
Sheila Wallace was amazing to work with every step of the way. It was a pleasure to collaborate with her to create a ceremony that was perfectly suited to us. She was always available to answer our questions and offer her insight. On our wedding day Sheila was a calming and comforting presence. What I liked most about working with Sheila, besides her superb organization, was that she genuinely shared in our joy and excitement for our marriage. We were so pleased to have Sheila officiate our wedding and highly recommend her.
Emily & Kurt
Dealing with All Seasons was brilliant. Helpful, communicative, flexible. All the things you need when planning a wedding. Highly recommend.
Michelle & Andrew
Shelia Wallace was very thoughtful kind and wonderful. With luck we won't need to be married again but definitely would refer her to anyone getting married!
Samantha & Gates
All Seasons were our first choice by a landslide. Their extremely informative website was invaluable in helping us choose them for our wedding in September 2015. From their website, we were able to watch videos and read all about the officiants available on our specific wedding date so that we could decide who would officially unite our lives. It didn't take us very long set up an initial meeting with Sheila Winter Wallace thanks to her lovely introduction video, which gave us an excellent sense of her capabilities and personality. When we first met Sheila, we immediately noticed that she has a wonderful spirit, radiates love, and embodies all of the positive energy that should both precede and follow any joyful union. We knew then and there that she would be our officiant, a role which she fulfilled perfectly on our wedding day. We honestly give both All Seasons and Sheila herself two thumbs up and 5 stars, and we highly recommend that you consider them for your upcoming marriage!
Susan & Ron
Sheila Wallace far exceeded our expectations. She made our experience truly magical. It was so intimate and special. Absolutely love your services. It was so easy to make the arrangements and Sheila helped us make everything so personal.
Patrick & Steph
Sheila, We wanted to send you a few photos from yesterday. Everyone LOVED the ceremony and how comfortable you made them feel. We heard so many people say what an honest, authentic wedding it was. I don't even know how many people told us that it was the best wedding they have ever been to! That is all thanks to your amazing work. Thank you, thank you, thank you from the bottom of our hearts. We feel so blessed to have had our path cross with yours.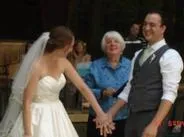 Kristene & Nicholas
Sheila Wallace was amazing. She was so inviting and accommodating during the months and meeting leading to the wedding and the day of, she was funny, she was calm and our guests thought it was a beautiful ceremony and asked where we had hired her because they thought she was so fantastic!