Shawna Fournier
Shawna is a young professional who loves giving back to her community and being outdoors. In the summer you will find her on the lake and, in the winter, on the rink with a hockey stick. You will be hard pressed to find an officiant with a kinder spirit, who looks to share love and laughter with each couple she meets. Having worked as a massage therapist and in Human Resources, Shawna understands that trust, honesty, and respect are paramount for any successful relationship. When you are planning your wedding ceremony, Shawna has the energy, and the ability to make your wedding day dreams come true.
Request Shawna Fournier
Areas Served
North Bay, Sudbury (Greater Sudbury): Copper Cliff, Lively, Naughton, White Fish, Garson, Hagar, Estaire, Wanup, Wahnapitae, Espanola, Val Caron, Chelmsford, Capreol, Hanmer, Dowling Valley East, Skead, McKerrow, Birch Island.
Reviews
Ethan & Kyrstin
Shawna Fournier didn't only meet our expectations, she went beyond. She made the entire planning process simple, was able to answer all questions and address all concerns, and gave us a sense of security, which alleviated stress leading up to the wedding and day off. We would recommend her to any couple planning their wedding. We are so happy she was a part of our day. September 2022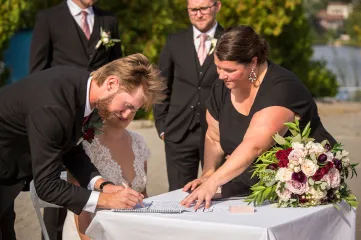 Luc & Stephanie
Shawna Fournier was Absolutely amazing , unmatched work ethic and preparation . Of all the weddings I've been too and my own she was by far the best and most courteous and caring officiant of them all. August 2022
Matthew & Kayla
Shawna Fournier is phenomenal!! She is so easy going, easy to chat with and performed the ceremony so personal to us. Would highly recommend her! August 2022
Steve & Michele
Shawna Fournier was amazing all are guest's said it was one of the best wedding ceremonies they have heard . She was an amazing person to deal with . Very light and bubbly made are day very special. August 2022
Linda & Scott
Shawna Fournier was fabulous. I would definitely recommend her. May 2022
Dustin & Kara
Shawna Fournier was amazing ! She went above and beyond our expectations. April 2022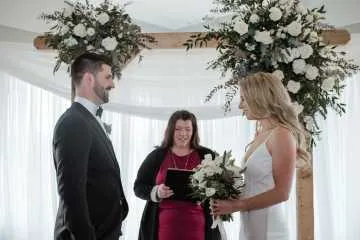 Aaron & Victoria
Shawna Fournier was wonderful and supportive. We couldn't imagine anyone better! October 2021
William & Kelly
We would like to thank our officiant, Shawna Fournier, for making our wedding day one we will look back upon as our very special day to remember. We were very pleased that she 'fit in' so very well with us and our close friends, keeping it very casual, but just formal enough that everything went off without a hitch - save for us being 'hitched' as a result (pun intended!). Exactly as we wished for our wedding day to happen. We couldn't be happier and would recommend All Seasons, and Shawna in particular, as the service you should choose. William & Kelly July 2021
Jamie & Frank
My husband and I are so happy to have found Shawna Fournier. She was so wonderful. She is so great with words and made the ceremony so memorable. For such a nerve-wracking day, she knew how to make us feel so relaxed and comfortable. Jamie & Frank April 2021
Dennis & Kim
Shawna Fournier was excellent. Shawna made us feel very comfortable throught the entire experience. Dennis & Kim December 2020
Christian & Helen
Shawna Fournier was amazing! Super sweet and helpful during the wedding planning. Thank you for everything! Christian & Helen October 2020
Gregory & Moira
Shawna Fournier not only met our expectations, she exceeded them. She was extremely helpful, friendly and efficient. Due to Covid-19, we had a very small ceremony but Shawna Rae made it special for all of us. It was intimate, meaningful and perfect. Her attention to detail was truly impressive. We could not have asked for a better officiant. Thank you so much for everything! Greg and I are extremely grateful for making our day special. Gregory & Moira September 2020
Michael & Theresa
Shawna Fournier exceeded our expectations - making our ceremony unique and special to us. Michael & Theresa August 2020
Christopher & Stephanee
Shawna Fournier far exceeded our expectations. She took the time to get to know us, make our ceremony meaningful and personal. She was always there if we needed her and was beyond amazing to work with. We have already recommended Shawna to several others. Thank you for everything Shawna! Christopher & Stephanee September 2019
Kyle & Jen
Shawna Fournier was amazing! She is very organized and made sure we knew what to expect come the big day! She personalized our ceremony to suit us which was a very nice touch. Shawna was easy to communicate with and made us feel relaxed and comfortable come the wedding day! Kyle & Jen September 2019
Adam & Tyler
Shawna Fournier was great. She went above and beyond customizing our ceremony for us. She gave us all of the information up front, was helpful and answered all of our questions. : I would absolutely recommend Shawna to anyone, she was fantastic to work with and did a really great job at our ceremony and everyone at our ceremony commented about how great she was. Adam & Tyler August 2019
Mason & Hannah
Shawna Fournier was more than we could have hoped for in an officiant! Her advice and expertise put us at ease throughout the process. We'd recommend her to anyone! Thanks a million Shawna! Mason & Hannah August 2019
Phillip & Alisha
Shawna Fournier was the perfect person to marry us ! She was absolutely fabulous & met all of our requirements & right away made us feel so comfortable. She was very mindful of what we wanted for our special day and I would highly recommend her to anyone. She was funny and very professional! Love love loved her !!! Phillip & Alisha Feb 2019
Shawna (Fournier) is a caring, fun loving, and genuine person. I want everyone to know what a special addition she would be to any wedding and I would highly recommend her. C.H.