Sharon Mok
Performing wedding ceremonies allows me to share in the joys of couples and their families. I learn about them, their cultures, and experiences. Living in Vancouver, I've had the honour of officiating same-sex marriages, fusing cultural traditions for inter-racial weddings, and conducting ceremonies in English and/or Cantonese for many years. A wedding marks the beginning of an important milestone in a couple's life. I will work with you to personalize your ceremony and guide you through the details for this memorable moment. Together, we will craft a joyous ceremony for you and your families. I am credentialed as a minister with Clergy Support Church.
Request Sharon Mok
Areas Served
Burnaby, Coquitlam, New Westminster, North Vancouver, Port Moody, Richmond, Surrey, Vancouver, West Vancouver
Reviews
Amanda and Dylan
Sharon Mok was more than fabulous to not only me and my husband but also to my guests and immediate family members. She did our beautiful ceremony in both English and Cantonese for us and even acknowledged my grandparents and greeted them with the warmest welcome before it even started. This meant a lot to them as they don't speak a word of English. Her mannerism is superb and her aura is just outstanding to be around. She definitely accommodated all our needs for our big and memorable day. Amanda & Dylan December 2019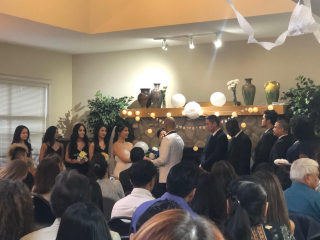 Julia & William
Sharon Mok was empathetic and professional. She was always punctual and very accommodating. Her speech was moving and catered to our needs. My now husband and I were very pleased with Sharon's assistance and would definitely recommend her to friends who also need an officiant. Thank you again for such a memorable ceremony. I was able to always get my questions answered promptly and efficiently. Never did I have any issues throughout the whole process. Thank you very much!
Sara & Tony
Sharon Mok exceeded our expectations with her services. She was very professional and friendly and patient.