Shari Rowan
Shari is an outgoing, positive person, who is caring and thoughtful of others. She is comfortable working with couples from a variety of backgrounds to make their wedding day all it can be. As your officiant, Shari is committed to helping you make your wedding ceremony uniquely yours and for it to be memorable for years to come.
Request Shari Rowan
Areas Served
Metcalfe, Greely, Vernon, Kenmore, Edwards, Vars, Kars, Manotick, Riverside South, Osgoode, North Gower, Rideau Forest, Marvelville, Marionville, Russell, Embrun, Casselman, Rideau Ward, Cumberland, Navan, Rockland, Stittsville, Morewood, Richmond, Munster, Orleans, Carlsbad Springs, Nepean, Ottawa West, Ottawa South, Ottawa East, Gloucester, Barrhaven, Winchester, Winchester Springs, Leitrum, Williamsburg, Morrisburg, Spencerville, North Grenville, Cardinal, Kemptville, North Dundas, South Dundas, Mountain, South Mountain, Chesterville, Inkerman
Reviews
B.J. (Allan) & Carrie
The process of booking our Officiant with All Seasons was very easy. Shari Rowan was great! We were not organized the day of the wedding so Shari stepped in to help and everything turned out great. September 2023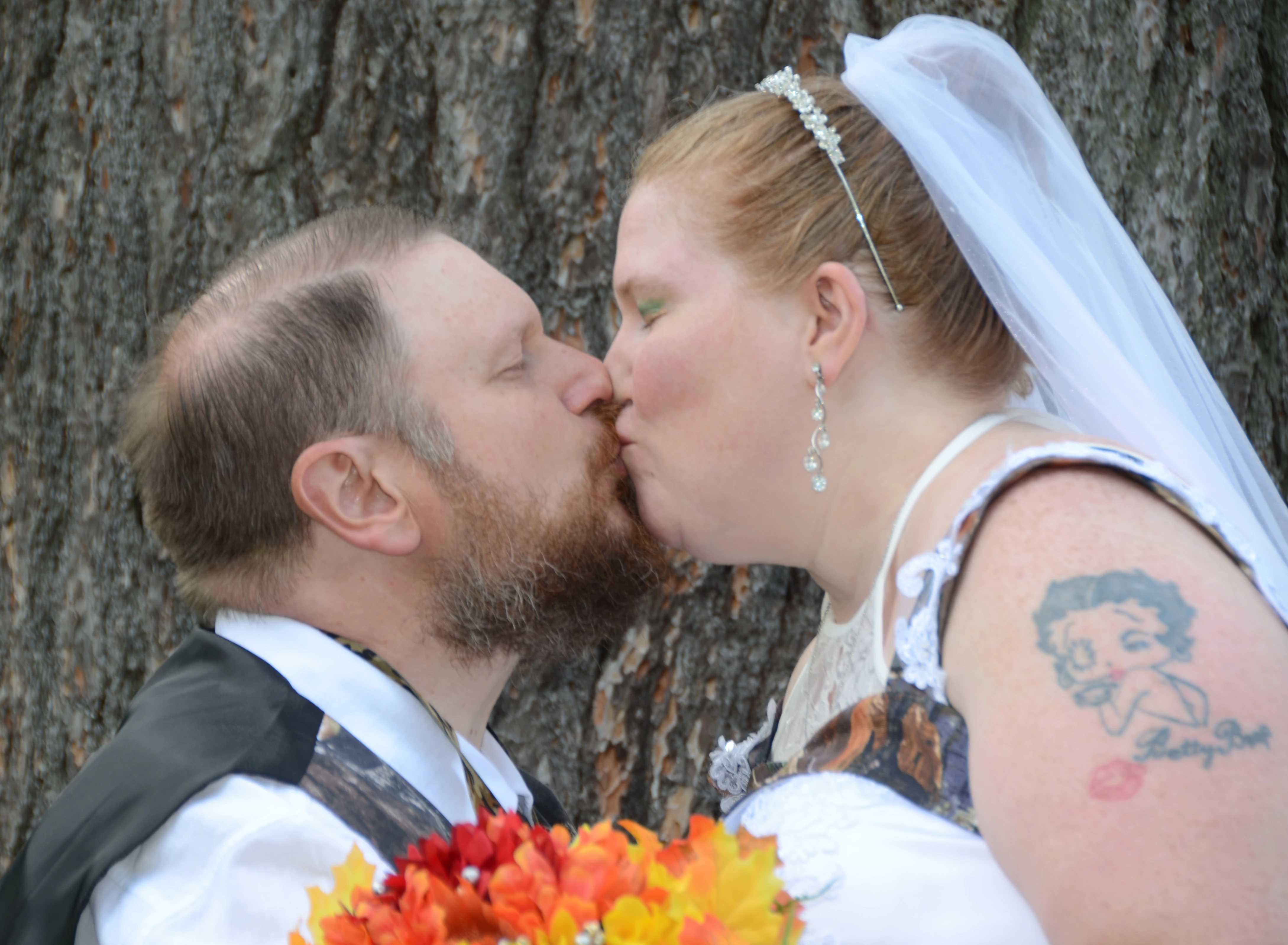 Kyle & Leevie
Shari [Rowan] instantly made us feel comfortable, valued by getting to know us and provided us with caring guidance. We are grateful to have had her kick start our special day. Our wedding day was smooth sailing with spontaneity solved with breeze. Thank you for making it official! We can only hope other couples get as fortunate as we did with Shari Rowan. Jul 2023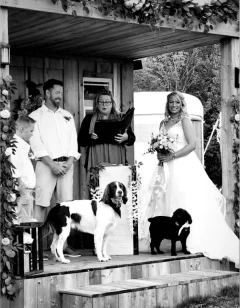 Credit: Lisa Provencal Photography
Joe & Amy
The process was very easy and Shari was very helpful. It was very relaxed ceremony and Shari went with the flow. She really worked with us on what to say to really captured our family. Thank you again Shari. July 2023
James & Chantal
We had a fantastic wedding day and very much enjoyed the ceremony. We are grateful to Shari Rowan for the care and attention she put into making our ceremony memorable. Everyone was thrilled and couldn't stop praising the beautiful ceremony. The ceremony was everything we had envisioned. Thank you again Shari . June 2023
Mike & Michelle
Shari was perfect, right from the first moment we spoke she absolutely understood what we wanted. She was very helpful the day of, she made me feel at ease. Thank you Shari! May 2023
Evan & Sydney
Shari Rowan was amazing, and far surpassed our expectations of wedding officiant. From getting the Groomsmen to take the rehearsal seriously, to tearing up 3 words into our ceremony, to tying our hands together in a handfasting ceremony, and coming to the rescue when the bride's step-sister was pooed on by a bird seconds before stepping into a photo with the family! Shari made sure our day was what we wanted! August 2022
Sydney & Evan
Shari Rowan was amazing, and far surpassed our expectations of wedding officiant. From getting the groomsmen to take the rehearsal seriously, to tearing up 3 words into our ceremony, to tying our hands together in a handfasting ceremony, and coming to the rescue when the bride's step-sister was pooed on by a bird seconds before stepping into a photo with the family! Shari made sure our day was what we wanted! August 2022
Andrew & Ginette
Shari Rowan was very lovely and did such a great job. She's quick at reaching out and answer emails. She's very easy going and makes you feel comfortable. When you talk to her, it feels like you know each other for years. I love how funny she is and help make our ceremony not scary or nerve-racking. October 2022
Justin & Sasha
Shari Rowan was the officiant at are wedding and I don't even have words to describe our experience. I'm so glad she made our day as special as it can be . Thank you so much for being a part of our forever after all :) September 2022
Justin & Melissa
We are so grateful to Shari Rowan for helping us to create the most magical of wedding days! We selected her originally because of the warmth and friendliness that shone through in her introduction video, and meeting her in person for our pre-wedding planning session confirmed we had made the right choice. She supported us in making the personalized ceremony we had envisioned, which included a non-traditional Hands of the Couple ceremony with our Maid of Honor and our Best Man, as well as including our 11-year old niece towards the end. This involved a bit of orchestration and coordination to make sure everyone stood in the right place at the right time, and knew what to say. Shari made sure this happened all according to plan! For our wedding, Shari essentially was responsible for setting the tone of the day's festivities by opening our ceremony in front of all our guests. She had a great energy, inviting and engaging way of speaking, and overall did a lovely job for us as our officiant. 10/10 Shari! Thank you again <3 October 2022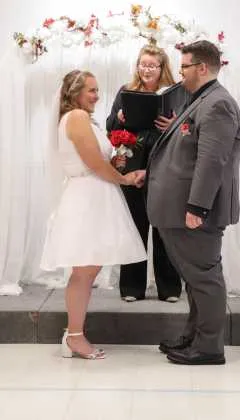 Alex & Stephanie
Shari Rowan was fantastic through the whole process from helping us plan to the actual day. She was attentive and made sure our ceremony was exactly what we were looking for. Thank you Shari! Aug 2022
Denise & Christina
Shari Rowan took the time to meet with us prior to the "Big Day" to lead us through vow preparation, ceremony design and what legal documentation would be required. Shari was very professional, well prepared and kept things light. We were happy to have her be part of our day and highly recommend her. Aug 2022
Kayla & Spenser
Shari was absolutely amazing! The ceremony structure was perfect and she really made it specific to us! I thought the ceremony was going to be the boring official part of the wedding, but it ended up being my favourite part of the whole day, and that was very much influenced by Shari being wonderful :) she was also great to work with leading up to the wedding and we had a genuinely great time meeting her in person before hand. My only regret is I didn't think to ask her to stay for the dinner and dancing! Will definitely recommend Shari to anyone I know getting married. July 30 2022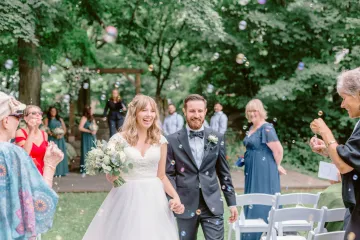 Stephanie & Ben
Shari Rowan was wonderful, and attentive and amazing to deal with and made our celebration amazing. If we can offer one comment its that we were silly for not hiring the officiant earlier. July 22 2022
Jake & Paige
Shari Rowan was the perfect fit for us on our special day! She was so accommodating with our meetings, allowing us to meet virtual at first as we live out of town and then in person just days before the wedding to collect the documents. She also conducted a super helpful rehearsal which calmed the nerves of our wedding parties and families as they knew exactly what their roles were. She explained the whole process so well and was super organized! We were given full control over the ceremony and Shari conducted it in a way that perfectly represented us, and with such enthusiasm and poise on an insanely hot day! We could not have been any happier with our experience with Shari and would highly recommend her! June 2022
Giancarlo & Katelyn
Shari Rowan was lovely! Excellent on the day of, and very knowledgeable, helpful and fun in the lead up. July 2022
Mike & Jayne
Shari Rowan was absolutely wonderful! She took the time to get to know us and make the ceremony our own and exactly what we wanted! She had an initial phone call with us before booking her and then drove to meet us for coffee to discuss the ceremony and get to know each other. She provided all the necessary info we needed and recommendations but was never pushy and let us make all the decisions. She had our vows ready for us on the day of and delivered an amazing ceremony. I wouldn't hesitate to recommend Shari to anyone! Thanks Shari for being part of our special day! June 2022
Mario & Christina
Shari Rowanwas absolutely lovely to work with and truly helped us with our vows and took us through how the ceremony would go. I was very scared to say my vows but Shari gave me the confidence I needed. She never felt like a stranger and at the ceremony it felt like a family member who really cared about us was officiating. May 2022
Brandon & Natasha
Shari Rowan was very thorough in the planning process. She was also very patient the day off when there was some delay to start the ceremony. She made the experience very fun and made sure any of our concerns were dealt with. She made us feel we were in great hands. February 2022
Andrew & Erin
Shari Rowan was wonderful to work with and an amazing officiant for our ceremony! She was very helpful in explaining the process, and was open to editing the ceremony script to exactly the way we wanted it. She also made both us and all the guests feel at ease during the ceremony which made for a wonderfully enjoyable experience. Thank you Shari! October 2021
Keith & Christine
Shari was wonderful, professional and a perfect choice. I read her bio on the website and knew should would be perfect for our special day and she did not disappoint. --Side Note: She has fantastic shoes ;)-- Her warm and friendly personality made it very easy to make the plans for our wedding day, she contacted us immediately after we had requested her and paid our deposit, she offered suggestions, double checked we had things organized and was willing to make any changes we felt necessary to our ceremony (only limited by the package we chose). Our wedding was a casual affair in our backyard and we had a very intimate ceremony with only a small number of guests and Shari helped to make it a lasting and beautiful memory. Thank you Shari and All Seasons Weddings. September 2021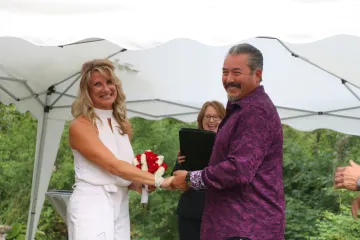 Jeremy & Olivia
Shari Rowan exceeded our expectations, with her positive attitude and ability to explain the entire process to make us comfortable with everything going on. Great speaker, very organized and thoughtful. September 2021
Kim & Anna
Shari Rowan was absolutely AMAZING to work with. Being a queer couple, it was very important to us to find someone who was supportive of that and of us. From our initial interactions with Shari, to our day of interactions with her, we were blown away. She was so outgoing and upbeat and seemed genuinely happy and enthusiastic about our wedding and ceremony plans. She helped us with the ceremony wording from scratch as we both had no idea of what we wanted. She gave us examples and ideas, and she let us have the final say in what we wanted in the ceremony. When it came to our wedding day, she executed the ceremony absolutely beautifully. It was everything we wanted, and more. Shari adds her own special flair and touch that is specific to her and her style of officiating. We cannot thank her and recommend her enough!!! September 2021
Mike & Erica
I really can't thank Shari Rowan enough for doing an amazing job at Mike's and I ceremony!! I will be highly recommending you guys to anyone who needs an officiant for their special day! July 2021
Sandarbh & Priyamvada
Shari Rowan you were so considerate and helpful in planning the wedding. Our ceremony went smoothly and it was so much fun! Thank you Shari. April 2021
Nicolas & Elizabeth
Shari Rowan was a wonderful addition to our special day. Considering COVID-19 and all the restrictions in place she did everything she could to make sure we had a wonderful day while still maintaining safe practices. We couldn't have asked for someone more helpful and kind to marry us. December 2020
Terry & Robin
Shari Rowan exceeded our expectations! She was fantastic! She took care of everything before the ceremony, very organized and professional. She guided us through the ceremony, making us feel at ease. What a great personality, big smile; she fit right in with the entire event. It was a truly special day for us, and she was a big part of making it go smoothly. We could not have had a better officiant! Terry and Robin October 2020
Adrian & Rosanna
Shari Rowan is great! She listened to what we wanted, offered some suggestions and put together the perfect service for us. She had to put up with some antics from the groom but didn't blink and carried on with a chuckle. I highly recommend Shari. So very kind, friendly and compassionate. Adrian & Rosanna October 2020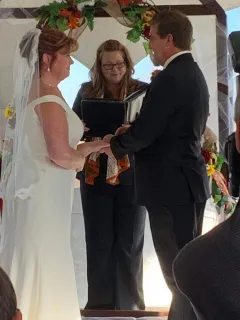 Anders & Kelsie
Shari Rowan did an excellent job with handling our ceremony as well as last minute changes. Anders & Kelsie October 2020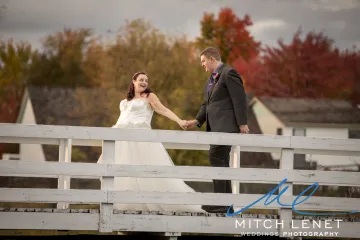 Derek & Kelsey
Shari Rowan was wonderful to deal with. Couldn't have picked a better officiant :) Derek & Kelsey September 2020
Daniel & Allison
Shari Rowan was wonderful. She made the ceremony go smoothly and didn't mind that we had a busy 2 year old running around the stage the entire time. I received comments after about how the officiant did a great job and continued on with the ceremony flawlessly even with our sons distractions. Our ceremony was perfect for us, she made sure to make it personal and include our little guy which was so sweet. Thanks so much Shari! Daniel & Allison August 2020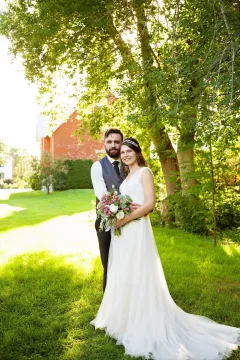 David & Stephanie
Shari Rowan was wonderful to work with. She met with us in advance to go through the details of the ceremony and to make sure she captured what we wanted. She was amazing on the day of the wedding - had the guests (and us) laughing. Was a very special day and we can't thank her enough! We highly recommend her to other couples!! David & Stephanie August 2020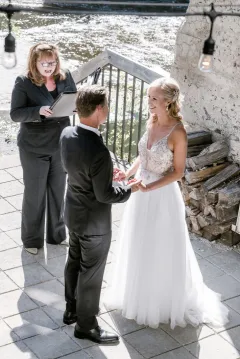 Brittany & Keith
Shari Rowan went above and beyond our expectations! She made us feel at ease and comfortable through the the entire process. Our wedding was June 20th 2020 right when covid restrictions started to lift for outdoor weddings. Shari was so patient and easy going with the many changes we made in the weeks leading up to our wedding. Thank you so much Shari! Brittany & Keith June 2020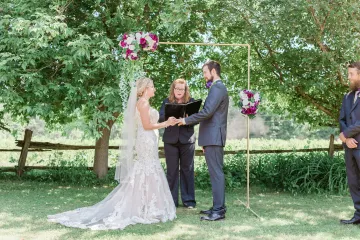 Mitchell & Megan
Shari Rowan is very professional, communicative and personable! Shari was a great fit for our very small and intimate wedding. Would highly recommend. Mitchell & Megan June 2020
Erin & Lee
I just wanted to send a quick note thanking the All Seasons team for everything! Shari was absolutely WONDERFUL! She was able to make our dream ceremony come to life with only a few "We're not really sure how this works, but kinda like this" comments from us. The ceremony was short, sweet, and exactly what we wanted. We could not have asked for a better officiant. Thanks again, Erin & Lee, November 2019
James & Alison
Shari Rowan did a great job on the day of our wedding! Thank you for everything. James & Alison September 2019
Tim & Judy
Shari Rowan was outstanding. Kind and gracious, she met with us ahead of time, added a reading that meant alot to us, and put great emotion into our ceremony. Would not hesitate to recommend her. Tim & Judy August 2019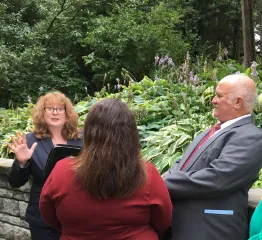 Allan & Anita
Shari Rowan Was wonderful! Shari was the perfect person for us. We loved the energy and mood Shari brought with her. Her personality was what initially drawn us to her. She met with us to discuss what we wanted in the wedding ceremony and explained all the paperwork to us. The wedding ceremony was one thing we didn't have to worry about because Shari took care of everything for us, including some minor issues that came up the day of the wedding. She created a wonderful ceremony and our friends and family members commented on how lovely Shari was. Our wedding day wouldn't have been the same without Shari and we wouldn't change a single thing. Allan & Anita August 2019
Gordon & Amy
Shari Rowan was amazing. She was very organized and was a calming influence for my wife and I before and during our wedding. Shari gets our highest praise and we are both so happy that she was a part of our wedding. Gordon & Amy June 2019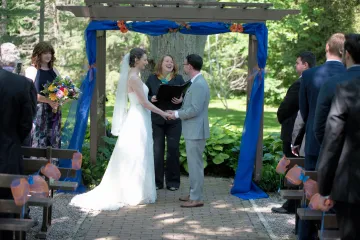 Derrick and Chantal
Anybody would be so lucky to have Shari Rowan as their officiant for their wedding. She was very accommodating, easy to talk to, great personality and just all around very helpful. We couldnt have picked anyone better. Thank you Shari!! ? Derrick and Chantal. July 2019
Maxx & Marie-Pier
Shari Rowan went above and beyond to keep in touch with us during the planning phase and ensured we had all the information we needed. Shari was extremely friendly!! She answered all of our questions in a timely manner. It was a pleasure to have had Shari officiate our wedding. Thank you so much! Maxx & Marie-Pier May 2019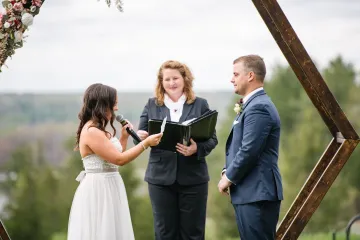 Patricia and Eric
We found Shari (Rowan) on this website, read some reviews and her bio, and knew that she was the person we wanted to help us celebrate our special day. Once we confirmed that we had booked Shari, we were excited to start telling her our ideas for the ceremony; quite possibly the least traditional one ever! No rings, no traditional vows, no wedding party, no bouquets, the ceremony to take place at our home surrounded by our family and friends - who would have no idea what was happening until it started! She was so open and receptive, and excited to help us celebrate our day. She made it so easy and effortless, we are so happy, and grateful to her for letting us have the ceremony we wanted!!! We had such an amazing day, our ceremony went so well!! We are forever thankful to Shari for making it a truly unforgettable day.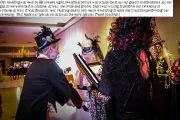 Chris & Paul
Shari Rowan was very helpful and put on a very good service. Every one of our guests really liked how good of a job she did. Would definitely recommend her to everyone... She made our day perfect!
Donna & Thomas
Our wedding was held on Halloween night, the actual service was a surprise to all our guests in attendance. All our guests were dressed in costume, as well, the bride and groom, Shari Rowan was willing to perform our ceremony in costume as well. It was fantastic, very relaxing and so very much rewarding to have one's relation performing our ceremony. This made our special occasion all the more special. Thank you Shari.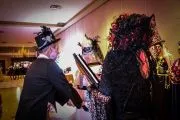 Mandey & Brian
Brian and I were soo happy with the way the Ceremony went and Shari Rowan was AMAZING. We can't thank you guys enough for everything.
Christine & Brian
Shari Rowan was great.She was very organized and professional and caring. She definitely made us feel like our wedding was important to her. She even wore a coordinating scarf with her suit to tie-in with the wedding party. What a nice touch! Shari was so easy to work with which was a relief when you are planning such an important day. She was very helpful in giving us advice about our ceremony (which we had greatly changed from the template). I would definitely recommend her. She made sure we had everything we needed and was sincere and made a wonderful guide through what could have been a stressful time.
Tanya & Aaron
Shari Rowan was fantastic! Our young son interrupted our ceremony and she worked with it and everything went well... she also gave very useful suggestions to us to help us tailor the ceremony to our family and style :-)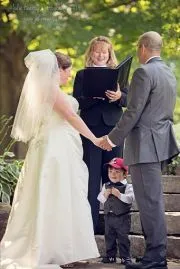 Lisa & Stephen
We were very pleased with Shari Rowan. We had a lovely ceremony and it made our special day memorable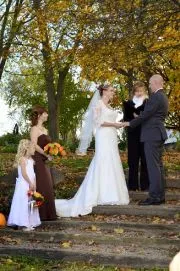 Diane & Garry
Shari Rowan was wonderful. She even took the time to run around the neighbourhood to ask people to hold off on mowing their lawns for 20 minutes until the ceremony was over. She of course is a very good looking lady and makes the photos even better. Loved her as much for our wedding as I did for my daughters. Thanks so much Shari!
Alanna & Adam
Shari Rowan exceeded our expectations. She did an absolutely wonderful job, very professional. She was always able to offer advice and suggestions, and she was very easy to contact when we had questions. As soon as we began contact with her, we felt very comfortable and confident that our ceremony would be perfect, which it was! We would highly recommend Shari!!
Holly & Mark
Shari Rowan was such a delight! Her guidance and suggestions for our ceremony was extremely helpful. She made us feel at ease throughout the entire process, and her delivery of our ceremony was perfect! We are very happy with her service.
Jen & Cary
We loved being able to customize our ceremony a little to make it feel like us. It was an incredibly emotional experience, but Shari Rowan kept us grounded and focused on each other. We also received nothing but lovely comments from our guests, who were very touched by Shari's words and emotion. One thing that especially resonated with everyone (including my husband and I) was the fact that for our vows, Shari just whispered the words to us, so that all our guests heard was our voices. I think that small touch was perfect, not only for our guests to hear the vows as if they came from us alone, but also because of the way it felt for us saying them only to eachother. I've been to weddings where the couple are almost saying the vows to the officiant because they're nervous, and they want to follow the words and respond to them. We loved how personal it felt, yet we didn't have to worry about memorizing!
Sandy & Doug
Dear All Seasons Weddings, We would sincerely like to thank you for providing Shari Rowan as the officiant for our wedding. She is extremely professional, caring and just a lovely person all around. Shari made us very comfortable and performed the ceremony beautifully. I would highly recommend her for anyone that requires an officiant for their wedding ceremony.
Angela & David
Hi Sherri(Rowan). David and I would like to thank you for making our day memorable. We knew the ceremony would be wonderful as you made us feel very comfortable from our first meeting to the endless e-mails to find the right reading for the ceremony, Everything was beautiful and we had many great comments from our guests about the ceremony and about you!