Shannon Fenerty
Shannon, who lives in Spring Bay on Manitoulin Island, is a warm and caring person. She loves to help people and is quick to go that extra mile for her couples. She will conduct your wedding ceremony in a manner that both you and your guests will be proud of. You are in excellent hands when Shannon is your wedding officiant.
Request Shannon Fenerty
Areas Served
Birch Island, Barrie Island, Gore Bay, Kagawong, Little Current, Manitowaning, M'Chigeeng, Meldrum Bay, Mindemoya, Providence Bay, Sheguiandah, Silver Water, Spring Bay, Tehkummah, Wikwemiking, Evansville, South Baymouth, Whitefish Falls, Aundeck Omni Kaning
Reviews
Devon & Brittany
Shannon was absolutely fantastic! Our wedding day was absolutely perfect August 2023
Carl & Kathy
It was perfect! Shannon was amazing! She put everyone at ease and directed a memorable ceremony. Anyone would be lucky to have her be part of their special day. Thank you all seasons weddings!! August 2023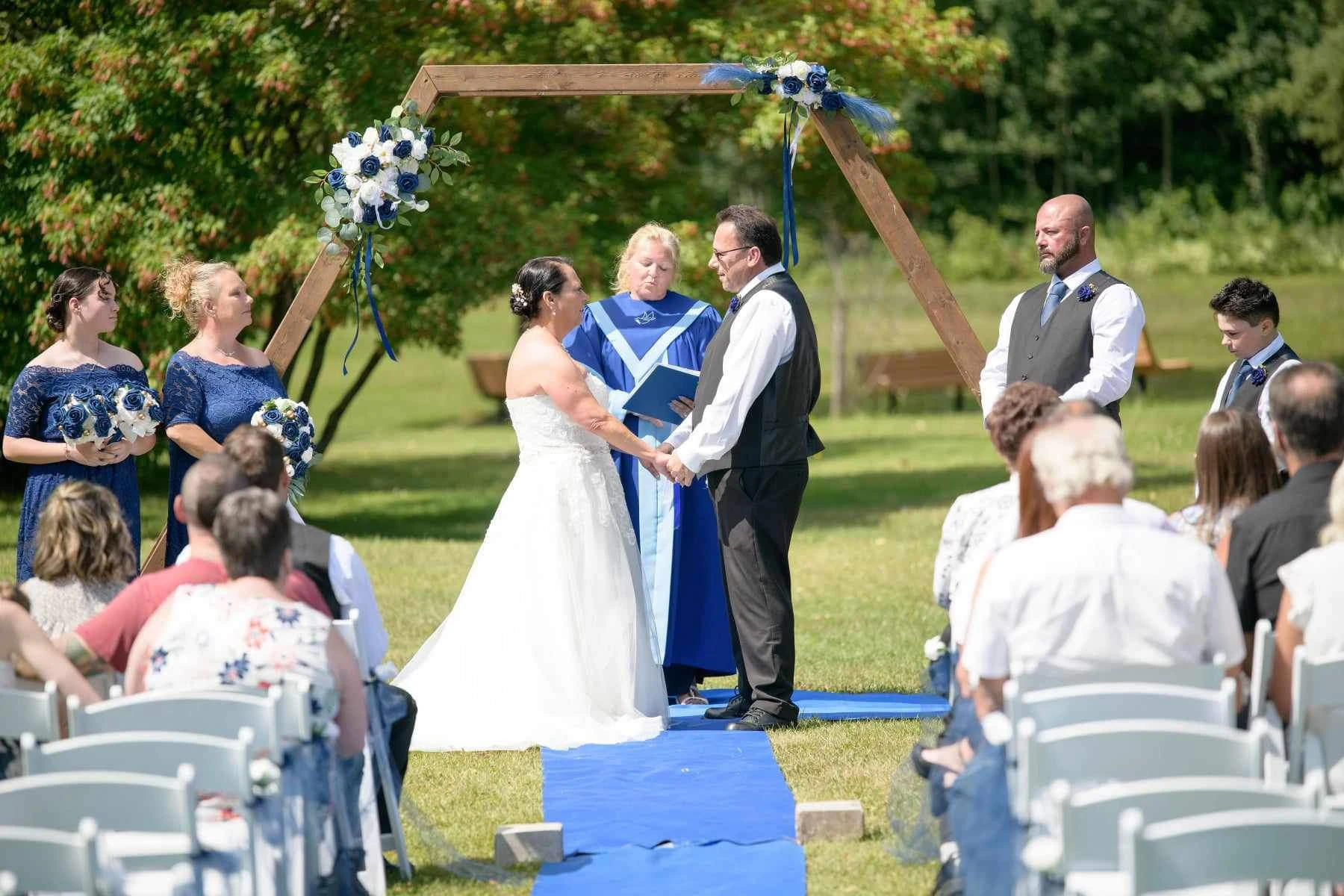 Kyle & Meagan
The ceremony was beautiful it. We really appreciated that the officiant marries people of all kinds, non religious people and the LGBTQ+ community. August 2023
John & Rose
Our officiant Shannon [Fenerty] explained all we needed to know and eased any anxiety that we had about the ceremony. The service we received was exemplary. We just want to thank Shannon [Fenerty] immensely for the way she made us feel during the entire process. Our ceremony was perfect and we would highly recommend her and All Seasons to anyone. Jul 2023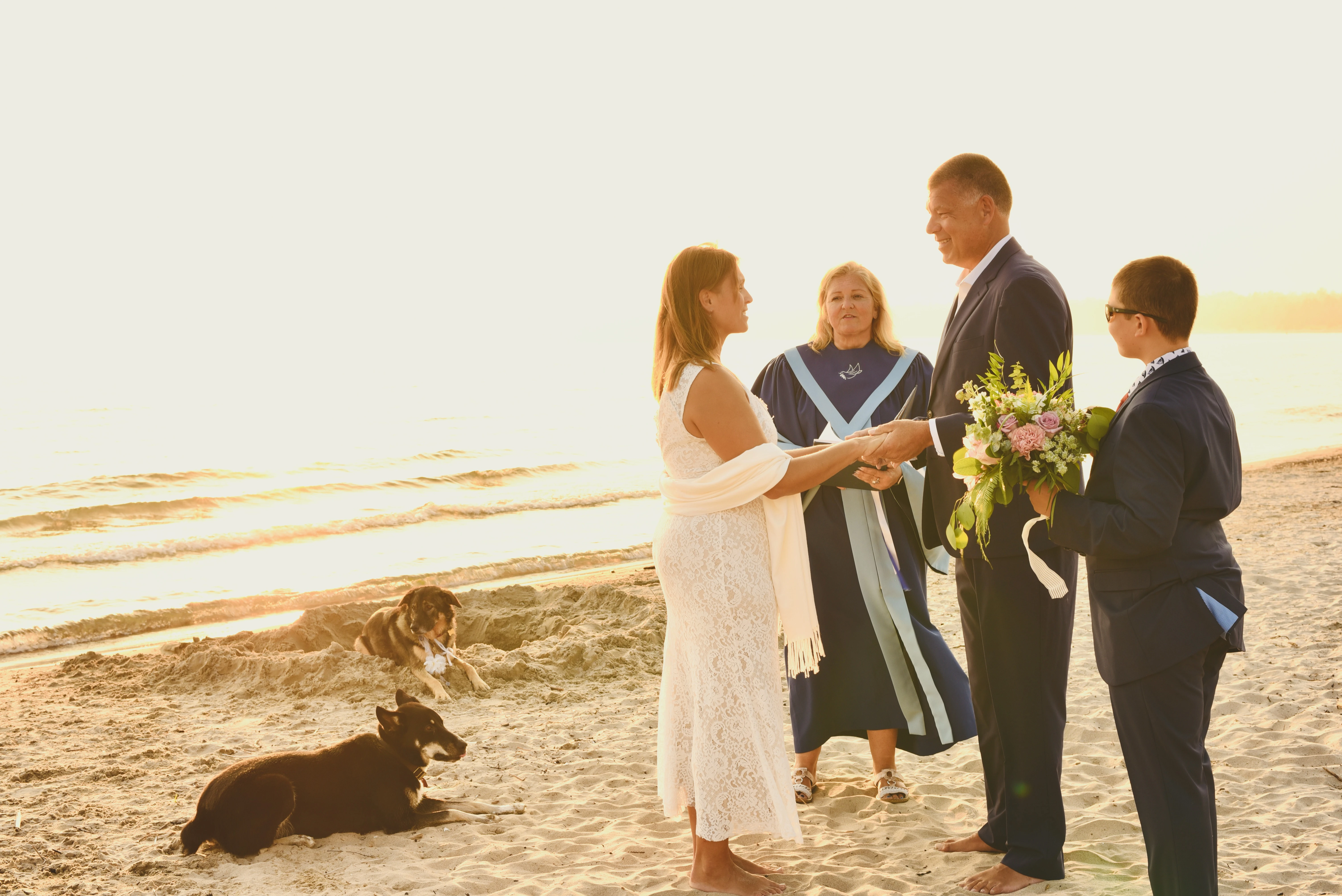 Credit: Julie Casson
Chris & Tracy
Shannon was amazing ,from our meeting to the ceremony. Thank you for officiating our special day. Thank you so very much July 2023
Shyam & Jade
We honestly couldn't have asked for a better officiant than Shannon, she was truly awesome. Shannon's communication throughout was amazing and nothing was ever too much trouble. The day before our ceremony we fell in love with the Cup & Saucer Trail on Manitoulin Island, this was around a 1.5 hour hike so when we called Shannon asking if she would be willing to go up there for the ceremony we weren't expecting a yes. Much to our surprise Shannon was up for it, even though she had never done it before. Shannon arranged for a second witness to join us and both of them hiked up like troopers, even though it was even a bit wet too! The ceremony was absolutely perfect, we couldn't have asked for more. Thank you so much for making our elopement as special as it was! October 2022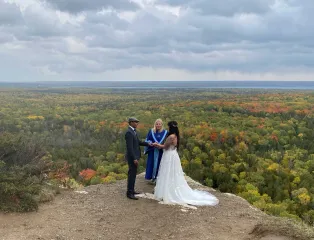 Stephen & Vanessa
Shannon Fenerty was amazing and helped us through everything. She helped us know exactly what to do and when to do it. Very friendly and knowledgeable. September 2022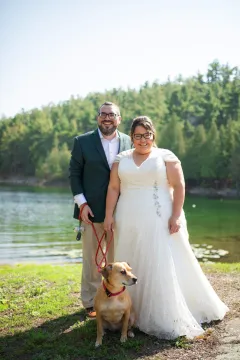 Dalton & Breeanna
Shannon Fenerty was absolutely amazing. She instantly fit in with our small group. We appreciated her patience and humour. Highly recommend! September 2022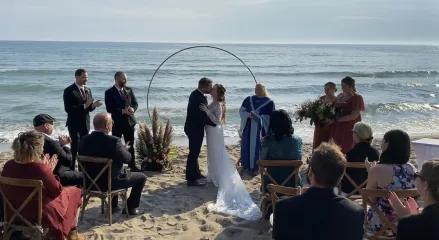 Phillip & Nancy
Shannon Fenerty meet our expectations. We would definitely refer your service to others. We really liked the convenience above all. The fees are more than reasonable and the experience was spectacular!!! Thank you so very much....it made our wedding process a breeze. September 2022
Ben & Kristi
Shannon Fenerty was amazing and the experience she provided exceeded our expectations. Shannon was so kind, reassuring, supportive, approachable and professional. When we had our initial meeting with Shannon last fall we felt we clicked with her right away. As we continued to communicate virtually for nearly a year to prepare for the wedding Shannon was quick to respond to emails and provided us samples and guidance while writing our ceremony. Shannon was so organized! We would definitely recommend Shannon to others considering getting married on Manitoulin Island!! August 2022
Avery & Evan
Shannon Fenerty did an AMAZING job taking on my crazy (and very goofy) family. She did exactly as we wished for. I would recommend her to anyone who is looking for a fun yet serious wedding officiant. We have no complaints, again.. thank you so very much for being apart of our big day! July 2022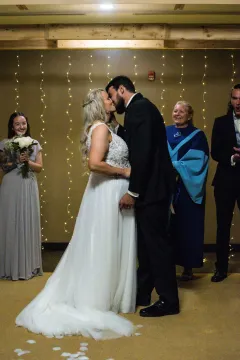 Phil & Nancy
Shannon Fenerty was absolutely amazing...beyond our expectations! We really enjoyed working with her. Shannon was not only professional; she was also very warm, friendly and caring when it came to our needs...going that extra mile to ensure our special day was indeed "special". Thank you Shannon, we were honored to have you officiate our ceremony. Sept 2022
Emily & Brock
Shannon Fenerty was absolutely wonderful! We appreciated her help in the marriage licence process as well as her organization for our wedding ceremony. We would highly recommend her! July 2022
Kelly & Amy
Shannon [Fenerty] was amazing. The perfect person for a small private wedding. Definitely would recommend. September 2021
Christopher & Hannah
Shannon Fenerty was absolutely fantastic! From the planning to the rehearsal to the wedding day, she was professional, friendly and always there to help! She kept in touch throughout the entire process and ensured she was able to accommodate us when we had to postpone due to COVID. I'm so glad Shannon was able to marry us. Thank you so much Shannon for everything from start to finish! September 2021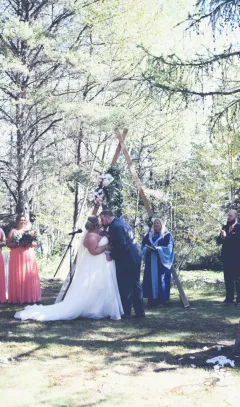 Erik & Kera
Shannon Fenerty was amazing! She was extremely well organized, friendly, and easy to work with. She had a perfect pre-made ceremony and we were able to then customize it to meet our needs. It was a great starting point! Shannon was a perfect officiant for our wedding. Thank you Shannon! August 2019
Krista & Robert
Shannon Fenerty was awesome! She worked with us to ensure we had a wonderful wedding! She was crying as I arrived at the alter because I came down the aisle in a wheelchair with my father pushing me due to my cancer, it melted my heart it was a very intimate ceremony and we loved her and everything about it!
Mary & Ghyslain
Shannon Fenerty exceeded our expectations and the office was awesome. It was a beautiful ceremony taylored to our exact needs... It was perfect, and I would definately recommend you. All the best and thank you again for being so helpful!