Shamim Pirani, B.Comm. (Nairobi U)
Congratulations! One of the most momentous events in our lives is to find our soulmate and the love-of-our-life. Choosing 'just-the-right' officiant is an important decision, and I offer my integrity, dependability and easy going nature. I am an Appointed Designated Minister with Clergy Support Church and I would love to make your wedding ceremony one to remember. I found my calling when I organized my daughter's wedding. It was an incredibly joyful and life-changing experience. I love all good music, and books that inspire. My goal is to provide you a successful, personalized and unique experience on your wedding day. I would love to make your wedding ceremony one to remember.
Request Shamim Pirani
Areas Served
Colwood, Cowichan Bay, Langford, Milnes Landing, Mill Bay, North Saanich, Saanich, Shawnigan Lake, Sidney, Sooke, Victoria
Reviews
Steve & Silva
Shamim Pirani was an absolute pleasure to have as our wedding officiant. She was approachable, friendly, fun, and thoughtful through the entire process. Our special day was that much better because of her! Steve & Silva July 2021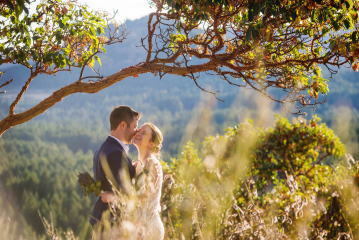 John & Adrienne
Shamim Pirani was an outstanding officiant. She did an excellent job, we both felt she was perfect and understood exactly what we wanted from our wedding. Calm, professional, and exceptionally friendly. Many of our guests commented on how excellent she was. We felt she was great at grounding everything with her calm demeanor and was able to make something that could be awkward incredibly comfortable and sweet instead. We could not recommend her more! Thank you Shamim, we appreciate you being a part of our wedding so much! John & Adrienne July 2021
Tania & Geraldo
ShamimPirani was simply amazing. So amazing that my hubby and I adopted the name Untie Shamin. She is now part of the family. All my relatives back home loved the way she conducted the ceremony, especially because we had a covid wedding, so none of our family members could come to Canada to celebrate the wedding. Everything had to be virtual, but she managed so well and made the ceremony so especial just like unties do for their niece and nephew. We feel very blessed to have had her perform our ceremony. Tania & Geraldo Aug 2020
Rob & Serena
Dearest Shamim Pirani, the ceremony you performed for Rob and Serena was so sweet, heartfelt, and humorous. Thank you for all the effort you put into making it the perfect ceremony. I send you many blessings for a healthy, safe and happy New Year. With much appreciation and gratitude! Lee Jan 2021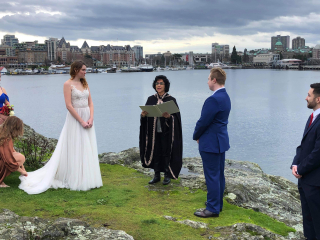 Peter and Nicola
Shamim Pirani, thank you for all the help and support you provided for our special day. We had such a wonderful day and everything went so amazingly! Thank you again for everything, we feel so blessed that you were there to help us along our journey. You were such an important contributor to our fun ceremony and we can't thank you enough for the amazing communication you supplied to help us create such a special event. Peter and Nicola
Natalia & Karol
Shamin was amazing ! So sweet and so kind honestly I would recommend her to anyone she made our day super special was there on time and made our wedding so magical thank you again for being our officiant Xoxo Nati & Karol May 2020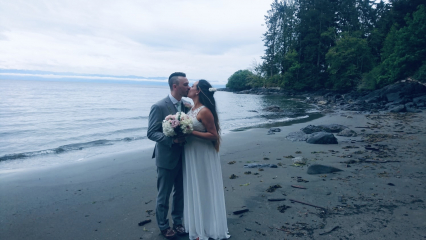 Bobby and Stephanie
Thank you so so much, Shamim (Pirani)! You made our day so magical! ❤️❤️ Bobby and Stephanie February 2020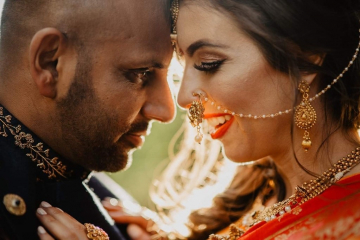 Ryan & Emily
Shamim Pirani was beyond amazing! She was so easy to work with and always cheerful and thoughtful. I can't say enough about this lovely woman. Shamim listened to everything we wanted and added a lovely personal touch to our special day. Thank you for everything! Ryan & Emily October 2019
Kingsley & Janet
Shamim Pirani was excellent, friendly and gracious and I would highly recommend her for any wedding. It was a beautiful day!!! Thank you shamim . Kingsley & Janet August 2019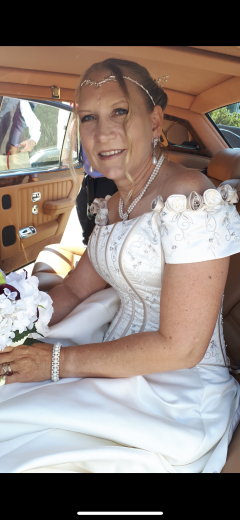 Braydon & Miranda
Shamim Pirani was excellent. She was very helpful throughout every step and made the planning process very smooth and easy. The ceremony was so nice and thoughtful. We couldn't have been happier. Thanks Shamim! Braydon & Miranda August 2019
Ryan & Emily
Shamim Pirani gave us a perfect ceremony. She was wonderful to deal with. I would highly recommend her for your wedding. Pre-planning was easy with her, Shamim had lots of options, suggestions and was willing to tweak the ceremony to suit what we wanted. She is a lovely person. Thanks again! Ryan & Emily August 2019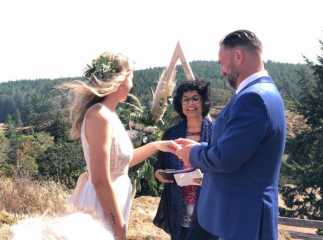 Jake and Kayla
"Thank you so much Shamim, you did a perfect job as well! The family is so happy with how you set up the ceremony, lots of laughs and tears! Thanks so much for a great wedding, everyone loved it!!" ~ Jake and Kayla"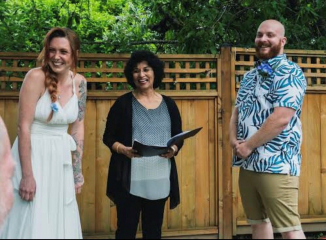 Kari & Abby
Shamim Pirani was lovely! She made our special day even more special. thank you so much Shamim! Kari & Abby May 2019