Scott Burrows, BEd; MEd (Lakehead)
Scott lives in Newmarket with his wife and two boys. Scott is an avid sports fan and loves coaching his son's teams. He is easy to work with; you can count on him to ensure that your wedding ceremony will reflect the sensitivity of your feelings on your special day. Scott would love to assist you in making your wedding day truly memorable. He is a trained mediator/facilitator, as well as a graduate of Concordia (B.A.), McGill (B.Ed.), and Lakehead (M.Ed.). Scott has taught in various levels of education (from primary to post-secondary) and he has spent almost 25 years in law enforcement. He has been conducting wedding ceremonies as an Appointed Designated Minister since January 2018.
Request Scott Burrows
Areas Served
Aurora, Bradford, Gwillimbury, Innisfil, Keswick, King City, Markham, Mount Albert, Newmarket, Richmond Hill, Schomberg, Whitchurch-Stouffville, Sutton, Uxbridge, Vaughan, Kettleby
Reviews
John & Debra
Scott Burrows was delightful as well as professional. His warmth and sense of humour meshed beautifully with our event. I would highly recommend him to anyone who needs an officiant with a true sensitivity to their requirements. Thank you Scott. July 2022
Sheryl & Peter
We were very happy with Scott Burrows' service. It was exactly what we were looking for. We had some delays with the ceremony but Scott was very understanding and everything turned out perfect! June 2022
Sydney & Keifer
Scott Burrows was a great officiant and helpful throughout the process. Because we live so far away from our venue, we were able to meet over Zoom and was very good at communicating over email, text and phone calls. He kept things simple, allowed us to arrange and edit the ceremony, and we knew that we could count on him even though we had a nationwide internet and phone outage on the day! Great experience all around! July 2022
Eric & Jamie
Scott Burrows exceeded our expectations and was incredible. He helped guide us through the process and answer all of our questions. He was very professional and funny and went above and beyond to help make our day even more special. It was such a pleasure and we will happily refer him whenever possible. Thank you Scott for being there to officiate and be part of our very special day!! September 2021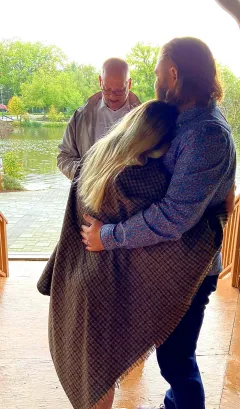 Michael and Laura Aug 2021
We loved our officiant Scott. He was very personable and made our day special. I would highly recommend him!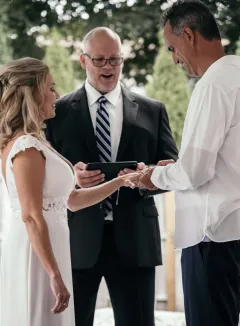 Isaac and Kristin
Scott Burrows was absolutely amazing! His ceremony was short and sweet, made you laugh and cry. We highly recommend using Scott for your wedding!!! Isaac & Kristin April 2021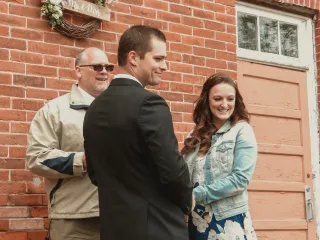 Daniel & Vivian
Scott Burrows was able to make things the easiest they could be with the ever changing regulations. Gave friendly advice and helped make our day easy and stress-free. Daniel & Vivian January 2021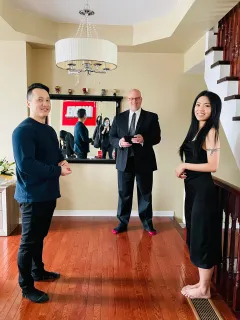 Domenic & Janice
We would highly recommend Scott Burrows as your wedding officiant. He was personable, kind and thoughtful. He handled our ceremony with grace and love and we were so grateful for the beautiful script that he suggested, and that we will always cherish. My family who attended were very impressed with his manners and professionalism as well. Domenic & Janice September 2020
Domenic & Janice
Thank you so much for performing our marriage ceremony in the backyard. You spoke eloquently and we also really appreciated that you had a script and readings that you presented to us, which were perfect! Domenic & Janice September 2020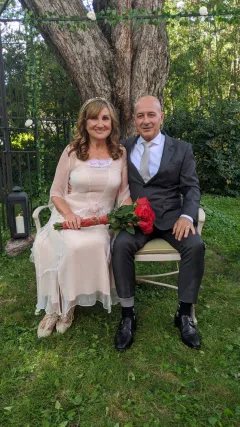 Nikita & Colin
Hey Scott, Thank you again for marrying us. Everything was so perfect we couldn't have asked for our ceremony to be any better. Aug. 2020