Sandra Jarvis
Sandra, who lives in Braeside, believes that when it comes to your wedding day, it truly is "all about you". You deserve to have the wedding ceremony of your dreams, and I would be honored to have the opportunity of working with you to make your vision a reality. I enjoy expressing myself through poetry and art. Other hobbies are reading, gardening and fishing. I have always been eager to help people so I trained and worked as a Nursing Assistant at the Grace Hospital in Ottawa. Then my wish to continue learning, combined with wanting to be creative, led me to train in Event Planning at Algonquin College. With that knowledge I have successfully organized a fundraiser for cancer, given consultation to brides and helped with a local bridal fair. As a Designated Minister, whatever your need may be, I would be thrilled to help you with the happiest, most magical and memorable wedding ceremony of your life.
Request Sandra Jarvis
Areas Served
Arnprior, Galetta, Fitzroy Harbor, MacLaren's Landing, Constance Bay, Dunrobin, Carp, Pakenham, Almonte, Carleton Place, Renfrew, Cobden, Calabogie, Braeside,
Reviews
Cliff & Kathryn
Excellent service. Very easy to book. Many officiants to choose from. Sandra Jarvis was from nearby and did an excellent job getting our service planned and then carrying out beautifully on our wedding day. Beautiful day with our family and best friends. Keep up the great work Sandra Jarvis is amazing! June 2023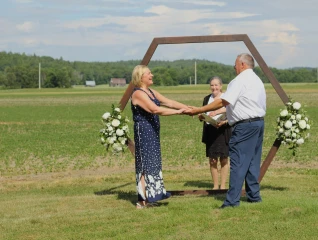 Credit: Haley Lynn Scott
Andrew & Chey
I really had no idea how to even start my wedding process, a friend of mine referred me to your service and boy am I ever glad. From the initial intake; I felt more at ease knowing I was well taken care off. I picked the first officiant I was shown, as it seemed life a good fit. Never had the pleasure of meeting her prior to the ceremony, but by our email conversations, I knew she was the one. Sandra was amazing!! She made sure everything on her end was complete and allowed us to add things to make it our own. Ceremony was perfect, despite how nervous I was, she made it at ease. Thanks Sandra, for making it happen! September 2022
Koby & Shahnan
Sandra Jarvis was wonderful and very personable. Thank you Sandra! August 2022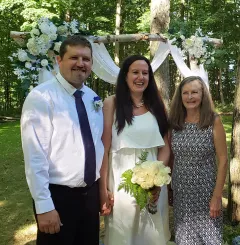 Marcus & Emily
Sandra Jarvis was a sweetheart! She sent us a few vow options to choose from and mentioned doing a hand tying ceremony. It was perfect for what we were looking for! November 2021
Jeffrey & Taylor
Sandra Jarvis was amazing ! We loved her so much have already recommend her to others! October 2021
Jon & Tracey
Sandra Jarvis did a great job! We couldn't have asked for a better person to marry us! She was quick to answer any questions and made sure we understood how the process would work. She even dressed within our colour scheme to fit it. She helped make our day perfect! I have already recommended Sandra to others and will continue to do so in the future. September 2021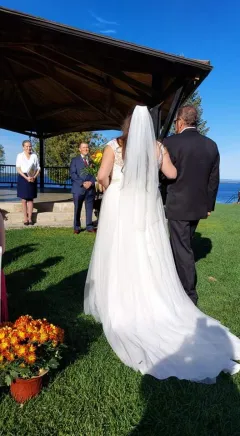 Jeff & Lianne
Sandra Jarvis exceeded our expectation. Thank you for a prefect ceremony. Jeff & Lianne August 2020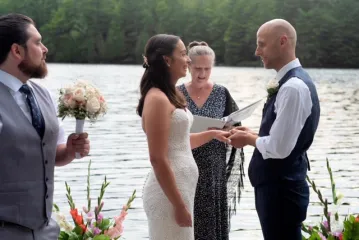 Victoria & Robin
Sandra exceeded our expectations by creating us a custom focused ceremony that really had the energy and feeling we were wanting for our special day. She was patient and thorough with us, taking the time to explain how our ceremony would go, and making sure we were completely happy with our script. We would absolutely recommend Sandra Jarvis to other wedding parties. Her knowledge, kindness and understanding made our day an absolutely unique and magical experience. Victoria & Robin, July 2018.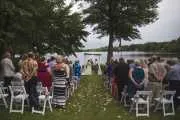 Tim & Denise
Sandra Jarvis was perfect for our wedding. She is amazing.
Jeff and Theresa
Thank you very much for your services at our wedding this weekend. Theresa and I thought the ceremony went very well.The weather cleared up and made for a beautiful service.
Amelia & Dominic
Above and beyond expectations! Sandra Jarvis was fantastic. Incredibly helpful and very professional throughout. Sandra made our ceremony so special and everybody commented on it and how beautiful it was. Thank you so much for all your help and support.
Jack & Debbie
Sandra Jarvis is a kind, caring and very accommodating person who helped to make our day feel very warm and special. Many guests commented on the ceremony. Thank you Sandra!
Dave & Mandy
Sandra Jarvis was awesome! We had many compliments about how our ceremony was a "class act". She captured the attention of everyone at the wedding and did a great job. All in all a very professional ceremony. Sandra was very helpful and confident. We would recommend All Seasons.
Samantha & Matt
Sandra Jarvis was great! She had great ideas to help make our ceremony exactly how we wanted it to be. We had a great experience with All Seasons. Everything went smoothly and stress-free! Thanks Sandra! We appreciate everything you did for us :)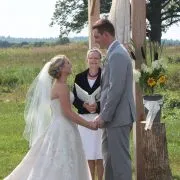 Leanne & Keith
Sandra Jarvis exceeded our expectations. We found the close communication by email from the office very helpful and reassuring. Sandra was amazing. I'm so thrilled that we chose her to be there for us at our wedding.