Samantha Hendricks, B.Ed, M.Ed
Samantha and her husband Peter live in downtown Toronto. She has a Master in Education from the University of Windsor and is an experienced public speaker, fluent in both French and English. Samantha enjoys participating in volunteer activities at Habitat for Humanity, The Children's Book Bank, and The 519. Her outgoing personality, infectious smile, inclusive approach, and open-mindedness are key qualities that welcome you and your future partner. Samantha recognizes that her role is to honour the intentions of the couple so as to perform a ceremony that is the truest expression of the individuals involved.
Request Samantha Hendricks
Areas Served
Downsview, Downtown Toronto, East York, Etobicoke, North York, Scarborough, Thornhill, Toronto, Weston, Willowdale, York
Reviews
Ashley & John
Samantha Hendricks was an exceptional officiant. Before the ceremony, Samantha provided clear, well-organized material, and answered all of our questions. Weddings can be a little stressful and it was amazing not having to have to worry about the ceremony at all. Totally stress-free! Samantha is very professional, and she offers a beautiful warmth that I don't know if others can offer. Our guests raved about how wonderful she was. I highly recommend booking Samantha for your ceremony. May 2022
Timothy & Samantha
Samantha Hendricks was extremely professional, thorough, and friendly. She made everything very easy for us and was very accommodating of our schedule and needs. Would highly recommend her!! April 2022
Jennifer & Patrick
Words cannot express how grateful we have been to have Samantha Hendricks walk us through the wedding/marriage process. From our initial communication, we knew that we were in the most capable of hands. Samantha's thorough follow up assured us in the most stressful of times that everything would be perfect on our wedding day and even now as we navigate the certificate process she is still there guiding us. The ability to craft a personal ceremonial script based on one of our meetings, filled with joyous events and love really made the day that much more unique. She truly is magnificent and cares deeply about the couples that she officiates and it shows through her work and her personality. What we learned is that with Samantha, you are gifted with the utmost love, strong personal connection, laughter and the most perfect of wedding ceremonies that you can imagine. October, 2021
Eric & Jordan
Samantha Hendricks was warm, easy to work with and very professional! She helped create a meaningful and relaxed atmosphere. Samantha was a pleasure through the whole process! December 2021
Edward & Natalya
Samantha [Hendricks] went above and beyond and provided all of the resources we needed to have a successful ceremony. She also had a relaxed approach, similar to ours -- it was overall a very pleasant experience! And thank you for being understanding with rescheduling due to Covid-19. September 2021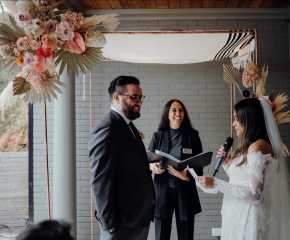 Josephine & Brendan
Samantha Hendricks was extremely informed and put us at ease. Her communication and support made the process feel easy and stress-free. She exceeded expectations, at every step -- from before and after the nuptials. She had a great attitude and was lovely to be around on the day of. I've already recommended her to other friends getting married next year. Josephine & Brendan August 2021
Gustavo and Elizabeth Aug 2021
Samantha was absolutely wonderful. She absolutely exceeded our expectations. Samantha performed our ceremony 2 weeks ago and we were so thankful to have her marry us. We had guests in person and we streamed the ceremony for guests who could not be there as well. Samantha made sure to address both in-person and online guests throughout the entire ceremony, and made everyone feel part of the occasion. She also got to know us as a couple and tailored the ceremony to reflect us personally. We did not feel as if we were just following a script used for everyone. Communication was always prompt and very clear every step of the way - from planning to the wedding day to after the wedding. We had no worries about the ceremony thanks to Samantha. She went thru every detail - what time she will arrive, when she will get our rings, the order of processional, who hugs whom after walking down the aisle, the exact script, where she will stand when saying our vows, when to walk down the aisle after the ceremony, to the process of paperwork after the ceremony. (This was very helpful as I have anxiety, and knowing step-by-step what to expect made me feel at ease.) She even made sure to ask what our wedding colours were, and brought pens to match the decor. We cannot thank her enough. We cannot recommend Samantha enough for your ceremony. Thank you so much for making our wedding day perfect. Thank you, Samantha! We are so grateful to have had you part of our wedding day!
Arshad & Michelle
My husband and I had the pleasure of having Samantha Hendricks as our officiant earlier this month. Samantha was wonderful to deal with - she was approachable, kind and compassionate. She took the time to learn about us as a couple and understand our vision for our ceremony. She sent us a copy of her standard script ahead of time which was just beautiful and exactly what we were looking for. Samantha was even able to assist our young nephews who were the ring bearers to come to the aisle and provide the rings. She was a delight and we could not be more pleased with the ceremony. Thank you for everything. Arshad & Michelle September 2021
Nick & Guilherme
I wanted to let you know that Samantha made our day very special. She was very attentive and easy to get along with. She helped make the process fun and has been thorough with providing us with all of the information that we need. Thank you, Samantha! Nick & Guilherme, August 2021
Jane & Ben
Samantha Hendricks met all of our expectations and more. From our initial introduction all the way to the wedding day, Samantha always went above and beyond. Samantha's aura is exceptional— she is probably one of the best people we've ever met and couldn't imagine our wedding day without her. Samantha provided extremely organized details and walked us through every step of the way leading up to the wedding— and when the wedding day finally came, Samantha became our rock. Samantha showed up extra early to greet all the guests and exchanged genuine conversations with our families throughout the entire experience. Samantha ensured that everyone felt comforted, cared for, and confident throughout the entire experience leading up to, during, and after the ceremony. Samantha was a huge factor in making our wedding day the best day of our lives and has become a relationship that my husband and I will cherish forever. Jane & Ben July 2021
Laura & Erin
Samantha Hendricks was extremely helpful throughout the entire process. She spent time sending us all the required information, and helped us through the whole process of marriage from start to finish. She was very kind, welcoming, and fun. We had such a memorable time - I highly recommend her!!! Laura & Erin July 2021
Josip & Mia
We would like to thank All Seasons Weddings, and particularly Samantha Hendricks for officiating our wedding during this challenging pandemic! Samantha was very professional, punctual and very well organized, not leaving any stone unturned in the planning process. She is also very charismatic! Highly recommended. Josip & Mia Jan 2021
Justin & Rebecca
Samantha Hendricks was hands down fantastic! Highly recommend. Not only was she extremely flexible in accommodating our ever-changing ceremony time, but she also was extremely helpful in providing info and even resources for all things marriage. I must also mention she was extremely polite, professional and just an all-around lovely person to have officiate our ceremony. Justin & Rebecca May 2021
Lisa & Marco
Samantha Hendricks was an absolutely amazing officiant who went above and beyond to make our ceremony seamless and special. She took extra time prior to speak to us both and answer all our questions and share her ideas and advice about how the ceremony would go and the process after which was very helpful. She has such a positive personality and laugh which made all of us smile and enjoy the beautiful occasion. Samantha was so thorough and above all so kind to make our wedding day perfect! Lisa & Marco May 2021
Renee & Sheldon
Let us first say thank you to All Seasons Weddings for the continuous support given to us throughout this uncertain time. They were there to answer any questions about changes due to covid, assure us and provide any support they could. I made so many calls in one day but they were not bothered they just kept answering my questions. Samantha Hendricks was my officiant and she was so kind, caring, helpful and chill. She was super prompt to reply to any messages and addresses our concerns as soon as possible. She spent time listening to my vision for my wedding and even made suggestions which I really appreciate. Any questions I had; she would answer promptly and in details. On my wedding day she showed up at the time she said she would and she was so patient. She performed a beautiful ceremony. One my family (both in-person and on google meet) loved and enjoyed. I would recommend her to anyone looking for an amazing, caring, fun and has patience. She helped make my day so special. Thank you Samantha!!! 😊😊 Renee & Sheldon April 2021
Kevin & Jessica
We instantly felt a connection with Samantha Hendricks during our first meeting. As my (now) wife and Samantha are both teachers, there is a shared understanding and this helped build instant rapport. It was clear from the start she would make every effort to make our day special, and she delivered. Her thoroughness and organized approach for our ceremony was very much appreciated. She made us feel comfortable every step of the way. Despite having to postpone our wedding because of COVID, Samantha provided the much needed reassurance as things were changing. Our special day could not have been any better and a big part of that was due to Samantha. Kevin & Jessica March 2021
Tom & Cynthia
Samantha (Hendricks) was truly amazing!! Since the day that she contacted us she was always enthusiastic and there to help us. She was super easy to talk to and checked in every so often to make sure we had everything we needed. With all the changes with the pandemic, Samantha was always encouraging and always had kind words to share. She helped us through every step of the process. She also put together an amazing, intimate and personalized ceremony for us. We could not have asked for any more from Samantha!! We are so happy with the memories she created for us at our ceremony! Thanks Samantha!! Tom and Cynthia October 2020
Yara & Jad
Thank you so much Samantha Hendricks for making sure our special day went exactly how we wanted! She was so enthusiastic, warm and professional. She came prepared with all the documents, everything was so well organized and the entire ceremony flowed smoothly. Yara & Jad Oct 2020
Michael & Anna
Samantha was incredibly organized, professional and empathetic. She delivered exactly what we were hoping. Thank you so much for your professionalism Samantha! Michael & Anna September 2020
Christopher & Andreea
As soon as we met with Samantha we knew we wanted to have her officiate our wedding! Her enthusiasm and organization is evident right from the beginning. She comes with great suggestions and questions that even us as a couple didn't even think about. Communication was clear and she came up with the most beautiful custom script that outlined our story as a couple. Our wedding was impacted by COVID-19 and had to be postponed to a later date. Samantha during this time was extremely flexible with this date change as well as location change. She did everything possible to make this a special day for us and keep us on track day of! She guided the music and witnesses during our ceremony to ensure smooth transitions and even helped with fluffing my dress when needed. We couldn't be happier with the outcome of our ceremony and strongly recommend Samantha for any other couples! Christopher & Andreea August 2020
Jen & Corey
Samantha Hendricks was a true pleasure to work with. She was warm, friendly and professional at all times. She communicated with us promptly and frequently, and adjusted our ceremony script to meet any specific requests we had, no matter how small. She even greeted our guests and helped those who needed extra assistance to their seats! Our ceremony was beautiful and we had so many positive comments about it. It was perfect. We would recommend Samantha to anyone looking for an officiant. Thank you! Jen & Corey October 2019
Priscilla & Matt
We cannot thank Samantha Hendricks enough for all her help before, during and after our ceremony. Her positive personality brought warmth and energy to our ceremony. She spoke so easily and it felt like she's known us for years. It was a great mixture of tears and laughter. We can't recommend her enough and we're so happy she had such a big role in our special day. Thank you so much!! Priscilla & Matt September 2019
Dawn & Veronica
Samantha Hendricks was an exceptional officiant. She took her time to answer our questions and ease our minds throughout the process. She showed care during the ceremony and made the whole experience special. We thank Samantha so much for all of her support! Sincerely, Dawn & Veronica Sept 2019
John & Kimberly
Samantha Hendricks was professional, cheery, and incredibly responsive whenever we had a question. She really helped make the day special :) Thank you again Samantha. John & Kimberly April 2019
Tiffany & Jenn
It was such a pleasure for us to work with Samantha Hendricks in crafting a wedding ceremony that was unique and special to us. She was very reassuring and detail-oriented. Samantha listened and paid attention to subtle nuances, making sure to incorporate them into our ceremony wherever appropriate. Also, our guests loved her personality, and we totally see why - she's a hoot! If you're looking for a mix of charisma and humour to add to your special day, Samantha is your person! Tiffany & Jenn May 2019
Amanda & David
Dave and I can't express enough how much Samantha Hendricks made our wedding the best day of our lives. Her warm personality, kind heart and laugh that makes you smile made us feel like we've known her forever. She eased any worries we had immediately after having met her and again on our wedding day. She was an absolute blessing! We really can't express our gratitude enough. She made our day totally complete! I highly recommend her to anyone who's getting married, I can't say enough on how much we would suggest and recommend Samantha. Besides ourselves being delighted with her, our guests couldn't say enough kind words about her. They truly thought she was wonderful! Her words and expressions are from the heart! We can't thank you enough!!! Amanda & David Oct 2018