Ruth Greenspan, BA (Hons), MSW
Ruth is a resident of Hamilton and one of our most requested officiants. She is passionate about supporting people's choices in life and love and will be comfortable conducting your wedding ceremony. She is happily married in an interfaith, interracial union and has three children and a black lab. She was voted woman of the year by the Status of Woman in 2005 and Mohawk teacher of the year in 2012 and 13. With her free time, you can find her walking, at the gym, doing yoga, attending festivals and watching her son and his rock band, or watching sports events, including her children's. She believes "true life lies in laughter, love and hard work."
Request Ruth Greenspan
Areas Served
Ancaster, Dundas, Flamborough, Stoney Creek, Glanbrook, Greenville, water down, Burlington, Caledonia
Reviews
Cheyenne & Matthew
We had Ruth officiate our wedding and she was such a blessing to have. She has such a wonderful heart and made our night so fantastic. I would recommend her to anyone wanting to get married!!! June 2023
Neil & Storm
Ruth Greenspan was wonderful, we absolutely loved working with her. Ruth was the best! March 2023
Blake & Alexis
Ruth Greenspan was great! Very glad we had her as our officiant. We would highly recommend her! December 2022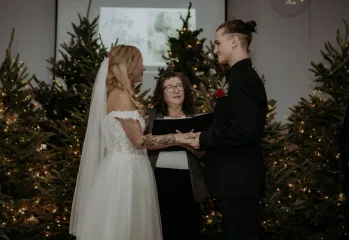 Michelle & Nick
Ruth Greenspan held a beautiful ceremony for our wedding this past weekend. As we are a non-religious Jewish couple, we were looking for an officiant who could incorporate specific Jewish aspects into our ceremony such as the drinking of the wine, the blessings, the breaking of the glass, etc ; however, with room for modifications since we were not having a religious ceremony. Ruth was very respectful and open to customizing our ceremony to exactly what we wanted. Thank you for a beautiful ceremony and for providing us with exactly what we wanted! Oct 2022
Sarah & Brian
Ruth [Greenspan] was awesome! We couldn't have asked for a better person. The second we read her profile we knew she was the perfect one for our wedding. We can't thank her enough. The whole experience was amazing. I would recommend her to everyone. July 2022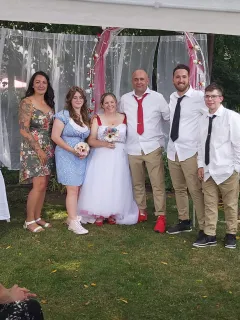 Carolyn & Christene
Ruth Greenspan was amazing. She knew exactly what we wanted. I wouldn't hesitate to recommend her to anyone. Good job Ruth. Thank so much. July 2022
Brooke & Olivia
Ruth [Greenspan] was amazing! We really loved the way she conducted the ceremony, and her speech. We felt very special and happy to have had her officiating our wedding. June 2022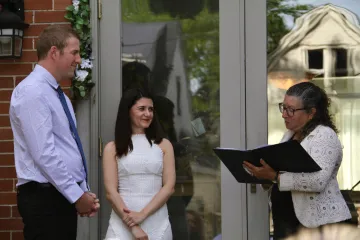 Roger & Carol
Ruth Greenspan was very friendly and easy to talk to. Every aspect of using your service went smoothly with no problems. Thank you. June 2022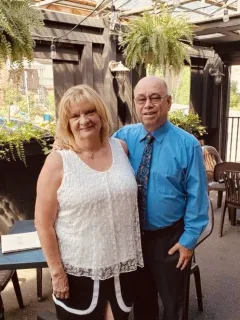 Jeff & Heather
Ruth Greenspan was amazing, our ceremony was simple and perfect just how we wanted it. Everything went as expected .Ruth was awesome at communicating with us if there was any questions or problems or anything. Thank you for everything . December 2021
Natalie & Peter
Ruth Greenspan was a pleasure to work with for our wedding! The ceremony was perfectly short and sweet, just like we wanted. You couldn't ask for a more professional and lovely officiant. Natalie & Peter August 2021
Lori & Rick
Ruth Greenspan was wonderful. We would highly recommend her. Lori & Rick July 2021
Dana & Josh
Hi Ruth (Greenspan), We just wanted to say thank you once again for performing our wedding ceremony. It means the world to us that you made this happen for us, especially given all of the circumstances that halted our wedding originally. We also greatly appreciate the added gesture of your card, and that you went above and beyond for us on that day regarding the ceremony itself. Wishing you all the best. Dana & Josh May 2021
Colleen & Colleen
Ruth Greenspan completely understood what we wanted, and helped us get it!!! She was respectful and professional at all times, yet fun and friendly. She struck the perfect balance, and her words made our celebration so meaningful!!! Colleen & Colleen December 2020
Jason & Sheree
Ruth Greenspan was amazing, made us feel very comfortable from the moment we spoke and did a great job on the day. Thanks to Ruth for her warmth and good humour, she was a valuable part of the day and we were delighted with how the event went. She was perfect for us! Jason & Sheree September 2020
Inbal & David
Hi Ruth (Greenspan). Just wanted to send a quick note, with a BIG thank you. Thank you so much for the beautiful ceremony that you officiated for us last Saturday. It was such a rollercoaster of emotions, it passed by so fast. But we received so many compliments on it. And it couldn't have turned so well without your help and your support. Thank you! Inbal & David, August 2020
Elizabeth and Jory
Hi Ruth, Thank you again for officiating our wedding on Tuesday. Everything went so well and we are enjoying married life! Thanks again!!! Elizabeth and Jory
Peter & Mona
Ruth Greenspan is very kind professional amicable officiant. We highly recommend her and your company services. Thank you! Peter & Mona March 2020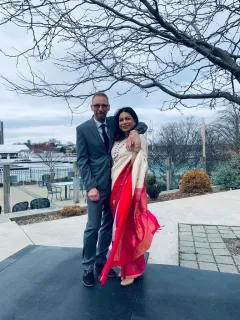 Jason & Sally
Ruth Greenspan was fantastic, she made our ceremony totally about us, not the typical cookie cutter lines. She is fabulous! Jason & Sally September 2019
Gabriella & Alyssa
Ruth Greenspan was absolutely amazing! She went above and beyond to make our special day perfect! Thank you Ruth for everything. Gabriella & Alyssa August 2019
Andrea & Adam
Ruth Greenspan was a gem! She was so lovely and accommodating. She helped us incorporate all our ideas to create a ceremony that matched our personalities and wedding vibe, plus offered some unique ideas we hadn't thought of that worked so well. We were incredibly happy to have her as our officiant and would 100% recommend! Andrea & Adam July 2019
Jamel & Glynnis
Ruth Greenspan married my husband and I in March, 2019 and we count ourselves very lucky to have been put in touch with her. Ruth was unbelievably accommodating - from making herself available to perform our ceremony on very short notice to quickly answering my countless questions leading up to and on the big day! She has a very warm and welcoming personality, and her calming presence was greatly appreciated on a stressful day. Our guests had nothing but wonderful things to say about her service, most commonly noting what a touching ceremony she performed, and how much she seemed to enjoy being there with us. Thank you so much, Ruth, for all of your hard work and for making sure our day really was perfect! I would recommend Ruth to anyone and everyone if you are looking for a top notch, easy to work with, professional officiant for your wedding. Jamel & Glynnis March 2019
Adam & Jessica
Ruth Greenspan is the best! We absolutely loved having her at our wedding, and she was a delight to work with. She was a huge part of our day! My interactions with John in the All Seasons office were nice and I appreciated his patience with us.
Mother of the Bride
Ruth Greenspan officiated my children's wedding. She was absolutely amazing. She was so gentle, kind and caring to my children, very patient, and worked the ceremony around what they were wanting. She was easy to contact and set up meetings with, always gave us her undivided unrushed attention. Ruth's ceremony was everything and more we expected. Ruth did a beautiful job on intertwining both religions with respect, and love. Thank you so much Ruth!!!
Stacey & Brian
Ruth Greenspan was great! Thank you for everything. You made everything so easy and everything went so smooth! I will definitely recommend Ruth to others! Thanks again!
Samantha & James
Ruth Greenspan was so supportive and lovely throughout the entire wedding planning process. She guided us in developing a ceremony that was a perfect reflection of our different traditions, and did such a great job on the day of the wedding. Highly recommended!
Karlie and Zak
Now the honeymoon is over and we are reflecting on our day. I wanted to send a big thank you from Zak and I. The ceremony absolutely exceeded our expectations it was perfect. We had so many compliments on our ceremony our family and friends loved it. Thank you so much for sharing in our special day. Karlie and Zak
Gemma & Sultan
Ruth was very lovely and professional. We really enjoyed having her as part of our celebration. She was very kind and flexible. We would recommend her to anyone!
Matt & Emily
Ruth Greenspan knocked it out of the park. We were nervous because we were planning such a casual ceremony that we'd insult Ruth with how bare bones it was, but she supported and encouraged us every step of the way. we could not have been happier. I've literally already told an acquaintance of mine to contact Ruth for her wedding, whenever she picks a date. Ruth is the kindest, warmest person we've ever met and she made sure that our day was as special as it was. We will be forever in her debt.
Ari & Colin
Ruth Greenspan was great! She was very patient and offered guidance when needed. We loved having her for our special day.
Evan & Katie
Ruth Greenspan was very flexible and accommodating. Very much appreciated her understanding and experience. Only good things to say.
Jordan & Aloan
Ruth Greenspan was superb! She was attentive to our needs, performed a beautiful ceremony, expressed our intentions perfectly and we would not hesitate to recommend her. She met with us well prior, immediately had us comfortable and at ease, and was the perfect officiant for our special day.