Ron Kipp
Ron is a long-time London resident who has been on the All Seasons roster for over ten years. He will travel to help couples create custom wedding ceremonies and family celebrations that are meaningful to them. Ron is open-minded, has a good sense of humour, and enjoys working with creative people. He is a lifelong learner with an understanding and respect for various cultures, traditions and personal identity. Ron has a great understanding of planning weddings and family celebrations and will work with you to make yours a happy, memorable experience for all involved.
Request Ron Kipp
Areas Served
Arva, Belmont, Bryanston, Coldstream, Delaware, Dorchester, Ilderton, Kilworth, Komoka, Lambeth, London, Poplar Hill, St. Thomas, Thorndale.
Reviews
Richard & Jenny
We were so pleased to have been able to employ the services of All Seasons. We had not planned on having an officiant on our actual wedding day, but when we found out City Hall would not accommodate walk-ins, we were left scrambling. I went on a Facebook Wedding group and All Seasons was highly recommended. Luckily for us Ron Kipp was available for the day and time of our wedding. The best thing about our wedding was having all of our family and friends share in our special day. Perfect weather and an amazing Officiant. Ron was a pleasure to work with and fit right in. Small world as a friend of mine knows him and our families live near one another. We would highly recommend All Seasons and have already referred many to use your services. Thank you for being able to accommodate our late request! Jun 2023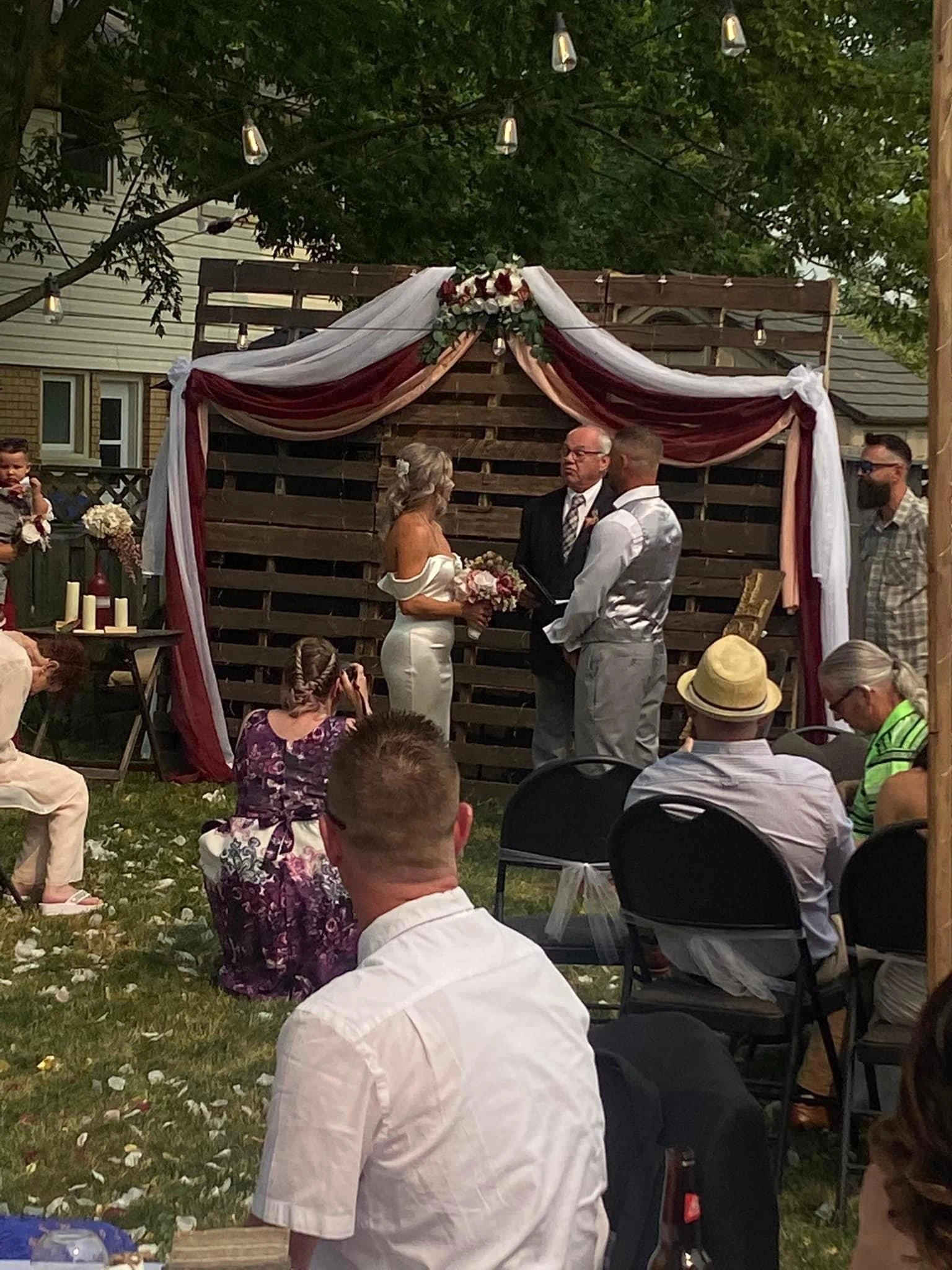 Mitchell & Kendale
Ron Kipp was friendly, funny, and just an overall joy. He made our day unique to us as a couple while making it easy flowing and enjoyable for our guests. We cannot say enough about what an absolute pleasure it was to have him officiate our wedding. December 2022
Hannah & David
Ron [Kipp] was the perfect fit to be our officiant. He was personable and funny, and was an integral part of our day! I couldn't recommend him enough! August 2022
Jon & Patsy
Ron Kipp was exceptional. He provided a thorough and entertaining experience for us and all attendees. Prior to the ceremony Ron asked us for all the aspects we needed and the order of the ceremony. His performance enhanced everyone's experience. August 2022
Tyler & Lyndsey
Ron Kipp was fantastic to work with! We enjoyed his outgoing and warm personality. Very fun and a pleasure to deal with! May 2022
Anisha & Rinsu
It was an amazing service. We were so happy to Have Ron Kipp as our officiant. Our wedding was so beautifully conducted by Ron. Thank you so much for all your services. Thank you. Feb 2022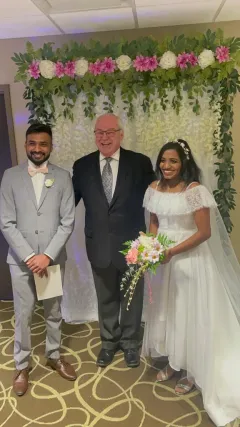 Rama & Mohamad
Ron Kipp was so cute. Thank you for everything. I told everyone to referring to you. Feb 2022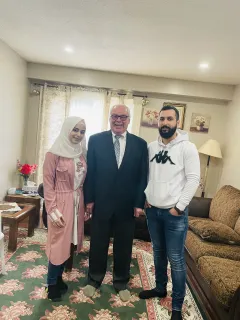 Alicia & Mario
Ron Kipp was a fabulous officiant. Very easy going, down to earth and friendly. Perfect for the ceremony we wanted. The staff were very helpful and responsive with all the wedding date changes due to covid. Thanks! September 2021
Jason & Brittany
Ron Kipp did a great job officiating our wedding. He catered to our requests and kept the ceremony short, which is what my husband and I wanted. We appreciated the light-hearted approach for our ceremony. Thank-you very much Ron Kipp, the day was perfect! Jason & Brittany August 2020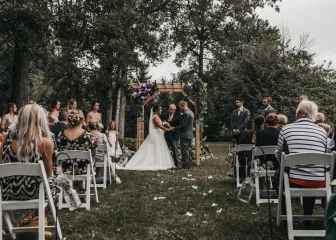 Jose & Megan
Ron Kipp was great!The whole process was easy, and Ron was easy to work with! Thanks Ron for everything!! Jose & Megan August 2019
Conor & Nicola
Hi Ron (Kipp), It has been a while, but you were our officiant for our wedding back in October 2017 in London. I was just cleaning out my office when I came upon your business card and remembered I never sent you this excellent photo of some good laughs we all had during the ceremony. I wanted you to see it and thank you once again for the wonderful ceremony and wedding. We had a blast. Thanks, Conor & Nicola Oct 2017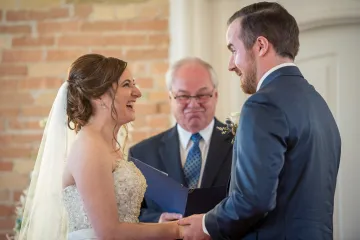 Jordan & Kylli
Ron Kipp was great. He was very flexible with our ceremony and easy to talk to. He answered emails promptly and met us in a convenient location.
Kellie & Logan
Ron Kipp was amazing to work with and such a kind and fun person. We loved meeting and talking with him before the wedding and he preformed our ceremony perfectly. We received many compliments about him and we would definitely recommend him to anyone getting married. Thank you for everything you did for our special day, Ron!
Katherine & Joseph
Ron Kipp was excellent to work with! He was very friendly, funny, and we are so glad we chose him to officiate our wedding. All Seasons made the process so simple, all I did was a request Ron and everything I needed, from information on getting the marriage licence to changing the ceremony time, was provided. Thank you for making it a breeze!
Christina & Paul
Ron Kipp was wonderful and was the perfect person to officiant our wedding! He was friendly and outgoing and we are very happy with our choice. The reservations staff were very helpful. My emails and questions were answered immediately and they made booking an officiant very quick and easy, which is so nice when there are so many things to plan and book for a wedding. Thanks again so much Ron! You were wonderful!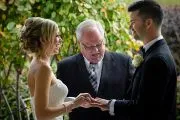 Michelle & Phillip
Ron Kipp was excellent, he helped us plan exactly what we wanted for our ceremony. We really appreciated his positive attitude. He helped set the mood for the wedding.
Katie & Cameron
Ron Kipp was amazing. A family member had him as well for their summer wedding. Great reviews! Such a wonderful day! Ron was great.
Carly & Tim
Ron Kipp did an excellent job and was very helpful in the wedding ceremony planning process. He has many ideas and can give pros and cons to different situations thatyou may have had in mind.
Jodie & Duane
Ron Kipp was professional, personable and friendly. I would totally refer your services to others.
Colin & Rhonda
We picked you as our Officiant because of your picture. There's something about your smile that says you're a nice guy. You turned out to be more warm, friendly and funny than we could have imagined. Thanks for a perfect wedding ceremony and memories that will last a life time.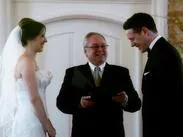 Greg & Tara
We wanted to thank you for being an important part of our wedding. You helped make our wedding ceremony as we hoped it would be. We hope you continue a wonderful service to couples like us.
Peter & Carissa
Ron Kipp was just so great to work with, and we're so happy we picked him to be our officiant. His energy and attitude made our wedding so much fun, while still conveying to both us, and our guests, the importance of the wonderful moment we were experiencing. From our first phone call, our first meeting, and of course the big day, we could not have had a better experience. Friendly, warm, caring, and understanding. Thank you Ron!!