Robin Jones
Robin has become our most requested wedding officiant in her local area of Westport' . She says:'its your day. Your way. I am very flexible, have a great sense of humour and bring the laughter out in others. As the Mayor of Westport, I am a good listener. Whether you are looking to have a contemporary or traditional, intimate or formal ceremony or renewal of vows, I will listen to you and help you tailor the ceremony to suit your wishes. Weddings need to be memorable and meaningful. I will ensure that your ceremony is personalized and respects your dreams and wishes. I look forward to making this ceremony - yours.
Request Robin Jones
Areas Served
Westport, Rideau Lakes, Newboro, Chaffey's Lock, Salem, Bolinbroke, Fermoy, Bedford, Godfrey, Burridge, Portland, Lombardy, Delta, Crosby, Elgin, Jones Falls, Morton, Philipsville, Perth, Maberly, Sharbot Lake, Parham, Inverary, Port Elmsley, Smiths Falls
Reviews
Matthew & Abbi
Robin Jones was amazing. Our day was stressful and chaotic as gathering numbers were decreased without notice only hours before our ceremony. Robin was communicated with us about those changes, reassured us that our wedding would be beautiful despite the disappointment and her humor during the ceremony was exactly what we needed in the face of such upsetting circumstances. Thanks you her, what we remember is the laughter and not the tears. Matthew & Abbi September 2020
Rick & Mary Ann
We really enjoyed Robins ease during the ceremony and sense of humour , a very positive experience!! Rick & Mary Ann September 2020
James & Barbara
Robin Jones was great and adapted on the fly! She spoke clearly so people on the boats could hear as well. Thank you Robin. James & Barbara July 2020
Brandon & Rachel
Robin Jones was so helpful, approachable and wonderful to work with! We would recommend her to anyone and everyone!! Brandon & Rachel August 2019
Colin & Michelle
Robin Jones was wonderful! We loved the ceremony script she provided and she was very accommodating when we decided to add a handfasting ceremony. She had a calming yet fun presence and although we had only met her once before the wedding, it felt like having a family friend help us tie the knot. Highly recommend! Thanks you again Robin. Colin & Michelle May 2019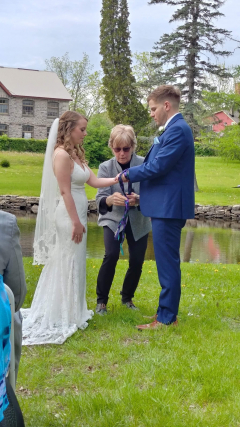 Megan & Brien
Robin Jones was perfect! My husband and I loved her from our first meeting. Her personality matched so well with us. We even had guests after the wedding commenting on how amazing she was! October, 2018
Katelyn & Michel
Robin Jones was amazing!! She was funny and supportive and completely on board with the Halloween wedding we choose. She was dressed beautifully! She was loved by the whole family! She helped guide me through the ceremony even though I was so nervous meeting her was like meeting a family member! Loved her from start to finish! She made our day so special. October, 2018
Stephen & Carol
Robin Jones was perfect for our wedding. She was a pleasure to meet with and put an ideal ceremony together for us. July, 2018
Kelsey & Chris
Robin Jones was absolutely perfect - exactly what we were looking for! She did a wonderful job and we really appreciated all of her expertise and suggestions at the meeting and through email. Can't express how amazing a job she did! All Seasons Weddings sent a lot of very useful information and answered all of our questions. We were very impressed with how easy it was to arrange everything and everybody was courteous and professional. Thank you for making our wedding ceremony perfect!
Conor & Katie
Robin Jones was open to discuss all matters of the ceremony, as well as the details for suggested readings and tips on vows. She was very helpful and open to all of our suggestions and choices. Robin was always available for any question. She was a calm and consistent throughout the process which was much appreciated during a hectic planning time. Robin, who is located in the same town as our cottage, has become a friend. I look forward to many coffee chats in the future.
Victoria & James
Robin Jones was great. She created a relaxed ceremony making us and our guest feel very comfortable.
John & Melissa
Robin Jones was great. It was a very good ceremony and exactly what we wanted... thank you again Robin! Thank you for having a site where we can see all officiants giving us the opportunity to choose. Robin was great and the ceremony was absolutely lovely and exactly what we wanted
Amanda & Ryan
Robin Jones was wonderful, knowledgeable and patient. She helped us out by taking a lot of stress off of us on our big day knowing she would be punctual and professional! Shes a wonderful person to have on your big day!
Joanne and Edward
Robin (Jones) was fantastic. We had the pleasure of her assisting us to plan and create a ceremony that was custom to our life and our love story. On the day of the wedding, Robin was serious when need be, but also provided some light humor to settle the nerves. I would recommend Robin for any marriage ceremony. She was truly an asset to our dream wedding. Thank you for everything Robin! Joanne and Edward
Charmain & Brian
Robin (Jones) officiated our ceremony. She was amazing! From the day we met her to plan what we wanted, to performing the ceremony. She made us feel special and wonderful. She did everything we wanted and made our day even better for it. We can't thank her enough and highly recommend her for anyone else looking for an awesome, relaxed and funny officiant! Thank you Robin and thank you All Seasons! Charmain & Brian 06/20/16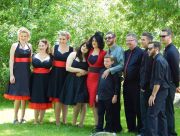 Terri & Jacob
Absolutely thrilled with Robin Jones! Jacob says talking him through the beginning was very helpful. All my questions and requests were replied to quickly and everyone was very friendly! Thank you Robin for a wonderful ceremony. Thank you to all the All Seasons reservations office for getting this setup.
Jennifer & Richard
We loved Robin Jones. She has a great personality and we are so glad we chose her.