Rob Campbell, M.Div
Rev. Rob Campbell who lives in Blackburn Hamlet, is an experienced wedding officiant. His dry sense of humour lights up any room of people. Couples tell us how much they loved Rob's skills as a people person. When not conducting weddings, you will find Rob working for social justice. If you want a mature, experienced wedding officiant, Rob is your man.
Request Rob Campbell
Areas Served
Rockland, Clarence Creek, Limoges, Casselman, Embrun, Morewood, Russell, Kenmore, Metcalfe, Vernon, Naven, North Gower, Munster, Stittsville, Dunrobin, Kanata, Osgoode, Manotick, Ottawa, Constance Bay.
Reviews
Dimas & Iris
Rob Campbell was great! He was polite , and such a nice man! I felt like he was my grandpa, that's how warm Robert is and how well and comfortable he made me feel. 10/10 to Robert! December 2022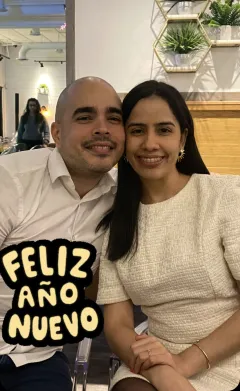 Naomi & Jamie
Rob Campbell did a wonderful job, and accommodated our changes exactly as requested. June 2022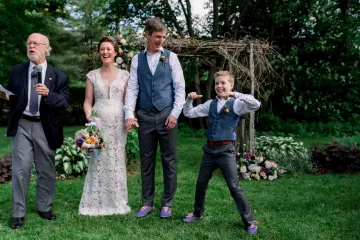 Kyle & Devan
Rob Campbell is very nice and friendly. Rob made the ceremony enjoyable and fun like we asked. All around great experience. October 2021
Kim & Ken
Rob Campbell was excellent and made everyone feel at ease. He has a great sense of humour which made the day that much more relaxing. September 2021
G. Alfred & Deborah
Rob Campbell met out expectations and then some. He was so patient. The service was perfect, everything we could have asked for. G. Alfred & Deborah June 2021
Tyler & Rachelle
Rob Campbell was amazing! More than we could have asked for! We were married during Covid and even with all the postponements and restrictions, Rob was so easy to work with and made our day extra special. He is an amazing speaker, our guests couldn't stop talking about him. Highly recommend! Tyler & Rachelle May 2021
Jacob & Marcelle
Rob Campbell gave us the perfect little ceremony for our needs! We had an elopement, and Rob performed the ceremony for us right in the comfort of our own home. He was humorous, kind, and very informative. We recommend Rob to all couples looking to have an amazing ceremony. Jacob & Marcelle January 2021
Luc & Angela
Rob Campbell was extremely friendly. Very personable he took his time to explain everything. Thank you Rob. Luc & Angela August 2020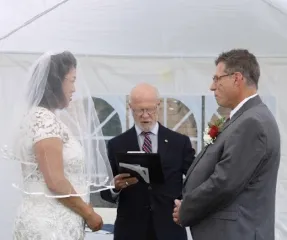 Derek & Meagan
Rob Campbell was an excellent officiant. He made designing the ceremony easy from the beginning and was available to answer our questions. On the day-of, he calmed our nerves and kept things moving smoothly. The ceremony itself far exceeded our expectations. It was moving and fun at the same time.We had an extremely positive experience with Rob Campbell as our officiant. We would happily recommend him to other couples. Derek & Meagan September 2019
Brian & Heather
My husband and I are really grateful to have had Rob Campbell officiate our wedding. In the planning stages he welcomed us into his home to help us write our ceremony. He had so many options and opportunities for us to personalize our ceremony that the final outcome was 100% uniquely us. On the day of our wedding he was absolutely fantastic. He really commanded the attention of our guests and his moments of humour throughout the ceremony really mixed well with our personalities and the "relaxed" feel that we had envisioned for our wedding. He even went along with some of our "unconventional" moments and that was really special. My husband and I can't thank Rob enough for helping to make a memory that we will cherish all of our lives. Brian & Heather July 2019
Dylan & Kaylynn
Rob Campbell is very personable! He made the ceremony light and funny but kept true to the religious aspect of the occasion. Dylan & Kaylynn. July 2019.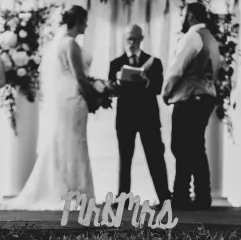 Adrien & Nadia
I doubt very much that Rob Campbell needs reviews because his experience and charm as a wedding officiant speaks for itself. An outstanding officiant to have in our community that we are lucky to have! Rob has done more weddings than I can even imagine, and yet, he still acts like each one is exciting, unique, and like it's the first time he has experienced it! He was an absolute delight, very responsive and reassuring, willing to work with us to create the perfect ceremony that appealed to both our families and their different cultures, as well as our unique vision as a couple. He took the time to go over every detail with us in his home prior to the wedding and helped us choose vows that are so perfect for us. On the day of the wedding, I was surprised that he visited me (bride) and bridesmaids in our private room prior to the ceremony. He went above and beyond what I expected of him that day and having him check in on me before the ceremony was such a lovely touch. He helped calm my nerves to be in front of so many people with his lighthearted jokes and quick wit humour. I felt calm and at ease walking down the aisle after that because of him! During the actual ceremony itself, he was so organized, coordinating the entire bridal party as naturally as though he could do it in his sleep. By far our best wedding vendor, he knew exactly what to do and when, with perfect timing. Guests were amused by his jokes during the ceremony, and they also helped my and my bridesmaids nerves as well. Just a very charming and genuine individual! Watching our wedding video back after the fact, I'm even more blown away by how much he exceeded our expectations. He deserves every single glowing review that he has and the reputation he has built as a valued member of the Ottawa and area community! I could not imagine anyone else marrying us and am so grateful and so happy that we found him! Thank you, Rob!! Adrien & Nadia June 2019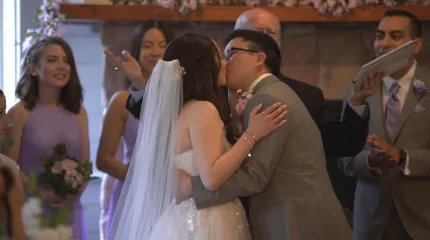 Nadia and Adrien
Good evening Rev. Campbell, We just got around to watching our wedding ceremony video and just wanted to pass along a word of thanks for playing such a key role in our ceremony. Though the ceremony was such a blur for me at the time, I very much appreciated that you took the extra time to come and see me in the bridal suite before the ceremony started. Your presence was so calming, with your laid back attitude. Somehow you managed to make the ceremony both serious and witty. We absolutely loved your charm and sense of humour. It was our delight to have you apart of the start of our marriage and we will always look back on the ceremony fondly. We also so appreciate you coordinating everything and making sure all ran smoothly without appearing to even think much about it. I suppose it comes naturally after so many weddings! All the best to you Nadia and Adrien
Sophie and Andrei
Good evening Rob, We just wanted to send a quick note to say thank you so much for performing our ceremony on Saturday. It went so well and we had several people comment on how great you were! The rest of the evening went absolutely perfectly - we had such an amazing time! Thanks again and all the best, Sophie and Andrei
Jason and Heather
Rev. Rob Campbell officiated our wedding at Strathmere Estate, and it was everything we could of dreamed of in a wedding. He was delightfully funny, commanding presence even with no microphone, his readings that we selected with him prior summed both of us exactly. The delivery and poise of his speech in officiating a ceremony is second to none. I would highly recommend him as your first choice for an officiant as he delivers exceptionally!!!! Cheers from Jason & Heather Rochon
Amanda and Sean
Thank you so much from the bottom of our hearts, for hosting our wedding!!! A++ all around. Our Officiant Rob (Campbell) was amazing, the place is beautiful, and the service was top notch!! Amanda and Sean Sept 12th, 2015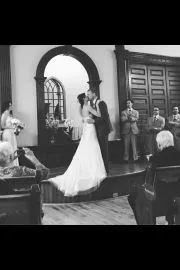 Rhianne and Alen
I wanted to let you know that both Alen and myself were so pleased with our ceremony this past weekend. You would not believe the amazing comments we received about you as our officiant and what an amazing job you did. I wanted to thank you again for walking us through that crazy day as both Alen and I were extremely nervous. You were the highlight our of wedding day and I couldn't thank you enough. Also thank your wife for her assistance in writing up the ceremony documents, the two of you make a great team.
Jennifer & David
Thank you so much Robert Campbell for making this experience above and beyond our expectations. We are over-joyed that we were recommended to you, and we had an amazing wedding day thanks to you. Our meeting was extremely successful and informative, On top of which you were fast at responding to emails. We are grateful for being open minded to our family situations, and being honest about whether or not you were necessary for the rehearsal ceremony. Everyone (ourselves included) was extremely impressed with your clear, strong voice, and sense of humour. Thank you so much for everything!!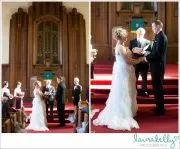 Sherry and Darcy
Darcy and I wanted to once again express our sincere thank you for marrying us. We could not have imagined anyone else doing it. You were so amazing and many of our guests told us how much they enjoyed the ceremony and you:) We do plan on sending you a pic as soon as get from the photographer and giving you an amazing review:) From the start of the process till the day of you were so helpful and wonderful and your sense of humour just added to it all. Thank you thank you thank you!!! Hope all is well with you.
Louise and Dave
Dave and I just wanted to thank you so much for performing our marriage ceremony. It was a beautiful ceremony and we received many compliments on how nice it was and many people thought you were great and added in just the right amount of humour as well. Thank you again for everything. Louise and Dave
Lisa and Corey
Hello Rev. Campbell, We wanted to say a huge THANK YOU for a beautiful and very heartfelt ceremony. Our wedding day was that much more special having you as our minister and our family and friends commented on the warm and welcoming atmosphere that day. We will always look back fondly on our wedding day and feel truly blessed for everyone there who helped to make it a most memorable event. It stands alongside the birth of our 2 boys as one of our most treasured days. We will be happily recommending you to any of our friends who are planning their own weddings or looking to renew their wedding vows. All the best, Lisa and Corey (and Ryder and Jack)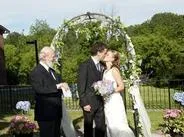 Stephanie & James
Rob Campbell created just the right atmosphere for us, he kept it fun overall yet held the ceremony with the respect and importance that marriage deserves. The rehearsal was critical for us to walk through the parts. In some ways the ceremony was also a bit of a performance for our 200 guests since we had little kids and flower girls etc., and Rob helped us lay out the choreography. This then helped us be comfortable in our bride, groom and bridal party roles in order that we could focus on being in the moment. We enjoyed it, and it was the highlight of our day, which is a perfect start to our marriage. Thanks again Rob.
Katherine & Allan
Rob Campbell was fantastic and I really don't think we could have asked for more. He was accommodating and understanding with the confusions and paperwork issues we had before the wedding, he adapted his ceremony to meet both of our different wants and needs and performed brilliantly on the day of the ceremony. Rob brought a sense of humour and of joy to the ceremony without sacrificing any of the sancitiy and dignity one would expect from a wedding.
Kirsten and Kevin
Kevin and I want to thank you for the tremendous job Rob Campbell did at our wedding on Friday night. You were wonderful and it was just what we wanted the ceremony to be. Family and friends commented on how great you were as well. You also made the vows very easy for us as we were extremely nervous that day. We were sure we were going to say something incorrectly. We thank you for that and for making us smile during the ceremony.Thank you so much again Rob! You made a special day that much more special.
Krista and John
Rob Campbell, we wanted to write a note of thank you and gratitude for the wonderful wedding ceremony you performed for us. You went out of your way inviting us into your home and helping us come up with the perfect wedding ceremony. It was sometimes difficult planning a wedding from so many miles away however you made things easy for us. Thank you for being extremely flexible, professional, punctual and for making us feel so relaxed. The readings you read and the blessing you gave us was wonderful, we will cherish our special day for the rest of our days. .