Rita Harrison
Located in Burlington, Rita is one of our highly requested officiants and approaches all her ceremonies with enthusiasm, humour, professionalism, and experience. Rita loves working with all couples and embraces all individual choices and beliefs. She is an excellent public speaker and excels in always making your ceremony unique, and a reflection of who you are as a couple. She considers it an honour and a privilege to be a part of your memorable day. When not officiating weddings, you will find Rita gardening, out on the hiking trails with her beloved dog Harleigh, or reading. "To love and be loved is to feel the sun from both sides"-David Viscott
Request Rita Harrison
Areas Served
Acton, Ancaster, Beamsville, Binbrook, Bronte, Burlington, Campbellville, Carlisle, Dundas, Etobicoke, Flamboro, Freelton, Fruitland, Georgetown, Grimsby, Halton Hills, Hamilton, Killbride, Milton, Mississauga, Mount Hope, Oakville, Puslinch, Stoney Creek, Waterdown, Winona
Reviews
Michael & Dafen
Rita Harrison exceeded our expectations. Thank you for a beautiful ceremony. January 2022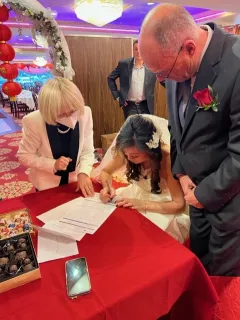 Kevin & Christine
Rita Harrison was very sweet and professional! She made the process very quick and easy. Would definitely recommend her! December 2022
Brittany & Terry
From the moment my husband and I spoke with Rita Harrison on the phone, we knew she was the perfect officiant for our ceremony. She's beyond caring and provided us with guidance and support during our planning process. She answered all our questions and concerns in an extremely timely manner, always going above and beyond to make sure our needs were met. I cannot thank Rita enough for her services!! Aug 2022
Devon & Christy
Rita Harrison was fantastic! Especially considering we only met her on the day of! July 2022
Noel & Mary
We were so happy that we chose Ms. Harrison to conduct our ceremony. It was exactly the ceremony and words that we wanted. Thank you so much. March 2022
Mia & Christopher
Rita Harrison helped us to feel comfortable and excited, even though it was a quick ceremony with just the couple. Communication was great as well. Feb 2022
Aprila & Arpit
Rita Harrison was extremely courteous and professional, arrived on time. Short, sweet and prompt service, she explained everything in detail and with patience. Jan 2022
Roki & Anthony
Rita Harrison exactly what we expected for the make it legal option. Even suggested some ideas like to "walk down the aisle" of the deck. Nov 2021
Zakery & Lauren
Rita Harrison was an absolute pleasure to work with! She is so kind, knowledgeable and proactive. Rita was so helpful during the wedding planning process, and even after the wedding was finished, sending us a detailed message about how to get our marriage certificate. I would definitely recommend Rita as an officiant to anyone who asked! October 2021
Henry & Nancy
Rita Harrison was wonderful and she helped to make our day very special. She was very kind and encouraged us to make the ceremony an event to remember all while remaining very simple, in our own backyard. We would happily recommend her to anyone who is looking for an officiant for their special day. Thank you very much for everything! September 2021
Danielle & David
We found Rita Harrison on the All Season's wedding website, and could not be happier with how she delivered our ceremony. It was difficult getting things organized during COVID, but Rita was always there for us, ready to help and answer any questions we had. When we were able to meet, she gave us all options for how we wanted our special day to be presented. Most importantly, once we let her know that our dog (Peggy) would be a part of the ceremony, she suggested she could carry the rings (and provided the baggy for which she was holding them in). This was such a nice touch, and everyone loved it. Thank you Rita for making our day so special. Oct 2021
Kimberlin & Christopher
Rita Harrison was an absolute sweetheart. We loved her. We would 10/10 get married with her again lol. She always went above and beyond for us. I even forgot my vows in my hotel room and she had a backup. She was an absolute lifesaver and I wish we got to say a final goodbye! September 2021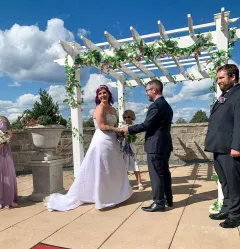 Corynn & Salah
Rita Harrison was extremely resourceful and wonderfully kind. She was and still is willing to answer the many questions we had. She looked beautiful on our day and really made our ceremony quite special. I really enjoyed having Rita as our officiant. I would highly recommend her to anyone else looking for a sweet and kind-hearted officiant. August 2021
Nadia and Adam Sept 2021
Rita was such a pleasure to work with. From the moment we met her to the end of the ceremony she was a joy and made our day feel unique and special. We appreciated her expertise and guidance every step of the way and she exceeded our expectations. Rita was always available to chat if we had questions over the phone or by email. We are very grateful for the service that All Seasons Weddings and Rita provided to make our marriage official!
Nancy and Henry
Henry and I just wanted to write and let you know how happy we were with our wedding that was performed by your Officiant, Rita Harrison and the with services of All Seasons Wedding on Tuesday, September 21, 2021. Rita was wonderful and she helped to make our day very special. She was very kind and encouraged us to make the ceremony an event to remember all while remaining very simple, in our own backyard. We would happily recommend her to anyone who is looking for an officiant for their special day. The wedding was so easy to arrange through All Seasons as well. We are very happy to say that we got exactly what we wanted. A simple ceremony to "Make it Legal" with many happy memories. Thank you very much for everything! Nancy and Henry
Kiah & Akeem
Rita Harrison was the most helpful and knowledgeable officiant, helping us have a special and intimate ceremony during the pandemic. She provided witnesses for us when our original intended witnesses were unable to make it due to travel restrictions and injuries, thus allowing us to stick to our intended wedding day. I would recommend her anytime. Kiah & Akeem July 2021
Ali & Danielle
Rita Harrisonthank you again for being there for us on our special day. You were very kind, detailed and thorough for the whole process. I appreciated the follow-up calls, and confirmations leading up to our marriage day. During the day of our marriage, you were polite and professional. Ali & Danielle February 2021
Michael & Natasha
Rita Harrison was amazing. She exceeded our expectations. She was professional, delightful and pleasant. She made our day very special. Michael & Natasha March 2020
Shannon and Lucas
I just want to say that Rita did an amazing job. It was short notice and a little chaotic and she managed to bring everyone together in a calm and collected way and then made sure our ceremony went on without any hitches. Everyone complimented me afterwards on what a wonderful officiant we had, so thank you for suggesting her and let me know if I need to post a review anywhere I would be happy to. Thanks Shannon and Lucas
Robin & Denise
Rita Harrison was very helpful and made us both feel very comfortable and explained everything we needed to know. Rita is a great officiant, thank you for everything! Robin & Denise October 2019
Oliver & Heather
Rita Harrison was amazingly pleasant to work with. She went above and beyond to ensure we were happy with each section of our vows, offering alternate options, being super flexible and accommodating of our wishes and truly helped make our day so special. Oliver & Heather October 2019
Tammy & Jaime
Rita Harrison was very kind, friendly, and comforting. She made our day very special and relaxing. I would recommend Rita to anyone looking for a person to make their wedding day personal, special, and no stress. Thank you Rita! Tammy & Jaime July 2019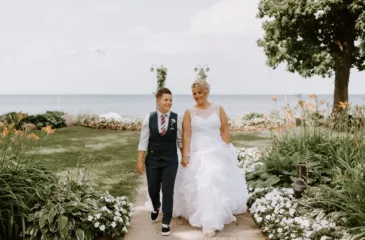 Amanda & Michael
I can't say enough good things about Rita. My husband and I got married in September 2018 and she was amazing. Rita was very kind, well spoken, and easy to get along with. She provided a high level of service, expertise and helped us pick/write the perfect vows for our ceremony. She was great with my nephews. I highly recommend Rita Harrison as your wedding officiant. Amanda & Michael
Cheryl & Cidalia
My Wife and I truly enjoyed having Rita be a part of our wedding. On our first visit we discussed our plans with Rita; she was very helpful, kind and supportive of us. Rita worked with us and our son who performed the ceremony. We would highly recommend Rita and all seasons weddings in the future. Cheryl & Cidalia October 2017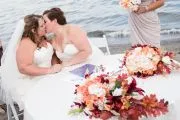 Dominique and Philippe
I can't even begin to tell you how special Rita Harrison made our day. She's an absolutely lovely person and so easy to talk to and work with. She got back to us very quickly whenever we had a question and most importantly she saved my dress just moments from the ceremony. When I opened the bag my dress was in I was horrified to find a stain right on the front of it from the red brick wall I hung it on! I immediately panicked and started asked people for help...Lo and behold, Rita appears with a tide to go stick and talks me through getting the stain out. Her grace and calmness through this put me at such ease, I'm upset I likely will never see her again! Will recommend to anyone and everyone! I will be sending a picture but I am waiting to get them from my photographer.
Kristina & Aaron
Rita Harrison was wonderful. She was able to step in quickly and give is other ideas to make our wedding special.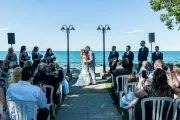 Tanya & Marc
Rita Harrison didn't meet our expectations - she exceeded them by miles!! Rita was always friendly, very responsive, had all of the information we needed before we ever had to ask for it, and was extremely professional. Rita was an absolute pleasure to work with - she was friendly, quick to get back to us with any information we needed, and had the answers to all of our questions. She was very flexible when it came to finalizing the script for the ceremony which we very much appreciated. Rita takes her responsibility very seriously and arrived early to greet guests and ensure everything that we needed for the ceremony was ready to go. She was so on top of everything we needed (even things we weren't aware of!) that we had absolutely no stress or worries about the ceremony. Everything went off without a hitch and we had compliments about the ceremony and about the wonderful job that Rita did. You will not regret choosing Rita for your officiant! All Seasons Weddings was extremely straightforward and took all the stress out of finding an officiant. We found the prices to be very satisfactory and appreciated the guarantee in the event that our officiant became ill the day of the wedding. Would highly recommend All Seasons to anyone who is coordinating their wedding - they made sure an officiant was one less stress for us!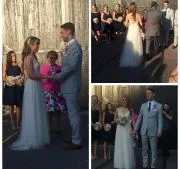 Maegan & Jonathan
Rita Harrison was so nice! She was on time and made our quick service very easy. She also explained everything I need to do in detail for our marriage certificate. Thanks again!
Naomi & Anthony
Rita Harrison was so wonderful! She was patient and professional and very much a part of what made our marriage ceremony so special. We really appreciated her thoughtfulnes and consideration when it came to our vows. I would absolutely recommend Rita! And we would use her again if we wanted to renew our vows!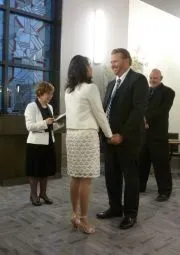 Nicole & Jonathan
Rita Harrison is a warm and wonderful person, and we are so happy to have been able to work with her! She helped us create a ceremony that reflected who we are, and delivered everything beautifully on the big day. Rita was very much open to our thoughts and ideas, very timely in her responses, and willing to go above and beyond for us every step of the way. She made us feel comfortable and confident up to and on our wedding day, and we couldn't have asked for a better experience. Thank you so much!
Stacey and Alex
After meeting Rita, we knew immediately that we wanted to have her officiate our special day. From the early planning stages, Rita was extremely organized and brought forward many readings, scripts and ideas to personalize the ceremony for our consideration. She was very open to our feedback and happy to make any edits to the ceremony script when we requested it. After the rehearsal, Rita graciously phoned to check in and see if we wanted to make any changes, and stopped by the bridal suite the day of the wedding to touch base as well. The wedding is a lovely, but busy and hectic day, so to have someone like Rita, with her calm demeanor by your side, means a lot. We would highly recommend Rita to any couples looking for an organized, professional, and genuinely caring officiant to lead their wedding ceremony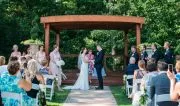 Claire and Jeremy
Thank you so very Rita you will always be family to me and all my family our arms will be forever open to you. You were a blessing and everyone has commented on your kind nature and wonderful service.Iove you always I will keep you fully updated on our future lives all my heart to you my love xxxxx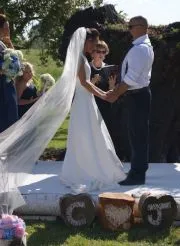 Megan and Jamie
Thank you so much Rita for being part of our day, it was truly amazing and the ceremony was absolutely perfect - it was romantic and intimate, and funny. It felt like it was just Jamie, you and I up there and I was not nervous at all. I will definitely send you some photos you can add to your website in the next few weeks! Thank you. Thank you for everything. The day would not have been the same if you had not been part of it. This is definitely your calling!
Janine and Max
I wanted to let you know that we had a lovely, sweet, very private and peaceful wedding ceremony on Friday, May 1st with Rita Harrison officiating. Rita was perfect for what we wanted to do and she was very thoughtful and kind throughout the whole process. She was great!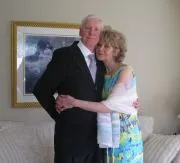 Laura and Josh
Thank you very much for performing the ceremony. You did a great job and our day was absolutely perfect for us! Thank you for coming upstairs for a visit before the ceremony, it calmed me down so much! We will definitely be recommending you to friends in the future. Great to meet you! All the best,
Jodie & Drew
Drew and I can't say enough good things about you! You really made the day so special for us. You calmed us both down and really relaxed us. The ceremony was so personalized and intimate and we have you to thank for it! From the bottom of our hearts thank you so much! There is just something special about what you do! Thank you xoxo.
Ty & Lien
Rita Harrison did a fantastic job, above our expectation. She is courteous, flexible and meticulous.