Penny Reynolds
I'm a Napanee 'local', and the South Shore Hay Bay area has been my life-time home. I've been married since 1981 and we've been blessed with so much in life including two sons, two daughters-in-law and four grandchildren. One of the things I did after I returned to the 'work world' was to become a Designated Minister so I could conduct Life Celebrations like weddings or Baptisms. In addition, I love to quilt, enjoy woodworking and gardening, and have the satisfaction of something to show for all my hard work! I'm professional, warm and easy-going and I will ensure you are satisfied with the wedding ceremony you expect.
Request Penny Reynolds
Areas Served
Adolphustown, Bath, Camden East, Deseronto, Kingston, Marysville, Napanee, Newburgh, Odessa, Picton, Prince Edward County, Roblin, Selby, Shannonville, Yarker
Reviews
Geoffrey & Kelly
Penny Reynolds was a pleasure to have at our wedding! She walked us through the entire ceremony, and executed it flawlessly with a few perfectly timed jokes towards the groom! September 2022
Matt & Carolina
Everything was great! Great timing for responses, and accommodating with our changes. Penny Reynolds was wonderful, she was very nice and made our ceremony very special and beautiful. Thank you very much for everything!! Aug 2022
Kareesa & James
It was wonderful having Penny Reynolds married James and I, when we met Penny for the first time she made us feel like we've known each other for years so that made it very easy for us we really appreciate her being apart of our special day. August 2022
Austin & Nicole
Penny Reynolds was absolutely lovely, she checked in with us prior to the ceremony to see if we needed anything and was super easy to work with! She even got everyone in the crowd to have a little laugh and loaned us her microphone since ours didn't make it to the ceremony area for some reason. September 2021
Brock & Kristi
Penny Reynolds exceeded our expectations! Due to Covid, we were unable to meet with her in person before the wedding. She was SO helpful during the ceremony while keeping the ceremony professional and running smoothly. She made it easy on us and did a beautiful job. I would 100% recommend her to officiate your wedding. Leading up to the wedding, she was very easy to communicate with, very helpful in answering all of my questions and made suggestions throughout the whole process to make our ceremony unique to us. September 2020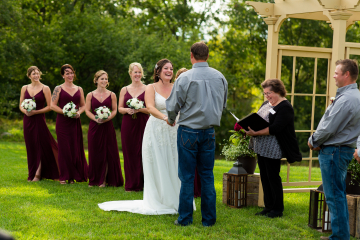 George & Amanda
Penny Reynolds went above and beyond to make our special day amazing. I would recommend her to anyone. She was so sweet and I could email her constantly if I had any questions. My husband and I were absolutely blown away by her friendliness and accommodation. George & Amanda October 2020
Allan & Walter
Penny Reynolds was wonderful! She works very closely with us to provide us with exactly the type of ceremony that we wanted. She was down to earth and uniquely funny. She made us feel very much at ease, keeping our ceremony relaxed and joyful! Allan & Walter October 2019
Tyler & Michelle
Penny Reynolds was amazing to work with and went beyond. She was extremely helpful and helped ease my anxiety. We are extremely pleased with Penny and we will recommend her and all seasons to everyone. Thank you so much for making our day perfect and special. Tyler & Michelle September 2019
Ainsley & Cheryl
Penny Reynolds was amazing. We couldn't have asked for anything better. We would definitely recommend her to others. She has a wonderful sense of humour and made everyone feel at ease. We can't thank her enough! Ainsley & Cheryl August 2019
Lindsay & Brandon
Penny Reynolds did a wonderful job officiating our wedding. She helped to make the day very special for us. She listened to the things we wanted and was very helpful every step of the way. She made us feel as though she genuinely cared about us as individuals, as well as our marriage. We would highly recommend Penny to others
Jennifer & Caleb
Penny Reynolds was amazing! She helped us create the most perfect ceremony, incorporated all of our ideas, and tied it all together for us. She was always in contact with us, and followed up before the ceremony. Her actions and communication speaks volumes to her professionalism. Our family loved having Penny do our ceremony! Thank you again! Everything was easy to follow and understand.
Dean & Tracy
Penny Reynolds was AMAZING and sweet and funny!!!!!!!! Very nice to work with.