Penny Lee Prevost
Penny Lee is based in Limoges and enjoys connecting people. When it is a connection of love, she believes she can help people nurture their relationships for a long-term commitment. Wedding ceremonies and vows should reflect the uniqueness of that relationship. She encourages and supports original ideas believing that celebrating your love in your own special way should capture the essence of your love. Whether you want an English or French ceremony, traditional or contemporary, Penny Lee can help make your day a truly wonderful experience. Your wedding will be unique to your lifestyle, personalized and to your complete satisfaction.
Request Penny Lee Prevost
Areas Served
ON:Limoges, Vars, Carlsbad Springs, Ramsayville, Gloucester, Ottawa, Sarsfield, Navan, Cumberland, Orleans, Hammond, Bourget, Curran, Lemieux, Clarence Creek, Rockland, Casselman, St. Albert, St. Isidore, St. Bernadin, Moose Creek, Maxville, Warina, Strathmore, Vars, Embrun, Russell, Metcalfe, Greely, Osgoode, Kars, Manotick, Morewood, Winchester, Hallville, Winchester Springs, Chesterville, Crysler, Newington, Finch QC: Gatineau, Hull
Reviews
Scott & Penny
Thank you to Penny, who was able to make it to our wedding despite the major winter storm that happened that night. She did a wonderful job and we couldn't have asked for more. Highly recommended. December 2022
Marie-Eve & Eric
Penny Lee Prevost met all of our expectations. She is very friendly and fun! Just made the ceremony perfect :) September 2022
David & Rikki
Penny Lee Prevost was an amazing officiant. We had a very small signing ceremony and she made it special. She was on time, super efficient and helped us have a very memorable ceremony. We thank her so much and highly recommend her! August 2022
Tammy & Peter
Penny Lee Prevost was very pleasant and professional. Feb 2022
Alejandro & Adrienne
Penny Lee Prevost was very easy to work with, prompt, professional and all around lovely! Cannot say enough great things about Penny. She was fun, professional, efficient and lovely to have on our special day. November 2021
Brittany & Jordan
Penny Lee Prevost did an amazing ceremony. She is very outgoing and understanding. She also guided us with our ceremony preparations and put us exactly where we needed to be. Penny Lee, thank you so much again! August 2021
Crystal and Patrick
Penny Lee Prevost was really easy to get along with- a real nice person with great people skills. We appreciate her freezing along with us outdoors. Thanks Penny! Crystal & Patrick May 2021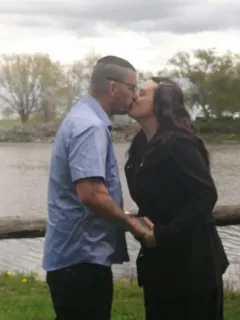 Tanya & Valerie
Penny Lee did an outstanding job. Her warm and friendly nature put us right at ease.
Kaitlin & Tony
Penny Lee Prevost was a great person to have. We had no idea what we HAD to do and she was great at walking us through what had to be done and when. Penny was very friendly and everyone enjoyed her. We had over 210 guests at the wedding and everyone complimented on how great she did.