Patricia Glogowska
Patricia who lives in Auora is fluent in English and Polish and now considers herself a proud 'Torontonian'. Her background is in the airline industry and having lived on three different continents, she is sensitive to various cultures, religions, rituals and customs. Her warmth, passion for love, and a vivacious sense of humour will make you, as well as your guests, feel at ease and comfortable. Whether you are interested in a traditional or contemporary, intimate or formal ceremony, she will help you design your own unique service. Patricia would love to be a part of your journey, and join you in creating a custom-fit, personalized wedding for you to remember.
Request Patricia Glogowska
Areas Served
Aurora, Bradford, Bolton, Brampton, East Gwillimbury, Keswick, King, Newmarket, Richmond Hill, Thornhill, Vaughan, Alliston, Mono, Orangeville, New Tecumseh, Innisfil, Barrie, Cookstown, Angus, Shelburne,
Reviews
Marina & Dean
Hi Patricia (Glogowska), I want to let you know that you really impressed all of our guests, they were very happy with how you performed our ceremony, as of course were Dean and I as well. Thank you for being so flexible with the timing as well! The weather was crazy but it all worked out great. August 2021
Gary & Donna
Patricia Glogowska did a wonderful job of making us feel relaxed and comfortable before and during the service. Gary & Donna September 2021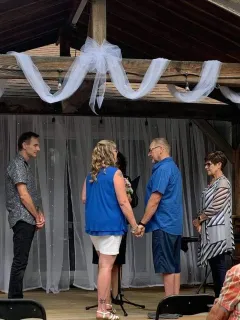 Santo & Megan
Big thank you to Patricia for making this process so easy, understanding exactly what our vision was for our special day and following through! She will always be remembered as the wonderful woman who made us husband and wife! Santo & Megan September 2020
Ali &John
Patricia was nothing but helpful and kind in the lead up to our wedding. We threw many requests her way, including asking if the groom's father could help with our ceremony. Patricia was so accommodating and continually emphasized that she was only happy with the ceremony once we were. We are grateful to have had her as our officiant. We would certainly recommend her to anybody! Ali &John August 2020
Alison & David
Patricia Glogowska was so fantastic to work with! Our ceremony involved a friend and Patricia was so accommodating and respectful in our planning process. Patricia's warm-hearted demeanor put us at ease and she truly made our day so special. Alison & David July 2020
Mike and Alyssa
Patricia Glogowska was excellent in delivering everything we needed! We really appreciate her work and time! Thanks! Mike and Alyssa February 2020
Joel & Vanessa
Patricia Glogowska we cannot thank you enough for making our wedding a day we will cherish for the rest of our lives! We had no idea where to begin the process and your calm approach, warm nature and professionalism put us instantly at ease. We knew we were in the right hands. We appreciated you guiding us through the components of a ceremony and not only encouraging us to make it our own but supporting us to do so. You made this easy while we were in a whirlwind of planning! Thank you for helping to bring our vision of an intimate ceremony with family and close friends to life. We would not hesitate to recommend you to other couples who are seeking a wedding experience as unique and genuine as they are." Joel & Vanessa September 2019
Robert & Maral
Patricia Glogowska was amazing to work with! Not only was she pleasant and funny, she also went out of her way to make our day so special and memorable! She exceeded our expectations and for that we truly thank her! Robert & Maral May 2019
Peter & Marlene
Patricia did an absolutely amazing job! Her calm disposition on our big day made us feel at ease which made the day even more magical & memorable. Patricia was definitely the catalyst to a day filled with love & joy. We are so grateful she was a part of our wedding. All Seasons is very lucky to have Patricia as an officiant. Her representation of this company is above & beyond. Thank you Patricia. January, 2019.
Andrew & Shauna
Patricia was above and beyond our expectations. She was very personable and kind. Walked us through every part and made us feel very comfortable. She made excellent suggestions and was flexible day of with last minute changes. We had a small intimate wedding at my mothers house and it felt like she was one of the family. I would recommend her 100 times over.
Vivian & Brandon
Patricia was amazing!!!! I was so so nervous but maintaining eye contact with her during the ceremony put me at ease
Lisa & Steve
We were so happy to have Patricia (Glogowska) perform our ceremony. The words and the sentiments she expressed were thoughtful and well chosen. They reflected who we are as a couple. We received many compliments on the service from our guests. Patricia is a wonderful person who made everything so easy and made our day memorable. Thank you Patricia!
Maxine and Rose
Patricia (Glogowska) you were amazing!!! From including all the crazy little pieces into the ceremony, to agreeing to have it someplace out in the middle of a park when they were predicting storms. For us,the day was complete magic. Thank you for everything - you made it all possible. Maxine and Rose
Joanna and Eric"
"Patricia, Thank you for the beautiful presentation and for conducting our ceremony. We are grateful for your calm, kind, professional, and engaging approach to our event. We were very happy to have you as our officiant and we couldn't have made a better choice, it meant a lot to us that you officiated our marriage and created a welcoming atmosphere during our ceremony. Thank you. It meant a lot to us that you took time to know us before the ceremony and discreetly guided us during the ceremony, which gave us a sense of confidence and peace of mind when exchanging our vows. We will always remember your kind words and how comfortable you made us feel on our day when we were already excited and anxious. Thank you again! Joanna and Eric"
Jennifer and Taylor
"Patricia, it was an absolute pleasure and honour to have you perform our wedding ceremony! Your kind and warm presence was lovely and we very much appreciated you waiting patiently with us, as things ran a bit behind the day of. We cannot thank you enough for being a part of our special day and standing up there with us as we became man and wife! You were a very professional and calming influence leading up to the day as well. You always responded to our emails promptly and you were very helpful during our meeting. We had a fun time planning everything out with you. You made us feel calm, comfortable, ready for the day and we definitely recommend you with high praise!