Pamela Willerton, BTh
Pam is a Clergy Support Ordained Minister (2014), serving the Horizon Spiritual Center Gathering at 14920 Stony Plain Road in the city of Edmonton. In addition she is a pastor to Edmonton's Rainbow Ministry providing outreach, worship and support to the LGBTQ+ community. As a wedding officiant, she conducts uniquely tailored wedding ceremonies that suit each individual couple's needs. Pam presents herself from the heart in a powerful and funny way that is very engaging. You will find her captivating, compassionate, sincere and genuine when she speaks. She is very much in demand, so book early!
Request Pamela Willerton
Areas Served
Ardrossan, Beaumont, Edmonton, Fort Saskatchewan, Morinville, Nisku, Sherwood Park, Spruce Grove, St. Albert
Reviews
Roanne & Steven
Pam Willerton was amazing! It really seemed like yesterday. But we got married back in September 2019. She met up with us and on the wedding day and it seemed like she was already family. Everyone enjoyed her while she was only there for a short period. She makes you feel so comfortable and it is so easy to just talk to her and let her know what you really want for the day. I would 100 percent always recommend Pam! Roanne & Steven Sept 2019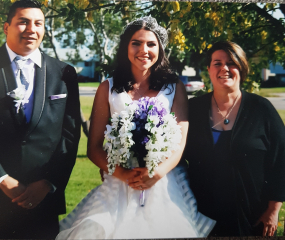 Bobby-Leigh & Robin
We had an fantastic time and Pamela Willerton was awesome. She rocks!! Thank you so much. Bobby-Leigh & Robin October 2020
Chris & Danielle
Pamela Willerton Pamela was SO GREAT to work with for preparing for our wedding ceremony! She was friendly, bubbly, and so easy for us to talk with - she was also so professional and knew her stuff. Pamela suggested a couple special ceremony things we could do, and we did end up adding in a Wine Ceremony to our wedding, which was so special. She understood us as a couple and really made us feel very comfortable, we can't thank her enough for making our wedding ceremony so unique to us. Chris & Danielle August 2020
Paul & Destiny
I am so happy that we chose Pamela to be the officiant at our wedding. Pamela was great to work with. She took the time to personalize the speech so it nattered to us. She was fun and professional at the same time. Was not scared of my two huskies jumping around making noises. I would definitely suggest having Pamela be a part of your wedding day to make it extra special. Paul & Destiny September 2020
Tyler & Jordana
Pamela Willerton was awesome!!! She was so kind and made us laugh! Couldn't have imagined our day with out her. I highly recommend her!! Tyler & Jordana August 2020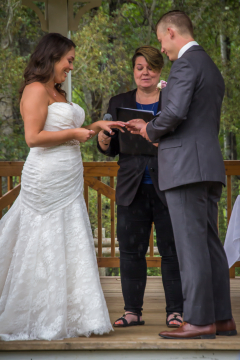 Rick & Jairo
Pamela Willerton was a fantastic officiant who added to our joy. We were very pleased with her approach and kindness. Rick & Jairo April 2020
Nicole & Pamela
Pamela Willerton went above and beyond to make our day special. Thank you Pamela , we will be sure to recommend you to others. Nicole & Pamela January 2020
Dale & Sandra
Pamela Willerton was amazing! Thank you for making the day wonderful. Dale & Sandra November 2019
Jason & Casie
Pamela Willerton was absolutely amazing!! We loved her interaction with us and our guests. She exceeded our expectations and we are very pleased with everything! Pamela was an absolutely wonderful person to work with. Thank you for making the day wonderful we will, Highly recommend you! Jason & Casie November 2019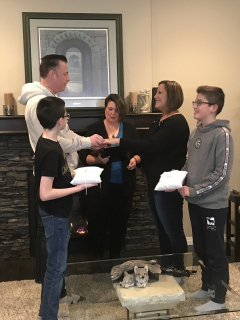 Ralph & Leslie
Pamela Willerton did a great job. She really captured the tone we wanted for our wedding. Thank you for giving us the ceremony we wanted! Ralph & Leslie September 2019
Darren & Amber
Pamela Willerton was prepared, ready and on time. She carried out the ceremony without any glitches and made the experience wonderful. She spent lots of time with us making sure we had the wedding ceremony that we wanted. Thanks so much Pam! Darren & Amber August 2019
Brendan & Jessica
Meredith Kennedy was awesome! She did a great job! She received a lot of compliments from our guests. She was very flexible with our time changes and other requests! Thank you so much Meredith! Brendan & Jessica July 2019
Christopher & Brigid
Pamela Willerton was excellent...we loved her and so did our guest...we love her sense of humour and down to earth personality. Thank you for everything Pamela! Christopher & Brigid July 2019
Madison & Amy
Pamela Willerton was very organized and extremely helpful. Pamela Answered all our questions in a quick timely manner.Thank you! Madison & Amy June 2019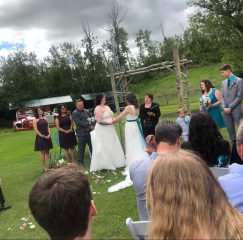 Mitch & Lisa
Pamela Willerton was amazing. I loved how she really tried to understand our essence as a couple and brought that into our ceremony. Thank you for everything Pamela! Mitch & Lisa June 2019
Dayna & Nicholas
Rev Pam was great! She made us both feel at ease. Dayna & Nicholas, July 2018
Maria & Jader
My husband and I were very pleased on how Rev Pamela Willerton performed our ceremony. I phoned the reservations office a few times and I was helped with my questions . Very friendly staff !! Thank you for providing this service! Very convenient:)
Alexandra & Jessica
Rev Pam Willerton was funny and easy to connect with. Everyone who attended our wedding loved her and she felt like family by the end of the ceremony.
Niamh & Celeste
Pam Willerton married my wife and I in the art gallery of Alberta. We had our own unique service which was beautiful and perfect and she gave us a laugh and a few sad cute moments. It really was beautiful . We would recommend Pam to everyone! She was so nice and made us feel so comfortable. We had a wonderful experience. Thanks Pam Niamh & Celeste Feb 10th, 2017
Kathlene & Harley
Pamela Willerton was so friendly and was able to make our ceremony exactly as we were hoping it would be. She easily sprinkled in a little of our personality, and she was SO easy to work with. Thank you Pamela for an excellent job! Our guests have been commenting a lot on how beautiful it was! :)
Shaun & Courtney
Pam Willerton was great. She was funny, gave great recommendations on how our service would go, and was very friendly. I had people come up to me after saying how much they loved the ceremony and how modern it was. Couldn't have been happier with the service we received. Thank you,
Chanel & Robert
Pam Willerton was absolutely wonderful to work with, and I will be referring her to all my engaged friends!
Tamara & John
Pam Willerton did an amazing job! Your organization is very easy to work with, and everyone is so friendly and helpful. Your costs are also very reasonable!
Debbie & Cheryl
Pamela Willerton was a 100%. I would recommend her over and over again. She was very pleasant and friendly. We loved her.