Pamela Vermilyea
I'm an Appointed Designated Minister with Clergy Support Memorial Church and have been previliged to provide my services to couples in my community. I have lived 30 plus years on the Bruce Peninsula overlooking beautiful Colpoys Bay in Wiarton, where my three children grew up. Besides my pastoral work, one of my greatest passions is my bees. Beekeeping has helped me to gain more tolerance, acceptance, patience, and a strong determination to succeed. My goal is to assist you as a couple in creating a wedding ceremony that is unique to your values and personal meaning. It would give me much pleasure to be part of your special day as your officiant bringing forth a fun and spirited outlook.
Request Pamela Vermilyea
Areas Served
Allenford, Big Bay, Cape Croker, Lions Head, Hepworth, Owen Sound, Red Bay, Sauble Beach, Saugeen First Nations, Shallow Lake, Southampton, Stokes Bay, Tara, Wiarton
Reviews
Patrick & Amanda
Pamela Vermilyea gave us exactly what we asked for, she Always answered e-mails promptly. Thank you pamela for our beautiful ceremony. Patrick & Amanda October 2020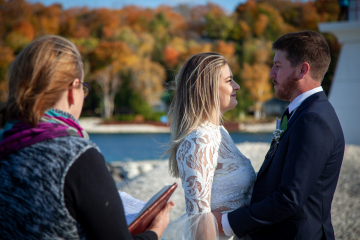 Kayla & Jacob
Jake and I couldn't have asked for a better elopement. Given the current situation the world is in, we initially had decided to postpone and delay our wedding dreams. Until All Seasons made it an effortless day! Pamela Vermilyea was our officiant and the day went off flawlessly! It down poured the entire day- until about 20 minutes before the ceremony! It truly was the most beautiful day to say "I do" on! Thanks again All Seasons and Pamela! Kayla & Jacob Aug 2020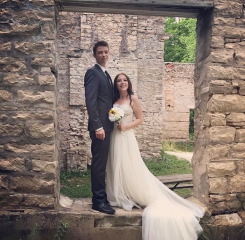 Laurie & Ken
Pam was amazing and after the ceremony guests made numerous comments how much they enjoyed her and her personal touch. She is so well spoken and smiley and happy to be there. We have a number of weddings next year to attend and have shared All Seasons' name and number and Pam Vermilyea as the officiant name. So glad she made our day so special and amazing. I can't say enough good things. Thank you so much.
Nancy & Gary
Pam was amazing, she was a perfect fit, and so were the reservations staff at All Seasons that I talked to on the phone about more instructions after the wedding. They were very helpful, thanks again everyone!
Sabrina & Julian
Pamela Vermilyea did an amazing job. We are still so grateful that she got up so early for us for our sunrise ceremony. She always listened to our ideas and questions and was there for us all along the way. Her reading voice is also very calming and friendly which made her the perfect officiant for our special day. Thank you again, Pamela!
Ginny & Jacob
Pamela (Vermilyea) married us in October 2016. She did a fantastic job! Highly recommend her. She was great with helping us choose a ceremony and making sure we had all the last minute final touches! She was patient with us and answered all the questions we had! Everything was great and we are so happy Pamela was our officiant! Ginny & Jacob Oct 1st, 2016