Nektarios (Nick) Liapis
I've always been in love with love! Seeing people come together and being able to help them celebrate their special moment is an honor. Proud daddy of Maya (my conure), Lily (my kitty) and Pavarotti (my canary who is true to his name…) and of course my hundreds of plants… I try to lead a simple life surrounded by friends, my family, and my partner. I enjoy spending time with my nieces and nephews watching them grow up. How time flies! My background is quite varied though; I am a nurse by profession and went into teaching healthcare in vocational studies. I went back to school to get my Bachelor in Education. Public speaking is what I do all year round with my students; sharing my experiences, my passion for caring for others. I pride myself in establishing a helping relationship with students and coworkers alike. I'm very patient and always ready to help out as much as I can. I am of Greek origin, born and living in Montreal. I am perfectly bilingual. Je parle français et anglais. Falo Portugues tamben. Μιλω και Ελληνικα. Tome clases de espanol hace anos, mais puedo leer muy bien. Being openly gay and spiritual, I am comfortable and eager to helping you to choose a ceremony adapted to your personal and unique needs.
Request Nektarios (Nick) Liapis
Areas Served
Montreal, Anjou, Riviere des Prairies, Montreal-Nord, St-Leonard, Saint-Laurent, Ahuntsic, St-Michel, Park-Extension, Villeray, Cote-St-Luc, Kirkland, Ste-Anne de Bellevue, Dorval, Lachine, Beaconsfield, Baie d'Urfe, Pointe-Claire, St-Pierre, Verdun, LaSalle, Westmount, Ville-Marie, Hochelaga-Maisonneuve, Mont-Royal, Pointe aux trembles, Dollard des Ormeaux, Roxboro, Pierrefond.
Reviews
Steven & Amanda
Nektarios (Nick) Liapis was great, friendly, well prepared and made all the paperwork super easy. So great that all of the potential headaches involved with the official part of the wedding were taken care of for us. August 2022
Nick & Pam
Super célébration avec un célébrant vraiment hors pair, je vous le recommande! Merci Nick Liapis juillet 2022
James & Tsubasa
Nick Liapis was fantastic! I can't recommend him enough. He came highly recommended by Natasha and she was amazing! Very personable and professional service, outstanding experience. March 2022
Sébastien & Zoé
Beautiful trilingual ceremony by Nektarios Liapis. Our families were extremely touched by Nektarios' efforts to incorporate English, French and Portuguese into our ceremony. He did a wonderful job. Nektarios was attentive to our wishes and crafted a ceremony that truly reflected us as a couple and as a family. The process was seamless and he went out of his way to make sure we were happy. Nektarios even came to our home to walk us through everything. I would definitely recommend him to any other couple out there. Thank you for everything. October 2021
Nick & Valerie
Nektarios (Nick) Liapis offered an excellent service and payed attention to every detail possible. He was always available and his diligence was appreciated. He was beyond what we expected and appreciate his service! August 2020
Rico & Carole-Line
Nektarios (Nick) Liapis was great going through the heat and sunshine. It was perfect day. He added to our day just what we wanted. Everyone was relaxed. Thanks Nick for making our day special. July 2020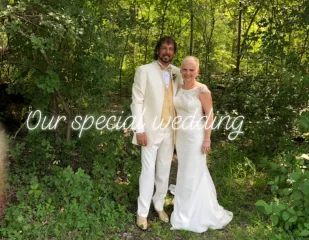 Israel & Jose
Nektarios (Nick) Liapis is a caring, professional and very resourceful officiant. Any couple would be lucky to have him as a wedding officiant. We recommend for sure! April 2020
Cynthia & Jonathan
We were so pleased to have Nick Liapis as our wedding officiant! He guided us through the process, and meticulously covered little details that we never thought of. You can really feel his love for what he does, and it translated to a beautiful, intimate ceremony that we will treasure. Thank you so much, Nick. Feb 2020
Wanda & Alain
Our experience with Nick Liapis has been most rewarding. Nick is dedicated, playful and a friend from the first meeting. He accompanied us throughout the process with extreme kindness. He absolutely helped to make this day unforgettable. We're forever grateful to you dear Nick. Thank you very much! September 2019