Natalie Joy Quesnel
Natalie Joy is an experienced public speaker, educator, dog-lover and chocolate addict. Having spent her childhood in Saint-Isidore and her adult life in Ottawa, Natalie Joy is fluent in both official languages and is licensed to perform ceremonies in both Ontario and Quebec. A graduate of the University of Ottawa with a Masters of Fine Arts, Natalie Joy is compassionate, versatile and passionate about making your special occasion a memorable experience. In her spare time Natalie Joy can be found watching reruns of Star Trek or enjoying board games with her husband, her two beautiful daughters and her wonderful non-binary child. Natalie Joy is now fully booked for 2023 but is accepting bookings for 2024.
Request Natalie Joy Quesnel
Areas Served
Aylmer, Barrhaven, Cantley, Casselman, Chelsea, Embrun, Gatineau, Hull, Kanata, Kenmore, Manotick, Metcalfe, Nepean, North Gower, Orleans, Ottawa, Ottawa Bilingual, Ottawa Central, Ottawa East, Ottawa South, Ottawa West, Richmond, Russell, Stittsville, Wakefield, Wendover
Reviews
Adam & Krista
Natalie Joy Quesnel service far exceeded our expectations. She was warm and friendly during our phone conversations and planning meeting, and really took the time to get to know each us while planning the ceremony. Natalie Joy was very flexible in adapting the wedding ceremony to our personal preferences and brought such great energy to the wedding. We are so happy that Natalie Joy performed our wedding ceremony! January 2023
Francis & Manueliza
Natalie Joy Quesnel made our ceremony so special. She was a true professional and a wonderful person. We couldn't have asked for a better officiant. January 2023
Juliet & Evan
Wow, just wow. Natalie Joy Quesnel was an absolute joy to work with! From the very first meeting she totally put us at ease about the entire process. Her personality is open, friendly, and willing to go that extra mile to make your day YOUR unique day. We received so many compliments from guests on the caliber of our officiant! You will not go wrong with Natalie, I only wish I could get married again to be a repeat client! Sept 2022
Adriana & Andrew
Natalie Joy Quesnel was a fantastic officiant. She made us feel comfortable throughout the planning process, helped tailor the ceremony to our needs and delivered a wonderful address. We highly recommend her for any wedding occasion. June 2022
Barry & Louise
Natalie Joy Quesnel was the perfect officiant. She was super friendly and made us comfortable from day 1. We would totally recommend her to anyone. May 2022
Michael & Sarah
Natalie Joy Quesnel was everything we wanted in an officiant. Very professional yet personable. She made our ceremony so personalized, light hearted and even humorous at times. She completely nailed our vibe and we can't recommend her enough! October 2021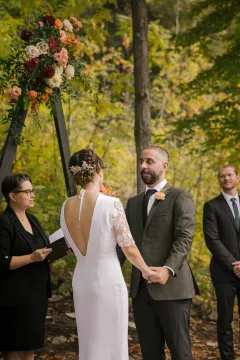 Daniel & Michelle-Alexandra
Natalie Joy Quesnel did an amazing job, she is easy going and professional. We met a couple of weeks before the wedding to plan the ceremony and she helped us organize it, she made the entire process really easy. She made everyone smile at the ceremony. Daniel & Michelle-Alexandra August 219
Patrick & Janie
Nous n'aurions pas pu choisir une meilleure celebrante. Natalie Joy Quesnel a compris ce qur nous voulions, une ceremonie simple, sans extravagances. Merci Nathalie d'avoir partagée cette journée avec nous! Patrick & Janie November 2019
Craig & Samantha
Natalie Joy Quesnel was absolutely amazing. She was very easy going and was very easy to work with. She did a wonderful job with the ceremony! Craig & Samantha October 2019
Martin & Carolyn
Natalie Joy Quesnel was fantastic! We both loved her very much and are so happy she was the one officiating the wedding! We also got a lot of comments from our guests that really loved the ceremony she gave! Perfectly bilingual and expressive and fun to listen to! Thank you for everything! Martin & Carolyn September 2019
Shawn & Matthew
Natalie Joy Quesnel went above and beyond our expectations. Natalie fit the kind of service we wanted exactly and had some very helpful insight into issues we hadn't even thought of. Working with her was a wonderful experience and I would highly recommend her to friends and family. Shawn & Matthew September 2019
Devon & Thomas
Natalie Joy (Quesnel) was recommended to us by a friend and we were so glad that we met with her. From the start, she was a pleasure to work with. Natalie Joy is the perfect mixture of kind and professional, with a good sense of humour. She put us at ease right away, which is exactly what a couple stressing out about wedding details needs! We are grateful for the beautiful work she did officiating our wedding and had lots of positive comments from our guests. She ensured our ceremony was just the way we envisioned it, for which we are very grateful. We definitely recommend her to other couples looking for a great officiant! Devon & Thomas. July 2019
Katie and Josh
Natalie Joy was an absolute pleasure to work with. She personalized our ceremony and made it have just the right mixture of emotion and humour that worked perfectly for us. From our planning meeting, to our official short ceremony, to the longer ceremony with the entire crowd, Natalie Joy made us feel calm and at ease and confident that we had chosen a wonderful officiant. The ceremonies were so special and our favourite part of the day. This is in large part thanks to Natalie Joy. We are forever grateful. [June, 2019]
Geoffrey & Elio
We were delighted to have Natalie Joy be part of our wedding day. Natalie Joy brought warmth kindness and humour to our ceremony. Our guests commented on what a lovely person she is. She came in like a fairy godmother. She touched base with us, performed an amazing ceremony and as we were celebrating our guests, she quietly slipped away. She left a lasting impression with us and our guests. October, 2018
Szeren and Alex
Natalie Joy Quesnel was such a joy to have perform our ceremony this past Sunday. We got so many compliments on our ceremony and how "perfectly us" it was. Natalie really helped us make a ceremony that we wanted and even made it better. Several people asked us where she even came from because they loved her personality. It was such a pleasure to have chosen All Seasons. The whole process was such a breeze. Thank you for being a part of what made our day so special. October 21st, 2018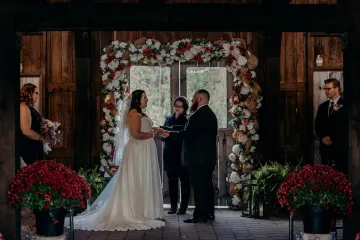 Leora & Nicholas
Natalie Joy Quesnel exceeded our expectations and we are so grateful for her skills and charisma. She was personable and cared about making our ceremony sentimental and unique. She was also very helpful in designing the ceremony as well. She gave us lots of ideas for how to personalize our ceremony. She matched the exact tone we hoped for and the result was an unforgettable experience for everyone present.
Veronique & Andrew
Natalie Joy Quesnel was wonderful to work with. She really took the time to sit down with us and get to know us so that she could personalize the ceremony. We actually had people comment that it was cool we could have a friend perform the ceremony, and they were surprised when we told them that we didn't know her prior to the wedding planning process. I would definitely not hesitate to recommend Natalie Joy to anyone!
Lucy & Remi
Natalie Joy Quesnel brought a wonderful personal touch to our wedding, she went above and beyond and all of our guests commented on her amazing delivery of the ceremony. The whole process went extremely smooth. I would highly recommend All Seasons Weddings. I cannot express how joyful Natalie made our day! She really exceeded every expectation and took care of me and my partner during the process. She made us feel comfortable and at ease with the whole process. She was extremely accommodating and easy-going. She customized our service to suit our needs to perfection!
Stephanie and Richard
Richard, and I would like to thank you Natalie Joy Quesnel for helping us express our love for one another. People kept on telling us how good of an officiant we had. To be honest we also think you were awesome!!!! Thanks again for making our day a memory we will never forget!
Paul and Brian
Natalie Joy was the perfect Officiant for our ceremony. She took the time to get to know us as a couple so that she was able to truly personalize our ceremony. Natalie Joy handled our ceremony with the utmost care and dignity. At the same time, she showed such warmth and gentle humour that she put everyone at ease, both during the rehearsal and the ceremony. She was responsive to my husband's special needs and created a ceremony that flowed at a pace that suited him. And we have to mention that voice of hers which conveyed both joy and solemnity! We have nothing but happy memories of Natalie Joy as our officiant.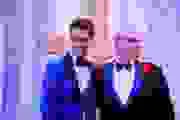 Tammy and Stephen
Natalie (Joy Quesnel) was everything we wanted in an officiant. She was laid back and was chatty with the guests before the ceremony. Someone asked us if she was a friend of ours, which was a true indication that we made the right choice. The service was short and sweet. Exactly what we wanted. The personal touches she had got a few chuckles out of the guests. She really did well putting together something that worked for us. Thank you, Natalie! Our day was perfect!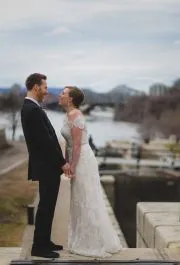 Kelsey & Stephen
Natalie Joy Quesnel went above and beyond! She met and exceeded all of our expectations. Our guests were talking about here the next day. Not only was she friendly and helpful, she was so kind and caring. She made the service super personal, and had everyone in tears one minute and laughing the next. Booking was so super easy, a Thank you! I have nothing to say other than what an amazing experience we had, thank you, thank you, thank you! :D
Annavan & Martin
Natalie Joy Quesnel was amazing, she gave us the funny and heartfelt ceremony exactly how we wanted and she gave us excellent advice ahead of time about how to do the ceremony. We had so many comments from our guests about how good she was too, so our audience enjoyed her as much as we did!
Claire & Ryan
Couldn't have asked for a better officiant. Natalie Joy Quesnel was extremely professional and did a phenomenal job on our wedding. She added so many personal touches and details. So grateful for Natalie Joy's presence on our day. Professional, organized, great company to work with.
Jessica & Ben
Natalie Joy was fantastic. She really took the time to understand who we are as a couple, and what we were looking for in our wedding ceremony. We would 100% recommend her to any couple looking for an easy-going, professional & well-spoken officiant !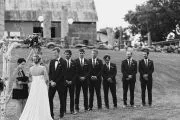 Amanda & Dan
My husband chose Natalie Joy Quesnel because she listed loving Star Trek and board games in her biography and I'm glad that he did! When we first met her, she was very easy to talk to and took notes during our meeting to write a very sweet personalized introduction to our ceremony. She also allowed us to personalize the ceremony where we wanted and met our ultimate desire of a "short but sweet" ceremony. She also provided me with kleenex (which I didn't think I would be needing) and held onto it throughout. What a trooper! I would highly recommend Natalie to any couple looking for an officiant. I also am glad that we chose to go with All Seasons. It made choosing an officiant easy and reliable.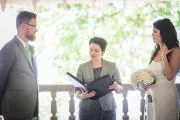 Ashley & Kevin
Hi Natalie (Joy Quesnel), We just wanted to say thank you so much for being the officiant for our wedding. You did such an amazing job and we couldn't have found a better person to have married us. We received so many compliments on your timing and delivery and the personal touches were greatly appreciated. Thanks again, Ashley & Kevin Oct 8th, 2016
Christine and Nadine
Natalie (Joy Quesnel), Nadine and I want to thank you so much for such a beautiful ceremony. You were amazing, the service was the best and your words were so beautiful. You have left us with a wonderful memory of our most important day and we are truly thankful. You made us cry, laugh and kept everyone engaged and we heard nothing else from everyone except how much they loved you. Thank you again - we feel so lucky to have had you as our officiant. Christine and Nadine
Marc and Chuck
The reviews were Oscar worthy! Your officious role in our big day was everything but. You made it so personal and lovely. We are indebted to you for capturing our essence. Thank you. Marc and Chuck