Nancy Doukas
Nancy realizes the importance of the wedding ceremony and the statement it makes. She lives in Erin and comes from a career environment of multiculturalism and diversity and openly embraces the differences that make us all unique. Working with people from a variety of beliefs and backgrounds, she is known for her sense of humour and her ability to put people at ease. Nancy is legendary for her organizational skills and will do all that is necessary to make your day the way you want it to be so that you, as the honoured couple, may enjoy it. Nancy agrees with Friedrich Halm when he wrote, "Two souls with but a single thought, two hearts that beat as one."
Request Nancy Doukas
Areas Served
Erin, Balinfad, Belfountain, Caledon, Caledon East, Alton, Orangeville, Grand Valley, Terra Cotta, Georgetown, Alton, Acton, Guelph, Fergus, Mono Mills, Hockley Valley, Shelburne, Ingelwood, Brampton, Mississauga North, Palgrave, Arthur,Bolton, Milton, Elora, Hillsburgh, Orton, Belwood
Reviews
Robert & Stacey
We had the pleasure of working with Nancy Doukas as our wedding officiant, and she truly made our day special. Her warm and friendly demeanor put us at ease, and she took the time to understand our love story and create a personalized ceremony. Nancy's professionalism and heartfelt delivery made our ceremony unforgettable. We are grateful for her dedication and highly recommend her services. Thank you, Nancy, for making our day so memorable. Robert & Stacey! September 2023
Jake & Emily
Nancy made us feel incredibly comfortable from the very beginning and created a lovely ceremony for us. We received so many comments about it, and Jake and I both feel that if we had not have had Nancy as our officiant, things would have gone very differently. It was incredibly easy right from the booking, planning and execution of our ceremony that we honestly wouldn't change anything. August 2023
Tymm & Jessica
Very easy! Communication was great & the whole process was very clear. Nancy helped keep the groom very calm when he was up there alone and helped keep all our wonderful party under control at the rehearsal! The ceremony was warm, funny, and beautiful and she wrote such a beautiful speech for us. The guests also loved her, appreciating her humor and words. We couldn't be happier and we both feel very blessed to have worked with Nancy. June 2023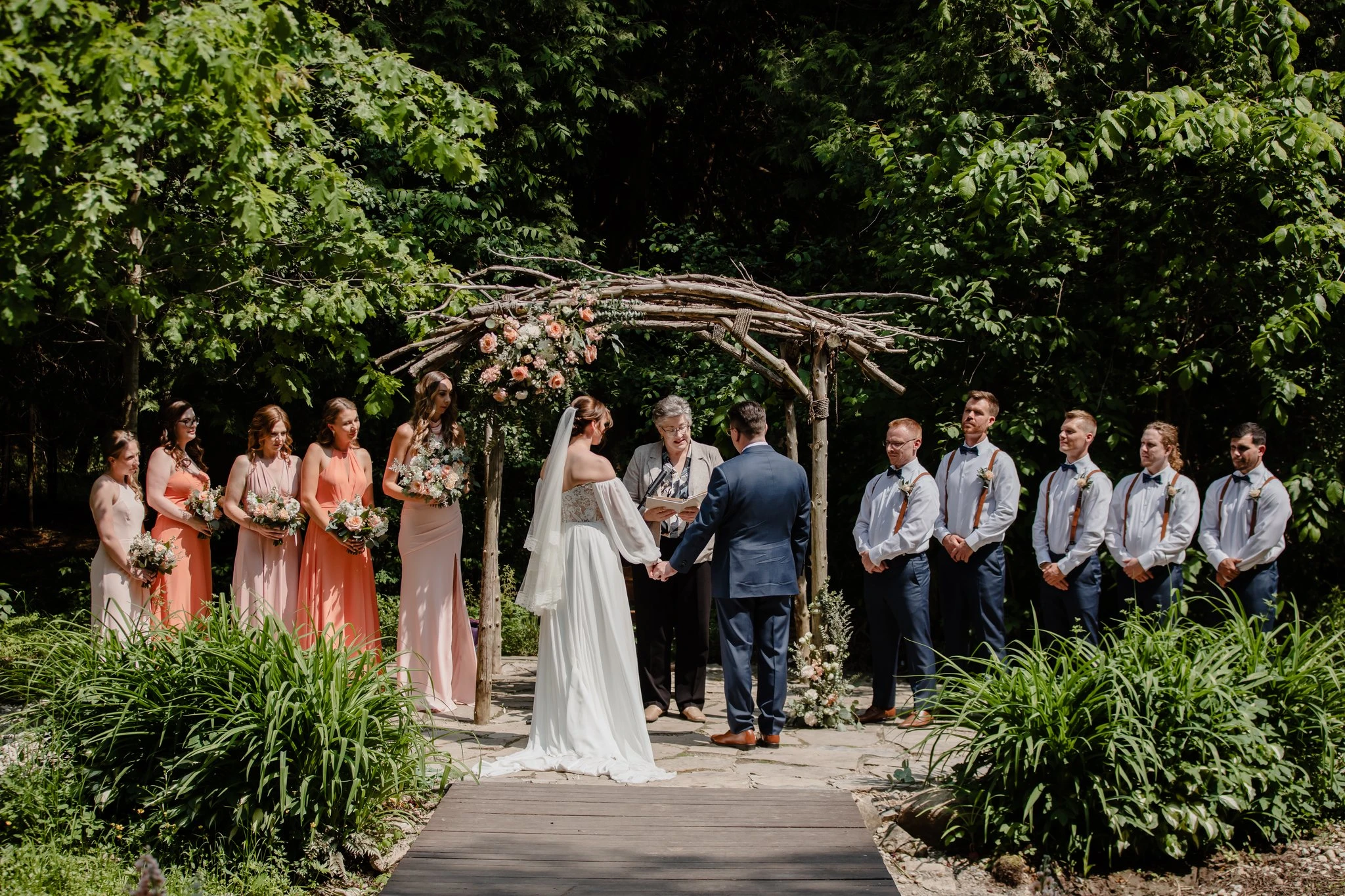 Credit: Becky Lynne Photography
Sean & Deanna
The process of booking an Officiant was very easy. All Seasons was quick to communicate, provided very detailed / clear information on what to expect, and did a great job throughout the entire process. Nancy Doukas was a fantastic Officiant who helped us put together a perfect ceremony. From our initial meeting, to standing up-front at the ceremony with us, Nancy was so supportive and truly listened to how we pictured everything unfolding. Nancy is also highly organized and was very helpful in arranging all of the legal documents too. We would highly recommend Nancy to any would-be couples, and cannot thank you enough for making our day so perfect! Jun 2023
James & Meagan
Nancy Doukas was a fantastic officiant and I highly recommend her!! She answered all of our questions, getting back to us right away and communicating clearly. She was organized and helped us feel confident about the legal process of getting married. She spoke warmheartedly and I'm so glad she was a part of our ceremony! January 2023
Daniel & Susie
Nancy Doukas is amazing. She met with us a few months before our wedding and got to know us really well. She wrote such a beautiful and funny ceremony. She even made sure to properly acknowledge our family who are no longer with us - something that meant so much to us. She was very kind and calming on the day of our ceremony. Our guests are still raving about how wonderful she was and we'd recommend her to anyone! July 2022
Cassondra & Bryan
Nancy Doukas was incredible. She was always available when we needed her and she was just so easy to get along with. She is very knowledgeable, professional, and experienced. She carefully crafted a ceremony that suited who we were as a couple and our values. She got to the venue with plenty of time to review everything with us and settle us down. Overall, we were very pleased with Nancy and we will refer her and All Seasons to anyone else looking for an Officiant. June 2022
Kayla & Quinn
We loved Nancy Doukas and how helpful and informative she was with the wedding process. It really made our day so much easier! We are so happy with how the ceremony went. Thank you! Oct 2021
Jennifer & Ryan
Our experience with the company and Nancy Doukas was wonderful. We had to postpone multiple times due to Covid and everyone was very understanding and accommodating. Nancy contacted us several times during the long delay just to make sure everything was on track and not to worry. Closer to the date she went over everything and made sure we were prepared and felt comfortable with what was planned. Our wedding day was everything we expected and everything went very smoothly. Nancy was lovely to deal with. Would definitely recommend! Jennifer & Ryan August 2021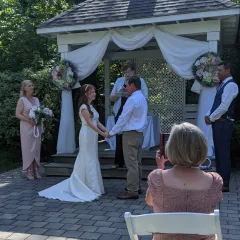 Mark & Sara
Nancy Doukas exceeded our expectations! Incredibly kind and funny, we loved having her as a part of our day.We could not have imagined a more perfect officiant for us. Nancy was incredibly kind and hilarious. She made us feel at ease right from the beginning. She made our ceremony light hearted and incredibly special. We are so great full for her and would highly recommend her to anyone! Mark & Sara December 2020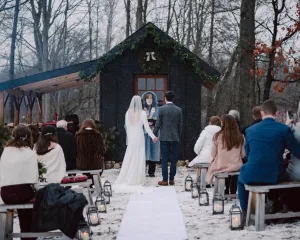 Sacha & Heather
My husband and I picked Nancy purely based on the glowing reviews left by other couples. They were completely right about her. She made us feel so at ease over the whole process and really got to know us. We had a chance to meet up in person before the wedding and she was just as welcoming and friendly in person as she was on the phone. :) We asked for a simple ceremony with some jokes thrown in. :) We also had a special request to have a log sawing ceremony! Even with the pandemic and COVID-19 restrictions, Nancy made our ceremony a special one, filled with laughs and tears of joy. We would 100% recommend her. Our expectations of the service were definitely exceeded and we are so happy to have chosen All Seasons and Nancy! Sacha & Heather September 2020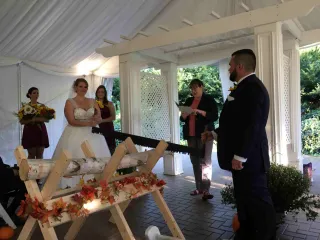 Oles & Elise
Nancy Doukas is an amazing officiant who really pays attention to detail. She was very helpful throughout the process and was always available to answer our questions. We loved our ceremony and couldn't imagine having anyone else officiate. Even my mom (who has always wanted me to get married in a church) had great compliments about Nancy and she was very impressed with her professionalism an calming pressure. Thank you Nancy! Oles & Elise August 2020
Deb & Marian
Nancy Doukas performed our small backyard marriage ceremony and was very professional, yet warm and welcoming. She helped us to feel relaxed and comfortable, along with our guests, which is a big part of why our special day was such a wonderful experience. Deb & Marian September 2019
Ryan & Alexandra
Nancy Doukas was amazing! She was so warm and friendly and we felt at ease immediately when we met with her. Everyone who attended our weeding loved the ceremony and thought we had known Nancy for years. We would recommend her to everyone we know! Ryan & Alexandra September 2019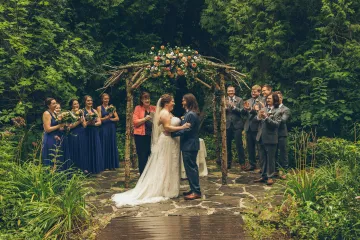 Greg & Trish
Nancy Doukas was amazing and very helpful to ensure the success of our surprise wedding. Thank you for everything ! Greg & Trish August 2019
Thomas & Maria
Nancy Doukas was a special part of our wedding day! She spent the time to get to know us from the initial phone call. we had a meeting closer to the date, and a couple e-mails and phone calls in between. We asked Nancy for a romantic, short and funny ceremony and that's exactly what we got! Her personality was the perfect compliment to our personalities and love story. Our dog, Mowgli, was also an important part of our ceremony and Nancy was very supportive of including him. Following our wedding, Nancy checked in and provided us instructions on how to file all that "fun" paperwork. Thanks Nancy, for making getting married easy and fun! Thomas & Maria August 2019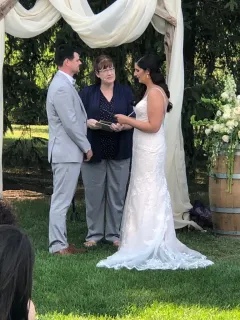 Christopher & Lexie
Nancy was fantastic in every single way and we could not have been more happy with her. Even with the immense pressure of wedding planning, we knew the ceremony itself was going to be great because we had Nancy in charge. From our first meeting she was friendly and charming, and we knew immediately she was the officiant for us. She made us feel at ease and walked us through a process neither of us were at all familiar with, and by the end she'd laid out our dream wedding. She listened to our every need and was quick to respond to our countless emails, no matter how silly the question. On the day of our wedding she was in firm control of the ceremony and it went off without a hitch due to her incredible direction. We could not have been more thankful to have had Nancy as our officiant, and we'd be happy to recommend her to absolutely anyone. Our wedding wouldn't have been half as amazing without her. [June, 2018]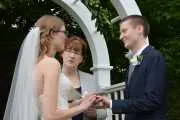 Megan & Gregory
Nancy Doukas exceeded our expectations! Nancy was amazing. She was so flexible and organised. We were coming from Australia and she made everything so easy for us and made herself available for skyping and through email so we could have stress free planning. Our guests all complimented our ceremony and Nancy. She helped make our day extra special.
Jennifer & Joseph
Nancy Doukas, was one of the easiest people to deal with; she was supportive, informative, quick to respond, very professional and all with a smile on her face. She added humour, emotion and simplicity to our ceremony, and it couldn't have been any better.
Caitlin & Mason
Nancy Doukas was amazing, she helped us when we were overwhelmed with everything. She was clear, concise, and spelled everything out for us so there would be no confusion. She kept in touch with us, made sure we were on the right track, and took a lot of the pressure off of that day. Her humor added to the day for us, and we are so happy we chose her to be our officiant. We are glad we went with All Seasons Weddings, thank you for providing us with a wonderful experience.
Andrew and Andrea
Hi Nancy, Just wanted to send a note to once again thank you for officiating our wedding ceremony, and for being so wonderful in the days (and months) leading up to it! Your sense of humour and calming influence helped us both relax, and we enjoyed every moment of the day with no nerves! You're amazing at what you do; we also received so many compliments on our service/officiant! It was simply perfect!! Thanks again Andrew + Andrea
Tina & Gord
Nancy Doukas was amazing! We were extremely happy with the job she did. How she organized our ceremony was second to none! She added humour into our ceremony just like we wanted. She also helped with adding an extra element of including my husbands kids into the ceremony. As well as adding a necklace ceremony, where I gave the girls infinity knots, she also made up a family marriage certificate that our girls as well as ourselves could sign. It was a great way to join our family together!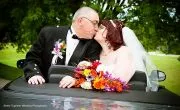 Rick & Marianne
Hi Nancy, Marianne and I both wanted to thank you so much for officiating our wedding. We were delighted to find you so warm friendly and full of life when you first came to our house to discuss the ceremony. The words you chose for our vows were not only eloquent, but captured the spirit of our journey together to become husband and wife. We couldn't have asked for anything better than the warm and thoughtful service you provided. Any couple would be happy to have you as their officiant.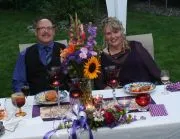 Scarlett & Atul
Hi Nancy, Thank you so much for the lovely ceremony! It was exactly what Atul and I had dreamed of. We've had so many praises from the guests regarding the ceremony. It was touching but not mushy; brought people close and at a perfect length. The guests enjoyed it, and we loved it. Thank you once again for all the prompt support. We couldn't be happier with our wedding thanks to you!
Dominique & Carla
Hi Nancy, Carla and I wish to thank you for your essential role in seeing us off to our honeymoon as a married couple. We are still together (this is not Hollywood) and loving it. We appreciate the effort you made to travel out of your area. It was a joy to work with you. All the best from both of us.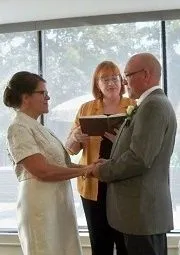 Jennifer & Chris
Nancy Doukas was excellent; thoroughly professional, and very friendly. We were told over and over again by our guests how impressed they had been by her.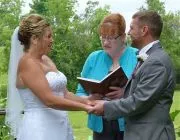 Shelly & Filko
Nancy Doukas was great and so helpful with putting a service together for us. She made sure our ceremony was perfect for our family and even went as far as in checking in on us to make sure we were holding up with all the wedding chaos. I will definitely refer Nancy to others she was great!!!
Ben & Dawn
Nancy Doukas was a pleasure to get to know and to work with! After one brief but very comforting meeting, Nancy composed a beautiful and personal ceremony that perfectly suited the tone of our wedding. Despite our hesitation to include a reading, Nancy suggested a quote that reflected our relationship better than we'd have hoped for. On the big day, the ceremony was performed calmly, fluidly and with some humour that we greatly appreciated. Working with such an intuitive, organized and friendly officiant allowed us to focus on each other and enjoy every minute of the day together.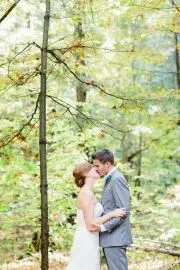 Michael & Joseph
Nancy Doukas was well spoken, funny and caring. Such passion is everything we had hoped for on our special day. She helped keep us feeling on top of the world. We absolutely reccommend Nancy as her work ethics were calming, and professional but fun!
Katherine and Kelly
Our Wedding Day was a perfect and magical event. It was made so in part by our wonderful Officiate Nancy Doukas. From the moment we met, Nancy put us at ease, and made sure that we were prepared for our big day. It was like having a dear and trusted friend to guide us. Our Pre-Wedding meeting was so helpful, and on the day of our Wedding, Nancy was the picture of calm and control. We knew that we were in very good hands. This allowed us to really focus on the ceremony and enjoy every minute. We are very grateful to have had such a special person as Nancy to marry us. We would highly recommend her services. Sincerely, Kelly & Katherine
Alana & Ryan
Hi Nancy, We would very much like to thank you for all your help in the wedding, we just love you and could not have been happier with your services. Not only did you give us a beautiful ceremony, but your warm personality really made us feel comfortable... like we've known you for years! The night was exceptional, we had such a great time. What a perfect day. Hope all is well with you and your family! All the best, Alana & Ryan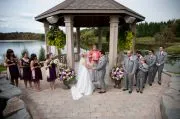 Adriana and Jeff
Nancy we were very happy to have you perform the wedding ceremony ...You were great .... You seem to be a sweet kind person and that's what makes a wedding beautiful .... You have the personality to be an Officiant and make any ceremony special.... Thank you once again
Emma
Hi Nancy, The Wedding ceremony that you performed for us was perfect. You took the time to make it personal and heartfelt, keeping all of our requests in mind. It was obvious that you had put a lot of time and passion into our ceremony. We cannot thank you enough.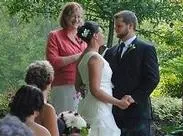 Adriana and Jeff
Nancy we were very happy to have you perform the wedding ceremony ... You were great .... You seem to be a sweet kind person and that's what makes a wedding beautiful .... You have the personality to be an Officiant and make any ceremony special ,.... Thank you once again ...we are very happy to be your first wedding .... We feel honored ... You were great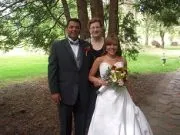 Kelly & Katherine
Nancy Doukas was a joy to have as a part of our wedding day. She was helpful, patient and supportive. By the time the big day arrived, we truly felt that we were being married by a dear friend. Thank you for offering such a great service!