Muguette Prevost
Born in Montreal, Muguette moved to Ottawa in the 1980s and now resides in Embrun, Ontario. She has been licenced in Ontario and Quebec for many years. She is retired from the City of Ottawa where she was appointed by the city clerk to perform English, French and bilingual wedding ceremonies. The institution of marriage is sacred to her. Her energy, warmth and inviting personality makes everyone comfortable immediately. She is open-minded, loves working with couples to ensure their ceremony is perfect for them, and is always happy to go out of her way to please. She has a deep respect of other cultures and faiths. She has also performed many same sex ceremonies and feels privileged when a couple chooses her to unite them in marriage. Muguette's goal is making your special day one that you will cherish all your life.
Request Muguette Prevost
Areas Served
Ottawa, Gloucester, Vanier, Orléans, Cumberland, Rockland, Navan, Carlsbad Springs, Chrysler, Berwick, Finch, Winchester, Russell, Bourget, Embrun, Limoges, Casselman, Curran, Metcalfe
Reviews
Russyl & Manon
Muguette Prevost was definitely the right choice for us. She was quite comfortable and entertaining for our guests. We couldn't have been happier with our choice. Sept 2022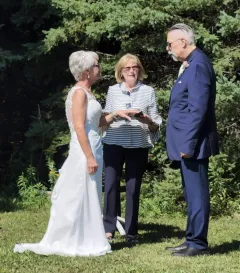 Manon et Robert
Muguette Prevost était parfaite. Elle nous a permis de rendre cette événement extraordinaire et vraiment à notre image. Mme Prevost était très attentive à nos besoin et très accommodante. Elle conduit la cérémonie très organiquement. Merci encore Muguette d avoir été notre célébrante.
Merrick & Ymilie
Muguette [Prevost] did an amazing job for our ceremony. She helped us create the most perfect wedding script and worked in every part so well so that everything flowed. It was so smooth working with Muguette. The guests were truly immersed and engaged in the ceremony, and Muguette made sure everyone had some laughs along the way. She touched on everything that was meaningful to us. Highly recommend Muguette! August 2021
Mathieu & Marie-Josée
Muguette Prevost was extremely friendly, calm, funny and made us feel at ease in our very special moment. Mathieu & Marie-Josée October 2020
Thierry & Martine
Muguette Prevost was so great - so personable and kind. Our ceremony was exactly what we wanted. Thierry & Martine September 2020
Lucia & Nicolas
Muguette Prevost a été au dessus de nos attentes. Elle a su garder son calme et son professionnalisme lors de la pluie au milieu de notre cérémonie et ensuite elle a continuer comme si rien ne c'était passé. Aussi, elle nous a beaucoup aidé dans la planification de la cérémonie, on n'y connaissait absolument rien. Elle nous a aidé a trouvé un texte qui nous ressemble. C'est une personne qui réussi à nous mettre à l'aise et en confiance. Elle est très disponible et elle répond rapidement à nos questions. De plus, elle nous envoie des rappels par courriel. On en a eu besoin assez souvent car on a tellement de chose à penser lors d'un mariage. Que dire de plus, elle s'exprime très bien en français et elle a beaucoup de charisme. Merci pour tout Muguette
Dina & Louis Philippe
Muguette Prevost did a great job! She was very professionnal and helped us plan the ceremony with a realistic timeline. She knew that we were a bit pressed for time and she made sure that the timeline was respected.
Monique & David
Great meetings together, very helpful and very knowledgeable. Good suggestions on how to personalize our ceremony. Muguette is lots of fun!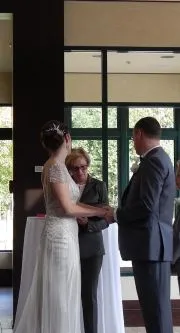 Natasha & Maxime
Muguette Prevost a été exceptionnelle. Elle nous a mis tout de suite à l'aise et à participer à notre cérémonie en nous aiguillant à merveille. Muguette a été super efficace en nous faisant plusieurs suggestions quant à notre cérémonie pour qu'elle soit personnalisée selon nos désirs. Elle a toujours été très amicale et rapide dans ses réponses lors d'échanges de courriel. Je réfère Muguette à 100%. Si vous voulez une cérémonie qui baigne dans l'aisance, l,amour, le calme, mais surtout dans les sourires et les rires, elle est la celebrante qu'il vous faut. Je suis tellement contente d'avoir fait affaire avec All Seasons Wedding concernant la tranquilité d'esprit que j'ai eu lors de la cérémonie et aussi quant au professionnalisme de notre célébrante. J'étais en confiance et je sentais que nous n'avions pas à nous soucier de la cérémonie et ce, meme si nous avions décidez de ne pas faire de pratique. Ce fût une cérémonie riche en emotions, mais également en amour, en rire et notre entourage nous on parlé que en bien de la cérémonie et surtout de la cérémonie du sable que Muguette nous avais suggéré pour unir nos deux familles.
Jean-Sébastien et Chantal
Salut Mugette, Nous voulons vous remercier pour votre travail lors de notre mariage. Les circonstances n'ont pas été faciles mais nous avons eu un magnifique mariage malgré cela et c'est en partie grâce à vous. Merci du fond du coeur! Jean-Sébastien et Chantal
Sheldon & Christi
Hi Midge! Sheldon and I just wanted to thank you again for the beautiful ceremony! It was absolutely perfect! It was a pleasure working with you :) Wish you all the best, Sheldon & Christi
Line and Alain
Alain and I really loved our wedding ceremony. Thank you for guiding us and thank you for all the lovely readings you shared for our special day... With your help I feel like we were able to put our personal touch to the ceremony. We are blessed to have found you as an efficient, we were truly moved throughout the whole ceremony. You gave us a sense of stability, strength and joy. It was truly amazing... I told many people how wonderful you are and how I felt like you are family...
Chelsey and Rick
I can't thank you enough for the beautiful ceremony. You were absolutely wonderful and everyone agreed. They all though you were part of the family! Thank you for your beautiful words and emotions. I truly wish you the best and will recommend you to anyone ! Thank you from the bottom of our hearts!
Kelly & Mathieu
Muguette was very professional, friendly and caring - would recommend her in a heart beat.