Mike Scholte, B Comm (Guelph), Th.Studies (Tyndale Seminary)
Mike lives in Wasaga Beach in the beautiful Southern Georgian Bay Region of Ontario and feels very privileged to participate in one of the most significant events of your life. Your wedding is a day in which you make perfect every little detail and his aim is to provide a wedding ceremony which matches your style and fits with your dreams; in a most professional manner. You will feel completely at home with the words and ceremony and they will blend beautifully with the feeling and atmosphere you dream of for your special day.
Request Mike Scholte
Areas Served
Collingwood , Wasaga Beach, Midland, Blue Mountains
Reviews
Randy & Linda
Everything about booking our Officiant Mike Scholte was so easy, and efficient. Mike certainly made our ceremony extra special and very personalized. He truly put in a lot of thought and made our guests all feel included in our special event. August 2023
Aaron & Rebecca
Mike Scholte was wonderful! He helped to make our day exactly how we envisioned it! October 2022
Debbie & Lou
Mike Scholte was very professional helpful and guided us through the whole process helping with wedding anxiety. June 2022
Codi & Deborah
Our experience with All Seasons and Mike Scholte were great! Everyone was very knowledgeable and responsive in regards to our questions and booking was stress-free. Mike (and his team) were amazing!!! We can't give them enough praise for their kindness and friendliness, professionalism, understanding, and adaptability. Mike went above and beyond to make our ceremony and day extremely special, personal and meaningful- he gave us exactly the ceremony we were looking for. Everything ran smoothly because of his efforts and our minds were at ease knowing things were in his capable hands. We can't thank him enough for the beautiful ceremony he gave us. We highly recommend him! July 2022
Patrick & Kayla
Mike Scholte is so incredibly personable and has such a calming presence. He truly made our day feel extra special and we couldn't have asked for a more wonderful officiant. October 2021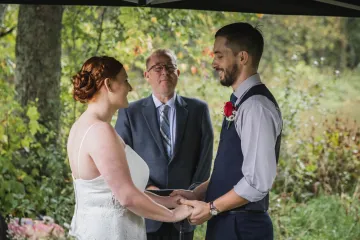 James & Alexandra
We have only great things to say about Mike. He was perfect. He worked with us to make sure everything was perfect and exactly how we wanted it. He made the ceremony so happy and warm, and kept our nerves calm. I wouldn't hesitate to recommend him to anyone looking for an officiant ! October 2021
Bob & Amy
Mike was wonderful from beginning to end. We wanted a very simple small wedding and he totally understood. The readings were beautiful and meaningful and Mike made everything feel very special. He speaks beautifully. He was also a good sport coming on the boat to the beach to perform the ceremony! Thanks Mike for a wonderful experience. We loved our wedding. Sept 2021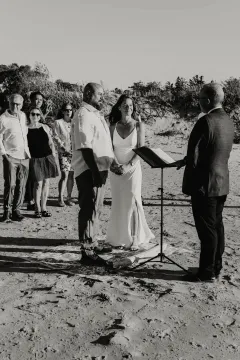 Brian & Lorie
Mike Scholte was spectacular and I would highly recommend him. He made it personal, warm and beautiful. Thank you Mike! Brian & Lorie December 2019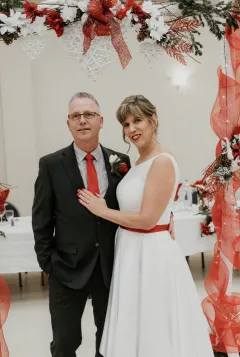 Richard & Adrienne
Mike Scholte was the most wonderful wedding officiant for our wedding in July 2019. As soon as we met him we knew he was the guy for us. Mike is relaxed, fun, caring, and he knew exactly how to make our wedding ceremony exactly what we hoped it would be. He met us the day before the wedding for a run through which was so helpful! The day of the wedding he made us feel calm and we really felt connected to him. He has a fantastic sense of humour and we are still getting positive feedback about how great his ceremony was! He has the kindest most sincere smile and we are just so happy that we got to have Mike as part of our wedding. We would definitely recommend him to anyone getting married in the Georgian Bay area and we hope to cross paths with him again in the future! Mike - we cannot thank you enough for making our wedding day the best day of our lives!!! Richard & Adrienne. July 2019.
Dennis & Ann
Mike Scholte is a good person and excellent officiant. we would recommend him to anyone looking for an officiant. Dennis & Ann June 2019
Kayla & Shane
Mike Scholte did an incredible job. We are so thankful for such an amazing officiant, for our recent wedding (October 6 2018). The first day we met Mike it seemed like we had known him forever. He connects so well with people, he can make anyone laugh with his sense of humour, and such kind personality. Thank you Mike for everything!!! You made our wedding ceremony perfect and exactly how we wanted. Best day ever!!! Kayla & Shane
Emma & Geir Ola
Mike was great at communication, had a good sense of humor and he was patient and helpful at every turn. The ceremony he held was conducted professionally, he gave a great speech and it was all really beautiful. All in all a stand up guy that I would recommend to anyone who wants to get married in the area. We also want to thank Mike for being so flexible with regards to payment, and for the last minute schedule changes. Mike was smiling all the way, and made it very easy for us even when unexpected things happened, like the weather being uncooperative. Emma & Geir Ola, July 2018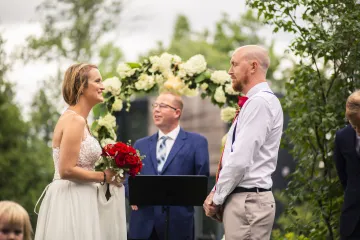 Randy & Helen
Mike (Scholte) was so awesome, his sense of humour and personality are just perfect! So glad we made this choice, he was professional, but very relaxed which made the day just awesome. We received several questions on who he was so we'll definitely be passing on his details! Thanks again! Randy & Helen, July 2018
Lauren & Robert
Mike Scholte was absolutely FANTASTIC!! We were so nervous going into the ceremony and he made us, as well as our families and wedding party, feel so comfortable. He interacted with our guests during the ceremony and really made everyone feel apart of the process. He played off of our casual and joking personalities and we had an absolute blast with him! Thank you so much Mike, for making our day so perfect!!!
Warren & Sherry
Mike Scholte was absolutely fantastic and we would recommend him in a heartbeat!!!!! Awesome experience for sure!!! He helped make our day extra special! Everyone we dealt with at All Seasons was great and very helpful!! [April, 2018]
Merribeth & Brian
It was a perfect day. Big thank you to Mike Scholte, he did a fantastic job.
Sylvia & Victor
Could not have been happier. Mike Scholte gave us some peace of mind when we met and great advice that was useful and rang true on the day! Thanks Mike!
Sofie & Kevin
Mike Scholte was great. This guy put everyone at ease. He gave great advice and was professional and friendly. I can't imagine having anyone do that job better. I would gladly pay this man double and it would have been money well spent. Thanks Mike.
Jessica & Ryan
Mike Scholte was a wonderful officiant for our ceremony. From our first meeting we knew he was the right fit for us. He made us feel so comfortable and helped us achieve our dream ceremony.
John & Julie
Hello All Seasons!!! I'm writing today because I felt the absolute need to let you know how totally and utterly grateful my husband and I are that you have such an amazing man and officiant working for you. You should be very, very proud of Mike Scholte, as he without a doubt saved our big day. On July 13th 2013 at Blue Mountain Resort my husband and I were to be married. As I pulled up to the top of the mountain in the shuttle my wedding coordinator came in to tell me that we had a slight problem... the officiant never showed up. This is without a doubt a bride and grooms worst nightmare. For 40 minutes we were frantically trying to get a hold of this "reputable" officiant that worked for a "reputable" company that I'll choose not to disclose here, however there was no answer. Our coordinator's assistant remembered Mike Scholte, who had recently officiated her wedding and she called him quickly. He answered the phone. Mike replied "Give me 20 minutes and I'll be there!" Mike promptly arrived at the top of the mountain and he was truly honoured and happy to be there on our big day. He was kind and calming. The love and sincerity in his words just resonated with our souls and everyone around us. He's our angel and we'll forever be grateful. Thank you Mike and All Seasons for the amazing work you do, you should be very proud, and because of you we'll always remember this day as the most beautiful day of our lives.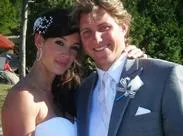 Ross & Claudine
To say that Mike Scholte is the best officiant I have ever seen, is an understatement! We have been to countless weddings, where officiants have been, well, quite boring to say the least :) We wanted someone who was preferebly younger and wouldn't bore the crowd. Mike always maintained his professionalism; yet, was very witty - perfect combination! He is a very personable, courteous and honest man. He is the one person, everyone should use :)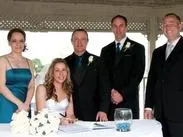 Jakob and Ashley
Mike Scholte did a wonderful job for our wedding back in May. Everything went according to plan and flowed better than we had ever expected. The pace and timing was perfect as he guided us through the ceremony. Everyone we have talked to after our wedding had nothing but positive things to say about it. Never once did we feel rushed with our time with Mike and he took the time to meet our needs and ensure we were all 'on the same page'. On behalf of everyone involved, we would like to thank you for making our wedding day so special.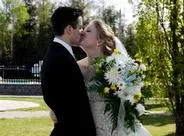 Bonnie and Skinny
Mike Scholte of All Seasons Weddings made our ceremony top any wedding we could have dreamed of. It was easy and Mike's warm and calming presence along with his personable guidance made our day a precious memory. From the rehearsal to the ceremony Mike brought his expertise and his creative brilliance to make the day flow exactly as we visioned.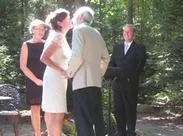 Peter & Michaelia
Mike Scholte made our wedding ceremony very special. We are both so thankful to have had his support in being our wedding officiant. Please use us as future references should you need one. As a couple both having adult children, we were wanting a tasteful ceremony and service. He was flawless, and carried the moment in the most meaning ful of ways.