Mike Mundell
I have lived in the Kingston area all my life, and my wife Linda and I have two children who have blessed us with six grandchildren. As a Designated Minister, I like nothing more than to marry couples, performing the wedding ceremony of their choice that captures and defines their feelings for each other and their beliefs. I'm an experienced speaker having preached in more than 20 churches over 30 years. I'm comfortable with ceremonies in any location. My sense of humour along with compassion for others has held me in good stead. I look forward to being part of your special day.
Request Mike Mundell
Areas Served
Kingston, Napanee, Gananoque, Inverary, Joyceville, Lansdowne, Sydenham, Seeleys Bay, Westport, Verona, Hartington, Wolfe Island
Reviews
Scott & Dawn
Mike Mundell did a great job. We were totally comfortable and made the experience very memorable. Scott & Dawn August 2020
James & Crystal
Mike Mundell was amazing , thank you for making our day perfect! James & Crystal October 2019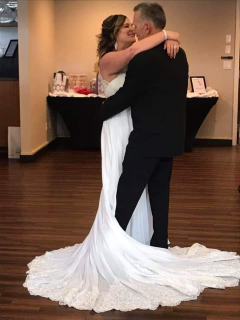 Zachery & Breanna
Mike Mundell is an amazing person to work with. He made the ceremony easy going and fun. We couldn't of asked for a better officiant to be apart of our special day, and giving us the most perfect ceremony. If you're looking for a wonderful, family man who will make your day easy going but amazing at the same time. Mike is that man! Thank you so much Mike!!! Zachery & Breanna September 2019
George & Diane
Mike Mundell was perfect! We could not wished of a better Ceremony!!! George & Diane September 2019
James & Mami
Mike Mundell was so kind and courteous and really made us comfortable with the whole process. Thank you Mike . James & Mami August 2019
Arran & Tim
Mike Mundell not only met, but exceeded our expectations. He was timely, diligent, proactive and reassuring through our meeting and rehearsal. All Seasons Weddings staff were great. They always replied to emails in a timely fashion and provided all the information and more that was required to sculpt our ceremony to fit our needs.