Michele Fansett
Michele is a trained and professionally experienced actor and director with many successful theatre productions to her credit. She has exuberance, an ability to connect with people, and an eye for detail. If you're looking for someone who understands a great wedding ceremony to help you bring out those moments of intimacy, joy, solemnity and celebration for you and your loved one on your special day, she can guide and support with a calm and confident hand. Unconventional settings, rainbow relationships and custom ceremonies are all welcome – let's create a wedding ceremony together that's as unique as you are!
Request Michele Fansett
Areas Served
Picton, Prince Edward County
Reviews
Genevieve & Daniel
Michele Fansett exceeded our expectations! She was absolutely perfect, and we couldn't imagine our day with anyone else. She mentioned things that we didn't even think of and was easy to work with, even though we were not from the area. We would recommend Michele a million times over! Everyone should choose Michele for their special day! July 2022
Dalya & Jorn
Dear Michele Fansett, thank you for officiating our wedding. We continue to receive compliments on your service to this day. Aug 2021
Erin & Neil
Dear Michele Fansett, we cannot express the happiness you have brought us. Thank you for officiating our wedding. You helped us create a beautiful ceremony we will always remember. We were delighted you were there to share in the happiness of our special day. Thank you for being spectacular you. Oct 2021
Maxine and Kelvin
Michele definitely met our expectations and exceeded them!! We didn't really know what to expect but Michele gave us great tips for the big day and helped us plan for a smooth ceremony. She asked us specific questions that we wouldn't have thought of and helped up get through our nerves on the big day. Thanks so much Michele!!
Jeff & Erika
Michele Fansett went above and beyond and we are very happy she officiated our wedding! She was always happy to answer any of our questions and gave us great tips not only regarding the ceremony but about the entire day. We worked together to create the perfect ceremony script and the ceremony was beautiful. Even our guests mentioned that she was great! Thank you Michele and All Seasons! Jeff & Erika September 2021
Joshua & Charifa
Michele Fansett was super patient and kind. She made the process very pleasant! We really loved her energy and would definitely recommend her. :) Joshua & Charifa May 2021
Eric & Kasandra
Michele Fansett was amazing. She was flexible and understanding. She helped make the process stress-free. Eric & Kasandra October 2020
Jean-Marc & Beth
Michele Fansett met our expectations and went beyond. She's absolutely wonderful. Our wedding ceremony was intimate and private and she handled it perfectly. I'm sure she would adjust to any occasion and make it spectacular for the couple. Jean-Marc & Beth September 2020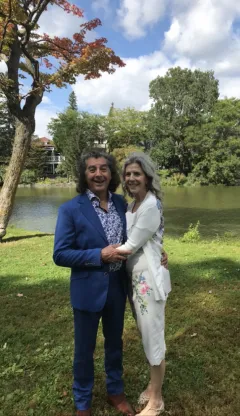 Warren and Katie
Above and beyond! Michele Fansett was excellent! Love Michele's enthusiasm and very helpful tips she provided at our meeting and on the day! She was wonderful! Warren and Katie January 2020
Jim & Clare
Michele Fansett was friendly and made us feel very comfortable through out the whole process. Michele delivered our ceremony in an upbeat and warm manner. Thank you ! Jim & Clare August 2019
Jen and Jordan
As promised here are pictures from the wedding day. Thank you again so much for the wonderful ceremony!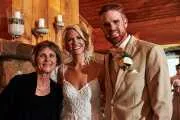 Rosemary & William
Our ceremony was perfect. A friend commented: "If I had imagined your wedding, it would be just like this." Michele Fansett worked with us to create a ceremony that really fit who we are, and it was lovely! Michele put us at easy and gave us helpful advice. She is a great speaker and very professional.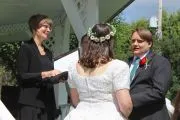 Stephen & Debbie
Michele (Fansett), You made our ceremony everything that we wanted. It had meaning, emotion and was truly heart felt and unique! Thank you again for officiating and making it easy.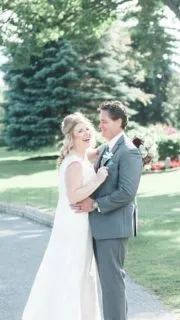 Alfredo & Lindsey
We wish to thank All Seasons Wedding for giving us Michele Fansett as our officiant. She is a natural. A real pro. Her delivery was natural. She looked elegant and so happy to be the one to marry us. Thank you again!
Kristienne & Craig
Michele Fansett was outstanding! Her warm personality was the perfect fit for the vibe of the ceremony an her professionalism and additude really eased us through the entire event! Thank you again for fantastic service!
Adam & Jeff
Michelle Fansett was so very friendly and welcoming. She invited us and our friends into her home with open arms and treated us like family. The ceremony was just the way we envisioned it, simple and heart felt. We thank her for her mind words and making our day one to remember.
Bar & Nick
Michele Fansett was so great and we would highly recommend her to anyone. She made us feel at ease prior to and during the ceremony. She was engaging and we had number of guests comment on how wonderful she was.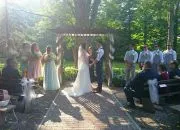 Nicholas & Teodora
Everything was amazing. I will definitely recommend All Seasons and Michele Fansett to other friends. Thanks so much for making our day so wonderful.
Sebastien & Amanda
Michele Fansett met and surpassed our expectations. She was very helpful in our initial meeting and had great tips for us for the big day.
Meagan & Timothy
Michele Fansett did a fantastic job, the meeting a few weeks before our wedding she gave us tips on how to stand at the alter, how to walk down the aisle, and just did an excellent job making us feel more comfortable.
Breanne & Derek
Thank you again for performing such a beautiful ceremony for us, it was perfect! You did such a good job of lightening the mood at points and everything ran smoothly.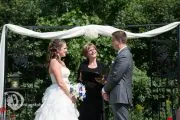 Erin & Eric
Michele Fansett exceeded our expectations! She has such a calming presence and really made us feel at ease. We had so many guests comment on how wonderful she was! She took the time to answer all of our questions and the ceremony went off flawlessly! Thank you Michele!!!!
Kelly & Simon
Michele Fansett went above and beyond. She was amazing at making herself available to discuss any questions or changes we had with our ceremony. Our whole family and even the photographer said that Michele was the best officiant they had ever seen. She made every moment personal and special. You can tell that she loves what she does and puts her heart into her work. She was part of the family on our big day :)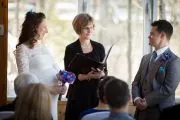 Lee & Mike
We thought Michelle Fansett was wonderful. She considered our wishes, accepted feedback and then provided suggestions of her own. Many of our friends asked us where we had found such a great speaker and warm communicator.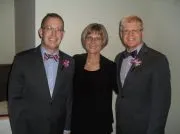 Anne & John
Michele Fansett was very pleasant, flexible regarding our needs, and went beyond what was expected. For example, she stayed behind to take some photos for us. I would definitely recommend her – and your service – to others.
Erin and Eric
Hi Michele, Thank you so very much for marrying us on Saturday! We couldn't have asked for a more perfect ceremony. You made us feel calm and relaxed (not an easy feat). We also had so many of the guests comment on what a wonderful job you did. If you ever require references we would be thrilled to do that for you! We hope you enjoy the rest of your summer and thank you again!