Melissa Taylor
Melissa is an award-winning wedding officiant in London and area. A memorable ceremony for Melissa reflects a couple's love for one another, the life they have shared, and the future they dream of. It is an honour for Melissa to be included in a wedding and the joyful chaos that surrounds the planning of such a happy occasion. Melissa feels every couple, no matter their culture, faith, or sexual orientation, has the right to happiness and a beautiful wedding. She is thrilled to help fulfill those dreams through officiating ceremonies. Melissa is deeply involved in a charity called thebridesproject.com, an organization that donates all profits from gown sales to cancer charities. Melissa loves to read, cook and take long walks around her home in Belmont, stopping to chat with those she meets. She also volunteers at her children's school by chairing councils and serving in any way she is needed. Melissa looks forward to meeting you and your family and friends to celebrate this special time.
Request Melissa Taylor
Areas Served
London, Port Stanley, Port Burwell, Tillsonburg, Woodstock, Ingersoll, St. Mary's.
Reviews
Anthony & Laura
The process was very simple and easy. Our wedding was simple and beautiful. Just the way we had wanted it. Melissa was amazing to work with. She explained every part of the process and I have heard from her after the wedding as well. We were able to write/create our own ceremony plan with her input and help. I would definitely recommend her! August 2023
Erica & Maxwell
From the very early stages of planning our wedding day, we knew that we wanted a ceremony that was 100% our own and celebrated our love. Melissa [Taylor] helped to provide us with all the support and details we needed to make that dream come true. Along the way, she checked in with us, shared exemplar templates, and reminded us to keep choosing words that felt genuine to our relationship. On our wedding day, Melissa performed the ceremony for us in a way that was everything we could have hoped for, and we will never forget that incredible feeling. During our reception, our guests told us how much they admired Melissa's pace of speech, clear voice, and amazing energy. You will not go wrong with Melissa officiating your special wedding ceremony!! July 2023
Mitchell & Rachel
Melissa Taylor made sure to both speak to mitch and I, in person before the wedding and she was so calming and sweet. Absolutely! Loved Melissa June 2023
Steven & Rachel
It was incredibly easy to find an officiant and book through All Seasons. Our officiant Melissa made the whole planning process so easy and stressfree! Everyone loved the ceremony and the readings! Melissa helped us put together a ceremony script that fit us as a couple and even helped us with our vows! Absolutely! Our officiant Melissa made the whole planning process so easy and stress-free! Everything was amazing, thank you again! May 2023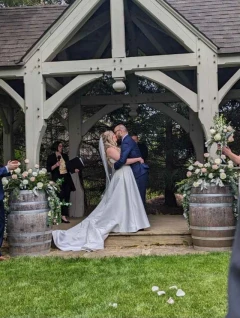 Dorian & Dana
Melissa Taylor was incredibly prudent, professional, and a great communicator. She made all of the pre-wedding aspects (wedding licence, forms, vow prep) super simple and streamlined. She was very good at communicating with us about what we wanted her to say/not say as our officiant and was so helpful in helping us tailor our wedding to our needs. Overall would recommend Melissa for weddings and any other special engagements she is available for. Zero complaints. Thank you again for walking us through all the stressful aspects of our big day with a smile and a good attitude! Dec 2022
Iain & Abigail
Melissa Taylor was a great officiant and an even better person! She made our day very easy, relaxing and exactly how we wanted it to be! February 2023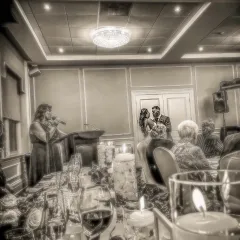 Pascal & Sarah
It was a pleasure working with Melissa again. She married my husband and I in 2013 and it was great to have her officiate my daughters wedding this year. October 2022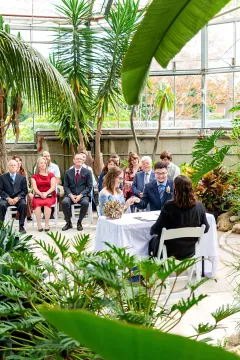 Sarah & Stephen
We are still on an emotional high thinking about how special and magical our wedding day was. Melissa Taylor was absolutely AMAZING. From the start of the planning process all the way to after the wedding, she walked us through the whole process and was so kind and supportive in guiding us to create a wonderful ceremony. We were able to adjust the ceremony to add in our own personal vows and a meaningful poem that ended up bringing us all to tears on the day. Her ceremony was beautiful and she was so welcoming, friendly, and calm - she even helped coach us through the tears. I highly recommend her!!! Sept 2022
Mike & Kristina
Melissa Taylor was very friendly and helpful during the entire process. She matched our laid back style perfectly. She was wonderful with both of us and our children. She happily chatted with all our guests while they waitedn for the ceremony to begin. She was the perfect person for our day. Thank you Melissa for making what could have been a stressful time - easy. We highly recommend your services. Aug 2022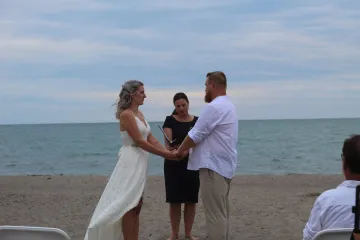 Chris & Leslie
Melissa Taylor exceeded our expectations. She was fantastic and so friendly. June 2022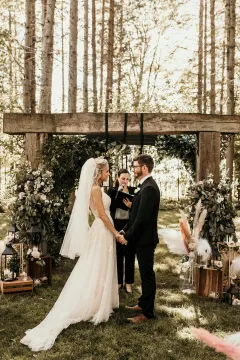 Norm & Elena
Melissa Taylor was wonderful. She is great to work with. She is positive, organized and well spoken. She is open to any questions you have, responds quickly and is so friendly. We had many compliments on the ceremony she presented. She is very reassuring and knowledgeable. She really helped calm nerves and make us feel that everything related to the ceremony was in good hands. July 2022
Cale & Shannon
Melissa Taylor was fantastic! She was so helpful walking us through each step of the process, from legal requirements to the ceremony itself. I really appreciated that she had some template scripts available and allowed us to review and make changes to these scripts. It made me feel very comfortable knowing what was going to be said during the ceremony. She made us both feel much more confident, comfortable, and happy with the process! July 2022 (photo by Lustre Photography)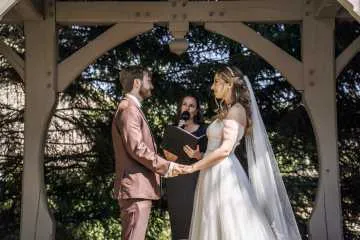 Christina & Justin
My husband & I had Melissa Taylor officiate our wedding, and it was one of the best decisions we made during the whole wedding planning process! Melissa has one of the warmest, most genuine personalities that we've ever met, and it completely showed when she officiated our wedding ceremony. From the beginning of planning, Melissa spoke with us on the phone to give us tips and advice for writing our ceremony script and completing our marriage licence forms. She was so helpful and attentive throughout the whole process, checking in with us through email and giving us help with so many things. She met with us in person a few weeks before the wedding to go over details, and mainly to put our minds at ease of any last-minute questions we had. Her delivery of our script was so beautiful and calm, and we couldn't have asked for a better person to officiate our ceremony. We are still having friends & family say what a beautiful ceremony it was and how lovely Melissa was. It was our favourite part of our entire day, and will remember it always! We cannot recommend Melissa enough!! June 2022
Jess & Justin
Melissa [Taylor] exceeded expectations; she was phenomenal! Went out of her way to make us feel comfortable and was always there to answer any question we had. Melissa was amazing, she conducted our ceremony with the perfect mix of her ideas and our ideas, while allowing us to completely customize the ceremony! I would recommend her to any friends and family in a heartbeat! June 2022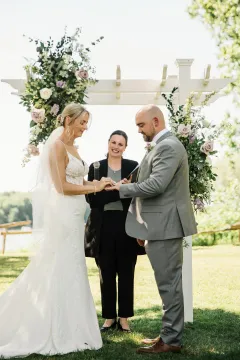 Joe & Melissa
Melissa Taylor was absolutely wonderful we highly recommend her! May 2022
Jamie & Sonya
Melissa Taylor was absolutely personable and accommodating to our unique and non-traditional wedding. October 2021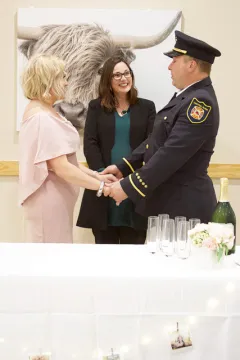 Deb & Jeff
Melissa Taylor absolutely met our expectations. She is a wonderful person. Many of our guests complimented her service as well. The ceremony was perfect. We couldn't have been happier. Melissa made us feel comfortable and relaxed not only the months leading up to the wedding but during our ceremony as well. Everything was just so smooth. She helped Jeff and I focus on each other with her calm voice and warm smile. We will most certainly refer her to others in the future. Thank you so much! October 2021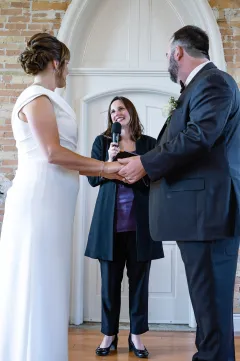 Cody & Brittany
Melissa [Taylor] is a very pleasant individual! She was on time and dressed perfectly for the occasion. Booked our appointment with almost no notice. Very accommodating. 10 out of 10. Very friendly! September 2021
Jennifer & Gavin
Melissa Taylor definitely met and exceeded our expectations. Being our second wedding, we thought we wanted a simple ceremony, but we added elements and a personal touch that made our wedding ceremony everything we could have imagined. We had many of our guests ask if we knew Melissa personally as her delivery of our ceremony was so authentic and personable. She is a wealth of information and has a very calming and reassuring nature about her. I would highly recommend her personally and can't thank her enough for all her help with our ceremony details. We look forward to working with her in the future. August 2021
Ashley & Cody
Melissa Taylor was amazing. She was the perfect fit for our wedding and was so easy to communicate with. We would 100% recommend her. Ashley & Cody
Kaitlin & Andrew
Melissa Taylor went above and beyond to ensure we were as stress free about our wedding as possible. With the multiple changes due to COVID she truly made the best experience for us possible! She accommodated me for everything, including using online video chats so I could stay at home with my children, which was really amazing. I would recommend Melissa to anyone who is looking for someone to officiate their wedding! She is the type of person that you would be incredibly happy to have sharing the most special day of your life with your partner! Kaitlin & Andrew June 2021
Quincy & Mackenzie
Melissa Taylor stepped in for our wedding day fairly last minute. Due to Covid our special day had MANY ups and downs but Melissa made us feel nothing but comfortable from the moment she reached out. We could not have imagined our day being any more perfect and she had so much to do with that! Our wedding was not quite what we planned (twice over) but it was still a dream come true! We owe so much of that to Melissa! Quincy & Mackenzie May 2021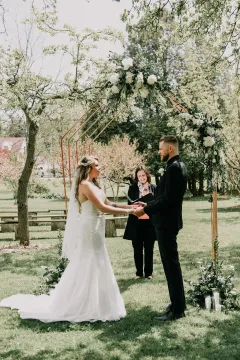 Robert & Katharine
Melissa Taylor was just perfect for our day - sweet and sunny, accommodating and friendly, knowledgeable and efficient. She was able to flex the time around by a few days to avoid having to marry us on an ark (thank you!) and helped us to make our day very special. Robert & Katharine June 2021
Mackenzie and Quincy.
A HUGE thank you to melissa Taylor! She was our third officiant booked since we first began wedding planning in 2019 and she completely surpassed our expectations! Melissa was just outstanding and all of our family were in awe at how perfectly she fit our wedding day vision! So thank you, thank you, thank you!!! Mackenzie and Quincy
Brittany & Amanda
Melissa Taylor went above and beyond to make sure Amanda and I had the best time at our wedding, especially since our plans changed because of COVID. Melissa was easy to reach, extremely reliable, and so friggen sweet! We loved our experience with her! Amanda and I were reluctant to find an officiant for our wedding as we were looking when all the LGBTQ+ problems were going on with people not making cakes or refusing to marry gay couples but All Seasons took us under their wings and gave us an Angel in Melissa. We love All Seasons, we love Melissa Taylor, thank you so much! Brittany & Amanda September 2020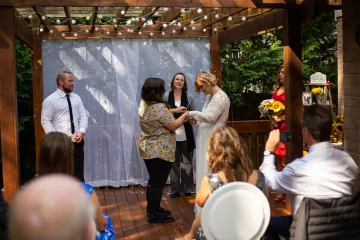 Josh & Jenn
Melissa Taylor was so wonderful throughout the process. She gave us all of the information we needed and allowed us to personalize the ceremony. She was always prompt to respond to inquiries. She made the process easy and comfortable, we couldn't be happier with the service that she provided. Josh & Jenn September 2020
Vahagn & Nevena
We are so thankful to have had Melissa Taylor perform our wedding ceremony. It was wonderful working with her through the entire process. Melissa helped us make the ceremony exactly how we envisioned it. She provided assistance with our vows and helped us make them unique to our story. She provided guidance with other important aspects such as obtaining a marriage license. The preparation and ceremony were stress-free and easy going, just the way we had hoped. Her performance of the ceremony was professional and went as smoothly as possible. We would highly recommend Melissa Taylor to any couple planning their wedding! Vahagn & Nevena November 2019
Brian & Victoria
Melissa Taylor did such a wonderful job as the wedding officiant for our big day. She supported us throughout the wedding planning journey, checked in with us often, gave us helpful reminders, and sent along several ceremony templates to help inspire us. I cannot say enough about the quality of her work, professionalism, and attention to detail. Melissa allowed us to personalize our ceremony as much as we liked and then made edits and suggestions to make sure it was perfect. Melissa helped us figure out how to work in a handfasting as part of the ceremony. I would highly recommend working with Melissa, it was one of the best decisions we made for our wedding day. -Brian & Victoria October 2019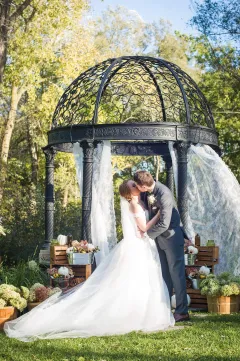 Rebecca and David
'Everything was perfect. It was absolutely perfect and we are more then happy with the ceremony. Many of our guests commented on the service and wanted to know where we had found such a wonderful officiant. You made everything so simple, and seamless. With everything going on I don't know if we could have managed it as well. I cannot begin to thank you for all your work.'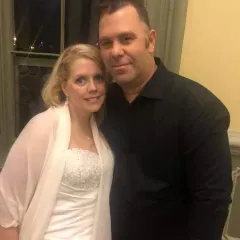 Megan and OJ
Dear Melissa: We just wanted to say a huge thank you! Our ceremony was beautiful and one of my favourite parts of the day!! (Megan and OJ)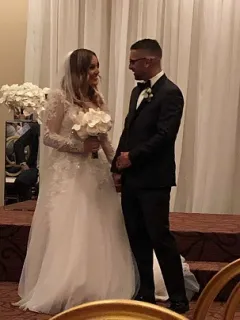 Cheryl & Chris
Thank you so very much for being our amazing officiant on our big day!!! We had a wonderful day and felt the exact same energy as you did that carried throughout the night!!! I loved it! Thanks for all you did (printing our vows on card-stock, checking in with us prior to the ceremony, performing a wonderful, and custom ceremony that highlighted Chris and myself) it was so appreciated!!! Melissa thank you again for adding so much to our incredible day! Sincerely grateful, Cheryl & Chris June 2019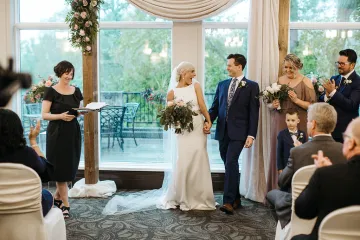 Jane & Dan
Melissa Taylor was absolutely fabulous to work with, and many guests complimented on how wonderful you were during our ceremony. We have appreciated all of your help & advice throughout our wedding preparations, and most importantly on our special day!! We had such an amazing time. Thank you for everything! Jane & Dan August 2019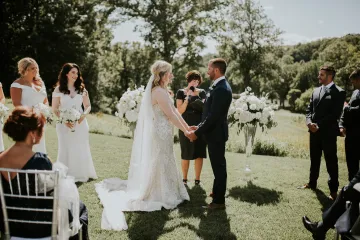 Wayne & Carrie
Melissa Taylor is very kind, friendly and efficient. She helped us have a ceremony that was unique to us and very personal. She went above and beyond to comfort our nerves and keep the ceremony progressing on time. We highly recommended Melissa. Wayne & Carrie August 2019
Melissa and Adam
Melissa and Adam - June 15/19: Thank you again for everything, people are still commenting on how great of a job you did and were so impressed with how you dealt with the rain. We really appreciate how easy going and up for anything you were, it made the weather so much easier to deal with!
Stephen & Amanda
I can't thank Melissa Taylor enough for helping us make our ceremony perfect! It was such a pleasure to work with Melissa - she is so kind and informative. I loved how open she was to our ideas while offering a lot of useful tips & suggestions. She really cared to make our ceremony personalized to us! I would highly recommend her for any type of ceremony!! Stephen & Amanda May 2019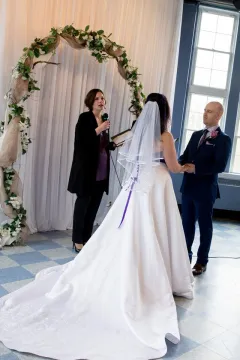 Taylor and Caroline
You were absolutely perfect and I honestly could not thank you enough. Even before the ceremony was even over (when you were assisting our witnesses with the signing) Taylor and I looked at each other and were like wow she is nailing this! So many of our friends and family in attendance expressed how amazing our officiant was. That was probably the most common compliment we got for the wedding. So thank you once again for making our day so amazing! The ceremony was one of our favorite parts and that's because of you ?
Matt and Cristina
Hi Melissa! I wanted to just send you a quick message to thank you for acting as our officiant! I don't know how you did it but you were an incredibly calming force that day and I really appreciated it. You exceeded Matt and I's expectations for what to expect from an officiant. Thank you again for being part of our day!
Valerie & Courtney
Courtney and I wanted to thank you for the wonderful job you did. We couldn't be happier with how everything went! Thank you for your guidance and the beautiful ceremony that you helped provide! It warms our hearts that our best men were able to help you out - and help the entire evening off without a hitch!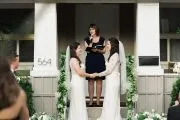 Alysia and Chad
We had a fantastic wedding day, and loved the ceremony. We've had several people mention how much they liked the ceremony, how it suited us, and how much of a relaxed, good vibe you brought to the ceremony. And we have to agree - it was such a great experience and we're so happy to have been able to work with you and have you perform our ceremony. Thanks again for making this such an easy, happy experience!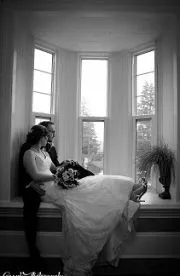 Allison and Craig
Hi Melissa, My apologies on not emailing you back sooner. Its been a busy past six months! Just wanted to say thanks so much for everything with our wedding. Our ceremony was beautiful and we loved how you helped us make our own personal touches. You helped make it a truly amazing day! Here's one of our favourite pics of the wedding day if you'd like to use it on your site. Thanks again, Allison and Craig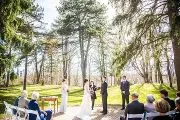 Kristen and Matty
Thank you, thank you, thank you for making our ceremony so special! It was an incredible day and the ceremony was everything we hoped it would be! We feel so lucky to have had such a wonderful officiant marry us, and we cannot thank you enough for all the guidance and support you provided beforehand, and for making our ceremony so "us"!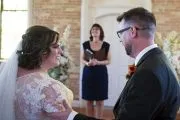 Kathleen and Grant
'We wanted to send our wishes your way. You completely made our ceremony personal and perfect. We struggled before the wedding to find someone to marry us that made sure it was custom to our liking. You were so great at giving us ideas, and helping us along. You ensured we were happy, and we were able to make the ceremony short, sweet, and memorable. We genuinely could not be more appreciative, thankful, and grateful we found you.' Kathleen and Grant
Melanie & Louie
Thank you so much for officiating our wedding! You were great to work with and came through with all of my requests. I appreciate you noticing all the fine details. It had taken me 18 months to bring the wedding of my dreams to real life- I couldn't be more happier with the outcome! Thank you again for everything.
Matt, Erin and Lucas
Matt and I appreciated your kind words so much and we were SO happy and thankful we had you there for such a special day. We truly will remember it for the rest of our lives. You did such a wonderful service and we look forward to crossing paths again in the future!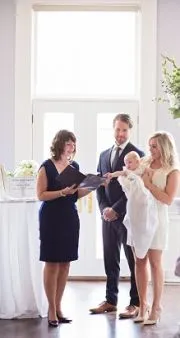 Sherry and Mark
Thank you so much for being a part of our wedding day. It really was the best day ever - we wouldn't change a thing! We are so thankful that you were able to be with us and officiate our ceremony. You were the perfect touch to our ceremony. You were so much help and so flexible leading up to the day, and really just such a pleasure to work with. Couldn't imagine the day with out you, thanks again :) Sherry & Mark Wilder
Jill and Marco
We would just like to thank Melissa (Taylor) for conducting our wedding ceremony on Sept. 26, 2015 in Springfield, ON. She was very helpful since our first contact and always had great suggestions when we weren't sure what was next or what to expect. She is very professional and also very friendly, chatting with our guests before and after the ceremony. Thanks so much Melissa, you made our day! Jill and Marco
Lily
Melissa exceeded our expectations and we are really blessed to have her as our officiant. We had a non-traditional candle ceremony involving international families; we had a semi-bilingual ceremony and Melissa was graceful, welcoming, and made our ceremony a huge success and great memories for our international families. She was also pro-active and kind. We planned this wedding only 2 weeks ahead of time, and as a new bride I was naturally nerves and anxious, but Melissa reached out to me and walked me through the process and made me feel comfortable and at ease. I could not have asked for a better officiant :) Oh, and most importantly, when I was stressing out about how/where to get a wedding dress one week before the wedding, Melissa also made a great recommendation for me to the Bride's Project. I loved the cause, so I booked a session and indeed found my dream dress!! To summarize, we are grateful to have Melissa as our officiant <3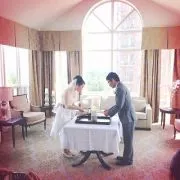 Sheila and Christine
'Hi Melissa, we both want to thank you so much for helping us have the best day ever. It was truly a pleasure having you marry us. I have recommended you to lots of coworkers. Your energy and enthusiasm truly helped make the moment special. '
Rob and Jordan
I would just like to thank All Seasons Weddings for supplying our officiant, Melissa Taylor, for our wedding on August 22nd, 2015. Our wedding was a small (70 people), surprise, backyard wedding. Throughout the planning Melissa kept in full contact with us. She listened to and respected our request for a short ceremony. Melissa respected all our wishes and made the ceremony very special. Melissa was very respectful, professional and extremely accommodating. She customized our ceremony without any issues and used her years of experience when providing helpful suggestions. Melissa was very personable, understanding and easy going. Melissa even managed to keep "our engagement party" a surprise right until the beginning of the ceremony. Many thanks to All Seasons Weddings and especially Melissa Taylor for making our ceremony unforgettable. We would recommend Melissa to anyone!! Sincerely,
Michael & Sarah
It was an absolute pleasure having Melissa Taylor as our officiant. She was so helpful leading up too the wedding and was very helpful in making sure we had thought of everything at our rehearsal the day before. We had so many comments about how lovely the ceremony was and a huge part of that was down to her. we couldn't of been happier. Thank-you so much xxxxx
Steph and Rob
Thanks so much for everything Melissa (Taylor). Our wedding day was absolutely perfect!! Everything reflected us perfectly and we couldn't be happier!! It was a pleasure working with you. Thank you again SO much!!
Laurie & John
Melissa Taylor was perfect. So many of our guest commented on how clear her voice was and her enthusiasm throughout the entire ceremony was second to none. Thank you Melissa. We HIGHLY recommend Melissa Taylor. She enjoys what she does and she gives it her all.
Jocelyn and Brad
Hi Melissa (Taylor) We just want to thank you. You did such a wonderful job at the ceremony. Everyone commented about it, and how lovely it was. Some family members asked for copies of the readings. Everything went so well and our wedding day was all we had hoped it would be.
Kristin and Andrew
Melissa - You have been beyond helpful this whole time and it was the easiest part of the wedding to figure out. Which is surprising. I thought officiant and ceremony plan would be the most stressful as it's the most important! Thanks for making everything perfect! It was so nice to feel like you cared as much as I did :)
Jennifer and Adam
Hi Melissa We just want to say thank you so much you did a wonderful job at our wedding. Everything turned out exactly as we had hoped.
Kelly & Louis
Melissa Taylor was absolutely amazing! She was so easy to work and get along with and she really did do her absolute best to make sure our ceremony was problem free. Melissa really loves was she does and you can definitely see it in her words and actions! We will definitely be recommending her to anyone needing an officiant. Thank you so much Melissa!!!!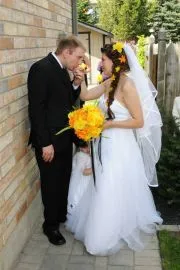 Nikki and Curtis
I just wanted to thank you so much for an incredible job at our ceremony and for being patient and well humored during our rehearsal. I really appreciate the last minute change to speed up our ceremony, you did it without making it seemed rushed so thank you.