Megan Quinn, M.Ed (OISE)
Megan feels hugely privileged to be able to share in your love story as your wedding officiant. She believes above all else in the magic of forever love, for any two people lucky enough to find it. Megan happily performs ceremonies for all people and is an LGTBQ+ ally. Her utmost priority is to do her part to ensure that you have exactly the special day you are hoping for, and she looks forward to witnessing your love story. She is a minister with the Canadian International Metaphysical Ministry.
Request Megan Quinn
Areas Served
Milton
Reviews
Gemma & Claire
Megan Quinn officiated our same-sex wedding in March 2023. After being together for 10 years we decided we wanted to elope, with just two of our friends, and no pressure. Megan was super helpful and professional from start to finish. She was extremely knowledgeable and executed what we wanted perfectly. She helped us to remain calm throughout the process, and eased our anxieties entirely. We are extremely grateful and couldn't be happier that Megan will forever be part of our story. March 2023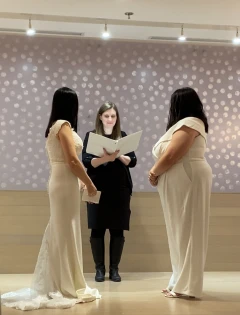 Jason & Bianca
Megan Quinn was absolutely friendly and helpful from start to finish. She answered all questions in our first initial zoom call, always made herself available to answer more questions, and was great with directions on the night of our rehearsal. She genuinely put everyone's nerves at ease and made the whole thing easy and seamless. November 2022
Taylor & Johnathon
Megan Quinn officiated our same-sex wedding in June 2022. Upon our first meeting, we instantly felt her warmth and kindness, and she radiated those two traits throughout our entire time working with her. Megan carefully curated our ceremony - not just around our vision - but made it deeply personal around our love for one another. Combined with Megan's extraordinary speaking skills, she left our guests truly moved, with many of them making a point of telling us so. We were so honored and grateful to have had Megan officiate our special day and give our highest recommendation.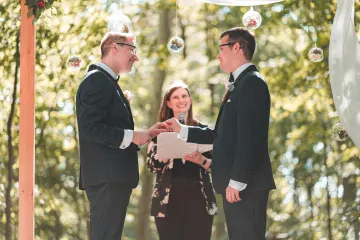 Josh & Lauren
Megan Quinn went above and beyond to make our day special! we got so many compliments on her beautiful ceremony! August 2022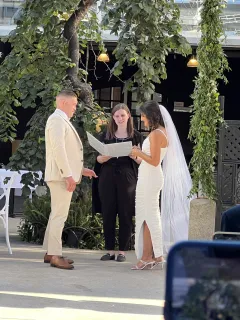 Andrew & Samantha
Megan Quinn was wonderful and very professional. Andrew & Samantha May 2021
Nicholas & Christopher
Megan Quinn was an absolute pleasure to work with. She brought a genuine joy to our special day and we could not have imagined a better experience than working with her. We are so delighted with every detail. Nicholas & Christopher September 2020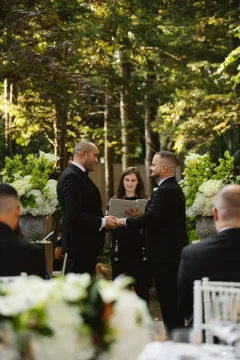 Cody & Lanimae
Megan Quinn was very professional. She arrived early and verified our paperwork before the ceremony began. She was very natural, eloquent and genuine -- you can really tell she's passionate about her craft. We're very proud and honored that she was the one there to officiate our special day. Cody & Lanimae August 2020