Matthew Parkinson
Matthew, a resident of Oshawa, has a natural ability to connect with people. He will help to make your traditional, special theme or same–sex wedding ceremony everything you want it to be.
He is a father of two young girls and a husband of over 20 years. Matthew has a great sense of humour and believes and understands that this day is YOUR day.
In his spare time, Matthew enjoys quality family time, camping and riding his motorcycle. If you are looking for someone to help you create a wedding ceremony that reflects both you and your love as a couple, Matthew is the officiant for you!
Matthew has a wedding venue in Courtice if you're looking for a special place to hold your ceremony.
Request Matthew Parkinson
Areas Served
Ajax, Bowmanville, Clarington, Newcastle, Oshawa, Pickering, Port Hope, Port Perry, Sunderland, Uxbridge, Whitby
Reviews
Ryan & Jessica
We found the process easy and fun. We both enjoyed the whole ceremony. Matthew Parkinson was fantastic!. August 2023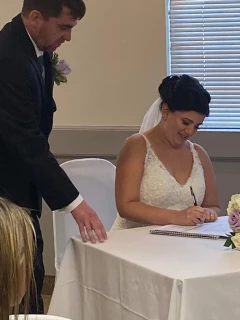 David & Michelle
Matthew Parkinson did an awesome job. He helped us through our ceremony with such a professional manner. we were very pleased with his professionalism and highly recommend him. Thank you Matthew for Everything . October 2022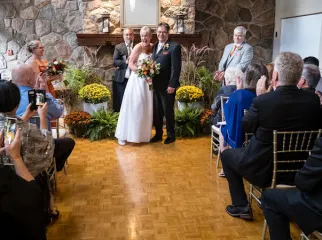 Caitlin & Evan
Matthew Parkinson exceeded our expectations and really helped us feel comfortable and relaxed through out the whole experience. August 2022
Sumeet & Mansi
Matthew Parkinson is a thorough gentleman. He made us feel comfortable and performed the ceremony beautifully. We had an intimate ceremony at home and he waited patiently for us when we we were running behind the schedule because of a crazy thunderstorm. We are grateful to Matthew for making our day special. May 2022
Denis & Catherine
Matthew Parkinson was excellent! We couldn't have had a more perfect wedding! May 2022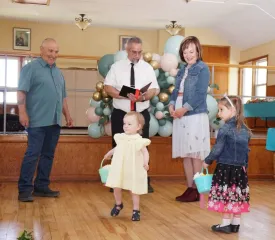 William & Dennis
The wedding ceremony was handled in an extremely efficient manner. Matthew Parkinson made it very easy and conducted the simple service that we wanted. The witnesses that were provided were very pleasant and took photos. We highly recommend Matthew as he is very kind, considerate and accommodating to your wishes and needs. We would definitely consider referring All Seasons Weddings and Matthew Parkinson to others. Especially considering how well they treat and respect gay couples. We are so pleased with the ceremony conducted through All Seasons Weddings. We highly recommend their services! March 2022
Tommy & Riley
Matthew Parkinson was great to work with. He was very kind, professional, and flexible when scheduling our meetings. On the wedding day, he arrived well before the scheduled ceremony, with the ceremony and paperwork ready to go. Matthew was a calming presence in an otherwise stressful and emotional time, and his confident delivery and sense of humour gave the ceremony the casual, relaxed feeling we were going for. Thanks so much Matthew! September 2021
Cindy & Mike
Matthew Parkinson was very professional and added to making a very special day even better! Cindy & Mike August 2021
Brock & Carley
Matthew Parkinson was professional, knowledgeable and helped to make our wedding day memorable and perfect! Matthew did not hesitate to help us out on our big day with short notice and a commute. Matthew made us laugh and cry with his delivery of the ceremony. Would 10/10 recommend Matthew! Brock & Carley June 2021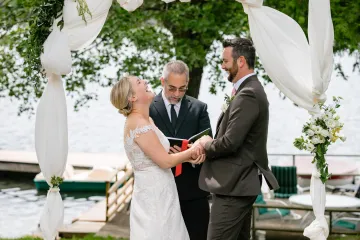 Todd & Kim
Amazing communication, execution of the vows we picked out was spot on. Thank you so much Matthew Parkinson for helping us and being flexible with us during a year of so many changes. Our goal was to get married on the date that was special to us. Without you, it couldn't happen. Our guests chuckled and spoke highly of a beautiful ceremony. So glad we found your services and met Matthew. Todd & Kim December 2020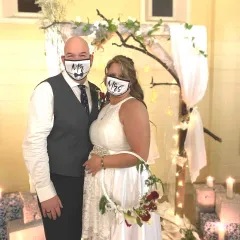 Stef & Tristan
Matthew Parkinson was patient with us during the chaos and professional and well spoken. Communication was top notch. Beautiful job Matthew Parkinson! You were really amazing.
Sarah & Stuart
Matthew was great. He is very friendly and professional. We were delighted to have him officiate our wedding! Thanks so much Matthew!
Tracy & Brant
Matthew Parkinson exceeded our expectations! We gave him a custom ceremony and he performed it perfectly. Absolutely loved him, so warm and friendly,
Rebecca & James
Matthew Parkinson was amazing! So much so, he surpassed our expectations and ran with our comedic awkwardness. The service given to us, even from All Seasons Weddings office, was amazing! When I called in a panic, your staff referred us to a wonderful Officiant and we won't forget Matthew Parkinson anytime soon. Between the excellent Office staff & our officiant, Matthew Parkinson, we will absolutely be recommending your services to friends who decide to wed! Thank You!