Matthew Parkinson
Matthew, a resident of Oshawa, has a natural ability to connect with people. He will help to make your traditional, special theme or same –sex wedding ceremony everything you want it to be. He is a father of two young girls and a husband of over 20 years. Matthew has a great sense of humour and believes and understands that this day is YOUR day. In his spare time, Matthew enjoys quality family time, camping and riding his motorcycle. If you are looking for someone to help you create a wedding ceremony that reflects both you and your love as a couple, Matthew is the Officiant for you!
Request Matthew Parkinson
Areas Served
Ajax, Bowmanville, Clarington, Newcastle, Oshawa, Pickering, Port Hope, Port Perry, Sunderland, Uxbridge, Whitby
Reviews
Brock & Carley
Matthew Parkinson was professional, knowledgeable and helped to make our wedding day memorable and perfect! Matthew did not hesitate to help us out on our big day with short notice and a commute. Matthew made us laugh and cry with his delivery of the ceremony. Would 10/10 recommend Matthew! Brock & Carley June 2021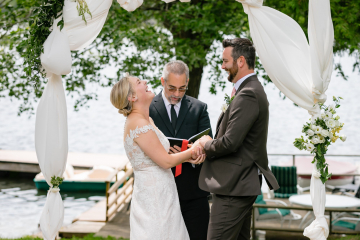 Todd & Kim
Amazing communication, execution of the vows we picked out was spot on. Thank you so much Matthew Parkinson for helping us and being flexible with us during a year of so many changes. Our goal was to get married on the date that was special to us. Without you, it couldn't happen. Our guests chuckled and spoke highly of a beautiful ceremony. So glad we found your services and met Matthew. Todd & Kim December 2020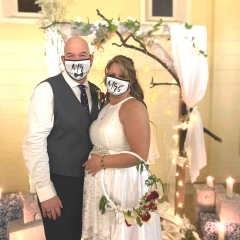 Stef & Tristan
Matthew Parkinson was patient with us during the chaos and professional and well spoken. Communication was top notch. Beautiful job Matthew Parkinson! You were really amazing.
Sarah & Stuart
Matthew was great. He is very friendly and professional. We were delighted to have him officiate our wedding! Thanks so much Matthew!
Tracy & Brant
Matthew Parkinson exceeded our expectations! We gave him a custom ceremony and he performed it perfectly. Absolutely loved him, so warm and friendly,
Rebecca & James
Matthew Parkinson was amazing! So much so, he surpassed our expectations and ran with our comedic awkwardness. The service given to us, even from All Seasons Weddings office, was amazing! When I called in a panic, your staff referred us to a wonderful Officiant and we won't forget Matthew Parkinson anytime soon. Between the excellent Office staff & our officiant, Matthew Parkinson, we will absolutely be recommending your services to friends who decide to wed! Thank You!