Matthew Letki
I joined All Seasons Weddings in 2002 and it has been an amazing, fulfilling experience. For me, performing a wedding ceremony is always an honour – I feel a connection with each couple, and I am a wedding officiant because I love it. Among the many hundreds of ceremonies I have officiated, I have performed modern, traditional, themed weddings, quiet family weddings, large formal weddings and many more – I love them all! I specialize in personalizing ceremonies to include children or family members. I live in Acton, with my wife and four children.
Request Matthew Letki
Areas Served
Acton, Brampton, Caledon, Erin, Fergus, Georgetown, Guelph, Halton Hills, Milton, Oakville, Orangeville, Rockwood, Toronto – Downtown
Reviews
Billy & Cathy
Matthew Letki was better than expected. Wouldn't have been a perfect day without him. Great at calming the nerves. 10/10 would recommend him to all my friends and family. July 2022
Tony and Margaret Aug 2021
Many of our guests said it was the best wedding ever, we thought so too. Everyone enjoyed the ceremony and we received nothing but positive comments.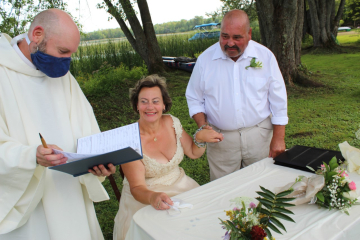 David & Vanessa
We would like thank Matt Letki for officiating our Special day. He was so professional, paid great attention to detail and had a wonderful personality. We didn't feel we had just anyone Officiating our ceremony but rather a family member. He made us feel so comfortable , our friends and family had such wonderful things to say about him. His voice projected beautifully as well so no one had any issues with hearing him during or outdoor ceremony. We would highly highly recommend Matt Letki to anyone who is looking for their officiant for their special day. Thank you Matt so much again!!! David & Vanessa September 2019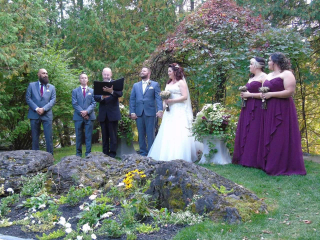 Vaughn & Kimberly
Matthew Letki was wonderful,efficient and pleasant. He exceeded our expectations. We would refer Mathew in a heartbeat. Thanks again for everything! Vaughn & Kimberly June 2019
Dean & Tracy
Matthew Letki over exceeded both our expectations. Totally friendly and professional. Made my life a hell of a lot easier LOL Definitely would refer.
Wayne and Scott
Hi Matt, We are doing really well thanks and hope you are too. I am not sure I told you but is worth saying again... Everyone loved you at our wedding. They thought the service was great and you did an amazing job. You were great with my mom and I can not thank you enough for that. Thanks again Wayne and Scott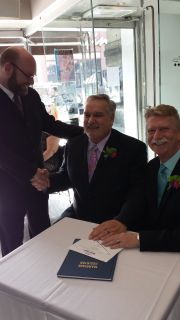 Mikala & Dan
Matthew was a wonderful officiant. He was calm, level-headed, warm, and had an assuring sense of authority. He helped us create a truly unique and personalized service - which was of the utmost importance to us, as we come from very mixed backgrounds. He had brilliant suggestions, offered without seeming pushy or invasive, and best of all, led a remarkable and enjoyable ceremony. Even our friends and families said that although they usually dislike weddings for their rigidity, they found ours to be a wonderful breath of fresh air. Much of this was down to Matthew.