Matthew Harbin
Matthew will work with you to provide a unique wedding ceremony tailored to fit your personality, wedding theme, including highlights which make your love for each other unique. Matthew is an Environmental Consulting Scientist with a Bachelor in Physical Geography from Brock University and an Environmental Management Diploma from Niagara College. He and his wife live in St. Catharines, and when not out walking their two dogs, you will likely find them cruising on their motorcycles through beautiful wine country. Matthew believes in, and respects the power of love between any two people and would be honoured to perform the wedding ceremony of your dreams.
Request Matthew Harbin
Areas Served
Beamsville, Fonthill, Fort Erie, Grimsby, Jordan, Niagara Falls, Niagara-On-The-Lake, Pelham, Port Colborne, St. Catharines, Stevensville, Stoney Creek, Smithville, Virgil, Wainfleet, Welland
Reviews
Meghan & Tanner
Matt Harbin was an absolute pleasure to work with. Extremely personable, funny, professional, punctual, and confident with speaking to our audience. Many of our guests came up to us doing the reception asking about him and complimenting what a wonderful job he did. We decided to go with a reading written by Matt himself about love where he incorporates all different popular love songs- this made our ceremony different and everyone loved it as it grabbed their attention when hearing lyrics of known songs. Matt, we want to give you a huge thank you & we will be sending all our friends and family members getting married in the future to you! Thanks again! May 2022
Alice & David
We are so grateful that we chose Matthew Harbin as our officiant. Matthew truly took the time to get to know us and made a beautiful and personalized ceremony based on our story. He did a great job during the rehearsal by organizing and preparing our family for the big day. He is amazing at what he does and he really helped make our day special. Feb 2022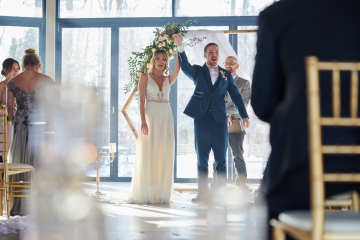 Darcy & Nathan
Matthew Hardin officiated two ceremonies for my wife and I. The first was a small backyard ceremony with only 5 people, a far cry from what was originally planned but all that was allowed with Covid restrictions at the time. Finally we got to have the larger family wedding over a year later. Matt was fantastic at both and spoke beautifully to the challenges and trials in getting to that day. Many guests assumed he was a close friend we had known for years. With the bride tripping coming up to the alter, cell phones ringing at the ceremony and air guns going off (farmers fields nearby), Matt ad-libbed some great jokes and one liners that kept everything light and charming. September 2021
Jonathan & Tiffany
Matthew Harbin was kind and made us feel comfortable. He was very funny and did a great job on our very windy, cool day! Jonathan & Tiffany October 2020
Marcus & Laura
Matthew Harbin was absolutely wonderful. He was very approachable and flexible. Our ceremony was exactly what we had hoped for. He was very easy to work with and was very helpful in the planning process. Everything was absolutely perfect and we can't thank him enough. Marcus & Laura October 2019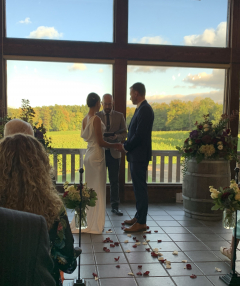 Priscilla & Sheldon
Matthew Harbin did a great job! They say getting married is one of the 3 most stressful things in life - well it is! But thanks to Matthew and All Seasons it was made easy and there was no fuss over any hiccups along the way. We loved how flexible they are, how supportive and professional Matthew was while still being very personable, warm and involved in our special occasion and how it allowed us to create the perfect ceremony for us. Matthew performed the ceremony with sincerity and integrity and made us feel relaxed, special and incredibly happy and created memories we will never forget. On a practical level the service we received from all was efficient, professional, clear and we had confidence that there would be no issues at any stage. Well done and keep up the fantastic work. Thank you Matthew and all at All Seasons. Priscilla & Sheldon September 2019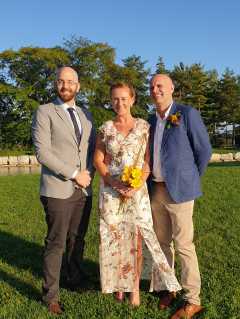 Jesse & Amanda
Matthew Harbin was fantastic! He was very personable and down to earth. He helped us to customize our ceremony just the way we wanted. When we had any questions he was quick at responding and was very accommodating to our needs and wants. He made our day as stress-free as possible. We would highly recommend him to any engaged couple. Thank You!! Jesse & Amanda September 2019
Nicholas & Robin
We couldn't imagine anyone else guiding us through our special day. Matthew Harbin was fantastic and we would highly recommend him to anyone we know that gets engaged. Matthew made the whole process very easy and enjoyable. Really helped ease our minds and make the day as stress free as possible. Thank you ! Nicholas & Robin September 2019
Ronald & Debbie
Matthew Harbin was wonderful. We had a wonderful day. He was very personable and down to earth. Thank you Matthew. Ronald & Debbie August 2019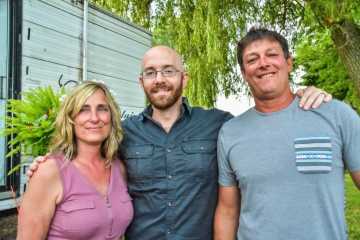 Jonathan & Jessica
Matthew Harbin was pleasant and friendly and we knew right away we'd like him. He was very helpful and open to customization and did really well adding things on the fly to suit our day, on the day of. We really appreciated everything he did for us. He truly helped make our day the amazing day it was. Jonathan & Jessica August 2019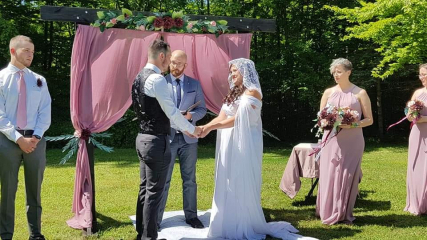 Melissa & Kris
Matthew Harbin went above and beyond for my husband and I. He created a customized ceremony that was truly in tune with us and who we are - and so many of our guests commented on how amazing the service was because of Matthew. We commend his communication and organizational skills and respect how he was so prompt with getting back to us on all of our questions and concerns. [September, 2018]
Lindsay & Troy
Matthew Harbin met every expectation that we were hoping for when we began the planning process. I would highly recommend him to anyone that is looking for a fun and unique ceremony.
Nicole & Kevin
Matthew Harbin was wonderful. He did a great job, he stuck to the script and let us design what we wanted to have said.
Kevin & Jessica
Matthew Harbin was fantastic right from the start. After meeting him for the first time, both Jessica and I instantly knew we wanted Matthew to marry us. His communication, professionalism and sincerity is second to none. We will certainly be recommending him/All Seasons to friends and family looking to tie the knot. Thank you so much for everything Matthew! Kevin and Jessica