Marie Migneault
Marie lives in Orleans and is completely fluent in French and English. She is an artist, a gifted healer, very insightful and can bring clarity where there is doubt and hesitation. Marie has been married for over 30 years and has been blessed with two amazing children. She would love nothing more than to perform the wedding ceremony of your choice. She is comfortable and experienced conducting traditional to contemporary, intimate to formal, opposite or same-sex wedding ceremonies. Marie celebrates each individual's uniqueness and she will help you create a ceremony that is as special as you are.
Request Marie Migneault
Areas Served
ON - Barrhaven, Casselman, Embrun, Kanata, Kenmore, Manotick, Metcalfe, Nepean, Orleans, Ottawa, Ottawa Bilingual, Ottawa Central, Ottawa East, Ottawa South, Ottawa West, Rockland, Russell, Stittsville, Wendover QC - Aylmer, Cantley, Chelsea, Gatineau, Hull
Reviews
Sean & Joane
The process was very easy and straight forward. Any questions that we had were answered. Having the peace of mind that Marie Migneault was going to be there and guide us through the ceremony. Everything was great! We enjoyed your services and how seamless everything went. August 2023
Scott & Sophie
Marie Migneault was Amazing! Having Marie with us to guide the process of creating our ultimate family celebration. Of course we loved the authenticity of our celebration and that we were able to include our children. Jun 2023
Michael & Melissa
We couldn't have asked for a better person to officiant our wedding. Marie was beyond our expectations. From day one we met, we knew we found the right person. Kind, great listener and everything we could of asked for. We are not quite the kind of person that is comfortable to speak in a crowd and she helped us create our script from what we were comfortable in. Made you at ease throughout the ceremony. We would highly recommend Marie. Merci ❤️ June 2022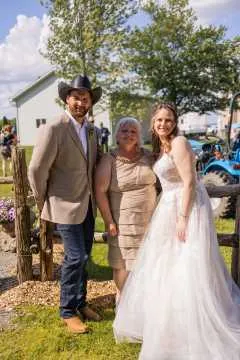 Kimberly & Darren
Marie Mignault made a very special day exceptional for us. Her warmth and genuine love of what she does made for a ceremony full of humour and love. I couldn't imagine our day without her. Very grateful ❤️ Nov 2022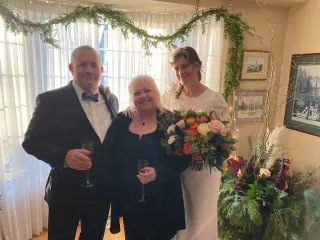 Adrian & Christina
Marie Migneault brought a calmness to our day that I very much needed. 100% recommend ❤️October 2022
Michel & Brigitte
Marie Migneault was prepared, knew her stuff and made us feel comfortable. October 2022
Tim & Marianne
We were very grateful to have worked with Marie. As soon as we met her we felt at ease and we knew that she was the right choice for us. She was peaceful and knowledgeable and she was very organized and calm which made the process feel less stressful. We appreciated all the different wording she offered for the ceremony and how flexible she was with our changes. It was important to us to have a bilingual ceremony and Marie wove in both French and English seamlessly. We had a great experience and we are very happy to have worked with Marie Migneault. September 2022
Claude & Nathalie
Marie Migneault was amazing, she made us feel relaxed and the ceremony could not have been better… short and sweet but meaningful and special. Thank you so much… big hug ? August 2022
Sandrine & Robert
Marie Migneault was our second choice as our first officiant was not available at the modified ceremony time. Destiny made things perfect for us: it placed Marie on our path. We couldn't have asked for a better officiant to celebrate our wedding. She included our best friend as a co-officiant and made a magical unique ceremony. September 2022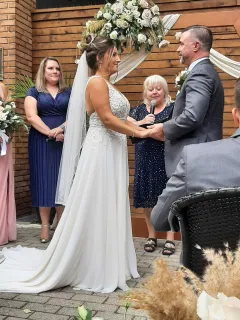 Alexander & Nyssa
Marie Migneault was absolutely amazing and exactly exactly what we were looking for in an officiant! She is calm, organized, and an absolute joy to work with! August 2022
Karine & Mignon
Marie Migneault was absolutely amazing! Could not have picked a better officiant for our wedding! She listened to our needs and exceeded them! :) couldn't recommend more! Aug 2022
Travis & Milena
We were incredibly happy that we got married by Marie Migneault . She was very easy to communicate with, prompt, and brought additional happiness to an already happy day. February 2022
Véronique & Wes
Marie Migneault was a fantastic officiant and made our wedding ceremony a great success. She worked closely with us and made sure that our needs were met. She went out of her way to accommodate us despite the limitations during the COVID-19 pandemic. Marie was very experienced and organized and made us feel comfortable throughout the process. Her valuable feedback and knowledge greatly contributed to the success of our special day. We couldn't have picked a better officiant, especially if you need someone who is bilingual. Thank you for everything Marie, we really appreciated having you as our officiant. Véronique & Wes June 2021
Jared & Véronique
Marie Migneault was a pleasure to have in representing us at our wedding ceremony in our unity of love. She listened to our requests and always responded to our inquiries promptly. We appreciated her accommodations and working with us through this difficult year as COVID-19 evolved. Despite all the comprised plans and arrangements, she made it as special as it could be. In addition, she was very organized and kept in-contact with us regularly to ensure we were in good spirits. Furthermore, she validated & provided feedback on our ceremony to ensure it looked presentable. We couldn't have chosen anyone more wonderful to officiate our unity. She is a treasure, and brings the joy & love to the occasion for newlyweds! Thank you Marie. ? Jared & Véronique October 2020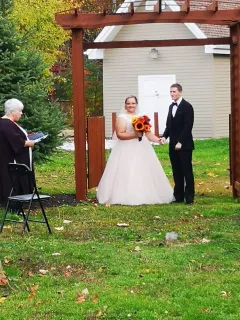 Gabriel & Erika
Marie Migneault was absolutely wonderful. She really made us feel comfortable throughout the planning and during the ceremony. She was also very flexible to our needs, especially due to our many plan changes due to the pandemic. We recommend her 1000%. She was able to tailor the ceremony to our needs/wants and was very open to changes, even at the last minute. We are so grateful she was able to be part of our special day. Gabriel & Erika August 2020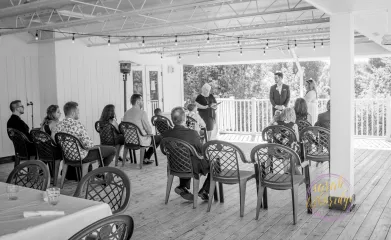 Anik et Tyler
Merci Marie du fond du cœur pour une si belle cérémonie, plus belle qu'on aurait pu se l'imaginer! Les gens ont tellement été impressionnés par ton professionnalisme et ton énergie. Anik et Tyler XX August 2020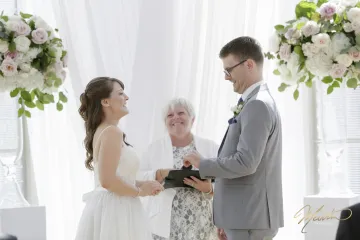 Jacob & Stéphanie
Marie Migneault was everything we could have asked for in an officiant and then some. Her warmth, kindness, and professionalism were remarkable - not only to us, but to all of our guests. Thank you for helping us to craft such a unique and personal ceremony! It's been a pleasure and an honor working with you! Jacob & Stéphanie February 2020
Natacha and Rodolfo
Marie Migneault was wonderful to work with- she is professional, supportive, accomodating and helpful. During our first meeting she put as at ease right away - she was able to answer our questions, provide us with options and inform us of what we needed to do. She sent us information we had requested in a timely manner in both French and English as our ceremony was going to be bilingual. She is very personable and has a very calming presence – which we were grateful for (especially on the day of the wedding)! Nous recommandons Marie à tous les couples qui aimeraient avoir une cérémonie bilingue (ou en français/anglais). Merci beaucoup, Marie! Natacha et Rodolfo 2019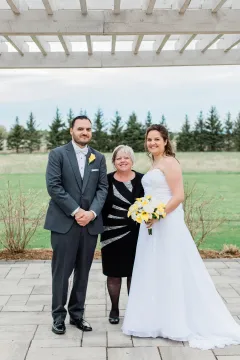 Cara & Elliott
Marie Migneaul was great to work with! She met with us on very short notice, was available whenever we had any questions, and offered us advice and suggestions whenever needed. She was supportive throughout the whole process of our wants for the ceremony and happy to customize it so that it was true and unique to each of us and our relationship. She did a beautiful job the day of our wedding (plenty of happy tears from our family and friends!), helped put our minds at ease, and helped build memories of the perfect day that we'll always cherish. Cara & Elliott August 2019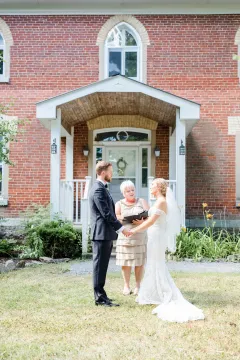 Christian & Isabelle
Cela a été un plaisir de travailler avec Marie Migneault. Dès la première rencontre, nous nous sommes sentis à l'aise et en confiance avec elle. Marie a appris à nous connaître, a fait des belles suggestions pour la cérémonie et nous a permis de vivre une cérémonie de mariage symbolique et à notre image. Merci infiniment Marie pour votre douceur, calme et votre gentillesse!! Christian & Isabelle October 2019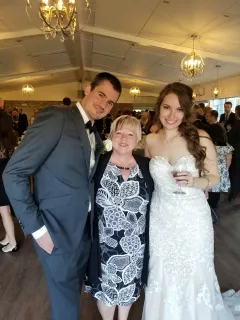 Romuald & Caroline
Marie Migneault était la célébrante idéale. Nous avons eu un super bon contact avec elle et elle a su répondre à toutes nos attentes en nous rassurant aussi dans notre projet atypique. Merci du fond du coeur pour son investissement et sa belle personne. Je la recommande vivement à ceux qui cherchent quelqu'un de sincère, de gentil et de souriant. Romuald & Caroline October 2019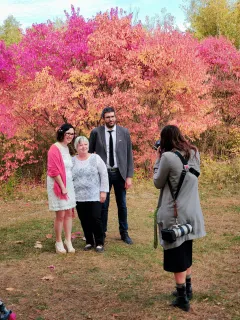 Caitlin & Matt
It was so great to have Marie Migneault officiate our wedding! We love that she is bilingual so we could incorporate both French and English into our ceremony. This was really important to us and our family. She was supportive from the very start - including helping us to write our ceremony text. Marie sent us many different options (in both languages) so we could pick and choose what felt best for us. She is very approachable, friendly, organized, and most importantly - she speaks SLOWLY and clearly so even the grandparents could understand what she was saying. Would HIGHLY recommend Marie! Caitlin & Matt June 2019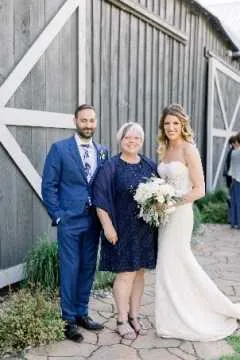 Mischaël & Veronique
Marie Migneault was our officiant and she was amazing! The meeting before the wedding covered everything ! Marie went beyond our expectations with the meeting and at the wedding. The fact that she was able to perform the ceremony in both languages of our choice was amazing. Merci Marie! Mischaël & Veronique August 2019
France & Stephan
Marie (Migneault) was a dream to work with, what a sweet lady. She was soft and kind and wanted to know everything about us. She asked for us to write a little story about how we met and she read it during the ceremony. That was a really nice moment as not everybody knew how we had met. She took the time to print our vows on a little card for us to read to each other. She coordinated the ceremony the way we wanted and stayed and chatted with our guest a little after, a very personal touch. Marie waited for us to get back from our pictures to say congratulations and a farewell for now. I woke up the next day to a very nice, kind and sweet email from her wishing us all the best and saying how nice it was for her to be part of our special day!! Marie was a perfect match for me and my husband and I can't say enough on how wonderful she was and how happy I am with her services. Thank you Marie for making our day that much more special. France & Stephan Aug 4th, 2018
Sarah & Chris
Marie Migneault was so lovely and warm. She was accommodating and made a small thing very special.
Mylène and Andre
It was with great pleasure that we had Marie (Migneault) officiate our wedding. Marie helped us make our ceremony more special with some little touches that made all the guests feel included. She made sure to conduct the ceremony in English and French to accommodate our guests. From the first meeting to the big day we had positive interactions with her. She has a way about her that makes you feel calm and confident. We highly recommend Marie for your special day! Mylène and Andre
Amy & Charly
Words are not enough to describe how wonderful Marie (Migneault) is! From the beginning she knew how to guide us, and helped us plan the perfect ceremony and make it all our own. Her professionalism and caring nature shined through, not only during the ceremony, but the entire process. She has a calming effect and nothing is more important on such an emotional day! Her sense of humour came into play when our 2 year old nephew decided to start chatting with us during the ceremony!! Marie helped make our ceremony something special, something we (and our guests) will always remember. From the bottom of our hearts, Thank you Marie!! — Amy + Charly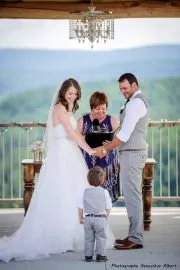 Michèle & Michel
"Marie! Thank you! Thank you! Thank you! You played a huge role in making the entire day a success and even a year has passed and we still are filled with gratitude that we had chosen you. You will always be a part of this important memory". Marie is such a caring and supportive person.. and you can just feel that she loves (and is proud of) what she does. We wrote our own bilingual wedding vows and ceremony, but when Marie animated them, it was MAGICAL as every word coming out of her mouth was so heartfelt…she made us feel so special as if she was part of the family. She also rendered the entire process very easy… and helped us with creative and artistic details we would have never thought of. Simply said, we couldn't have made a better choice ! We love you Marie, and special thanks to All Seasons Weddings for making this wonderful day possible.