Marie Frye
Presently living in Trenton, Marie enjoys community choir, pets, outdoor activities and movies. Marie enjoys making people's special moments unique and meaningful. She is fun, imaginative and enjoyable to work with. Marie is inclusive and comfortable celebrating all kinds of wedding ceremonies.
Request Marie Frye
Areas Served
Belleville, Brighton, Frankford, Prince Edward County, Stirling, Trenton
Reviews
Kristen & Michael
Marie Frye was so sweet and such a sport as we wanted a Vegas style wedding and she showed up as Elvis for us! Above and beyond. Punctual. Friendly. Amazing lady. September 2022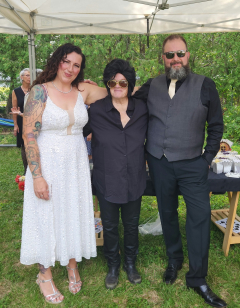 Shannon & Matthew
Marie Frye was an awesome officiant! She made the day not only easy; but definitely way less stressful when it came to the ceremony and we would definitely recommend her to other couples. The day was very exciting and really fun. We are really thankful she was there for our special day. Aug 2022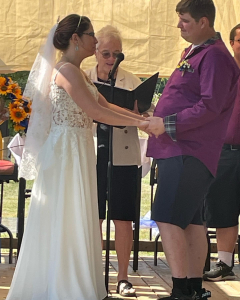 Cody & Erin
Marie Frye was great. She kept it short and sweet, but made it still feel special for us. July 2022
Mark & Laurie
Marie Frye was very helpful the entire step of the way and so friendly. I was really unsure of how to go about arranging and getting everything I needed for the ceremony and your staff and Marie Frye helped every step of the way making it so stress free. July 2022
Merryn & Dustin
Marie Frye did a great job, ceremony was exactly what we wanted and everyone told me how beautiful they thought it was.
Dana & Greg
Marie (Frye) was amazing - she was accommodating and seemed to get us so well! She was readily available for questions, even after the wedding. She was funny and so nice; everyone loved her! She even came up with an adorable idea for us that we never would have thought of, but fit us so perfectly - we had a soil ceremony, where we each had a jar of dirt that we took from our childhood homes, and we poured them into one pot where we'll grow a plant! (One of our plantable seating cards, actually.) All Seasons was also amazing - the booking process was so streamlined and easy, and they were always available. Thank you so much! September 2017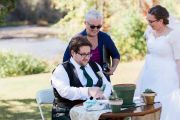 Erin & Tim
Marie Frye was a pleasure to work with! She provided exactly the type of ceremony we requested and we got great comments from our guests. Thanks!
William & William
Marie Frye was outstanding. She made our wedding day shine. I would recommend Marie to everyone. All Seasons is lucky to have a person like Marie.
Chris & Sarah
Marie Frye was amazing and added humour to our ceremony. She truly tailored our ceremony and listened to us about what we envisioned for our Wedding ~ thank you. Our wedding was everything we wanted and more. Thank you from the bottom of our hearts!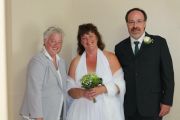 Alicia & Karl
Marie Frye was excellent!! I would highly recommend her to anyone looking for an officiant. Overall a very pleasant stress free experience. You were able to accommodate us on very short notice which was greatly appreciated.
Kelly & Robert
Marie Frye was very professional and at the same time made my husband and I, and all my friends and family, feel very comfortable when performing our ceremony. She is very good at what she does and I will definitely recommend her. Thank you!