Mari Sargent
Mari is an Appointed minister with Clergy Support Church. Having previously been voted the "Best Wedding Officiant in Kitchener-Waterloo", Mari is now located in Zurich. She is warm-hearted, enthusiastic, empathetic, intuitive, and ever-dancing with unique and creative ideas. One of her great pleasures in life is gathering loved ones together to celebrate this very important milestone. She is the consummate wedding officiant, and will bring a distinctive touch to your wedding ceremony, making it a truly enchanting, exquisitely beautiful & magical event. Call on Mari - she is the expert!
Request Mari Sargent
Areas Served
Bayfield, Grand Bend, Zurich, Clinton, Dashwood, Hensall, Goderich, Exeter, St Joseph, Port Franks, Ipperwash Beach, Lambton Shores
Reviews
Bradley & Melissa
We found the process of booking an Officiant with All Seasons Weddings very simple and very convenient. Mari made it a very elegant and sweet wedding. She showed up before the time and explained the procedure very well. We have all ready started telling others who we got our officiant from. Thank you for everything you did for us our wedding day was absolutely perfect and we will forever have this in our memories. June 2023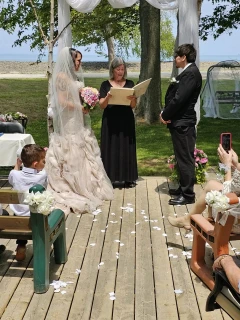 John & Yvonne
Mari Sargent was amazing. She made our day very special. October 2022
Shannon & Anthony
Mari Sargent was absolutely fantastic!!! She was very accommodating and really friendly as if she was one of the family!! I will definitely recommend her!!! July 2022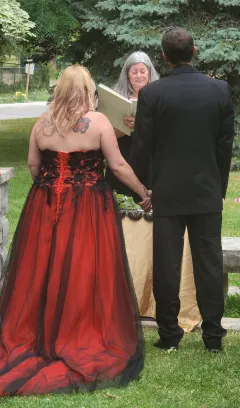 Dan & Molly
Mari Sargent was exceptional. We're so grateful to have had Mari with us for our day. July 2022
David & Denise
Mari Sargent was the perfect addition to our wedding. She was calm, pleasant and accommodating. We couldn't have been happier with who we chose to officiate our wedding! :) July 2022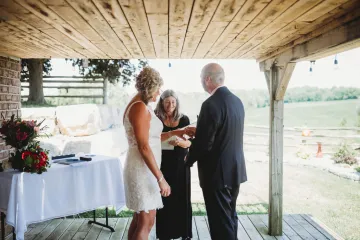 Brenda & William
Excellent. Wonderful officiant. Overall a tremendous experience. Well organized and beautifully done. July 23 2022
Ben and Victoria Aug 2021
Mari was wonderful! She was there early to meet the fam and mingle. She was like one of the family. The ceremony was beautiful and she was great. Mari was great, I would recommend her to anyone in the future!
Jim & Adrienne
Mari Sargent was wonderful, thank you for making our day possible. Jim & Adrienne December 2020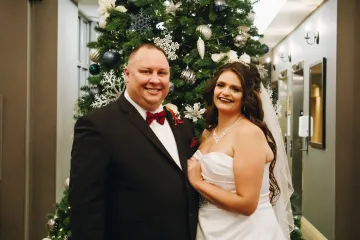 Jamie & Debbie
Mari Sargent was lovely! She arrived when expected and performed our ceremony beautifully! Jamie & Debbie October 2020
Luke & Brittani
Mari was amazing and made our day run so smoothly! We didn't have a chance to meet in person before the big day, but we had a conference call with her and she walked us through everything that would happen. She also made sure to show up extra early to make sure all the proper paperwork was filled out and ready to go for the ceremony. My fiancé and I (now my husband!) ended up eloping due to COVID, but it still felt like the perfect day. We wrote our own vows, and Mari executed the ceremony perfectly. Highly recommend her services! Luke & Brittani September 2020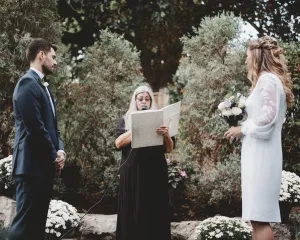 Eric & Stephanie
Mari Sargent was amazing kind and sweet and professional. Thank you for making our day possible given the current Pandemic. Eric & Stephanie June 2020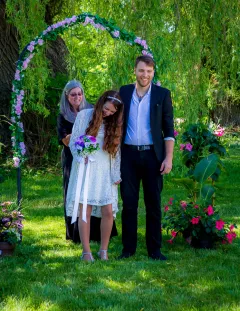 Wayne and Louise
We couldn't have asked for a better officiant. Mari Sargent made our ceremony special and memorable. We had got to witness Mari officiate at another wedding and when it came our time to look for an officiant, I knew I didn't want anyone else. Mari made us feel special and calm from the beginning. We had numerous compliments from our guests on how beautiful the ceremony was. Thank you Mari for everything! Wayne & Louise February 2020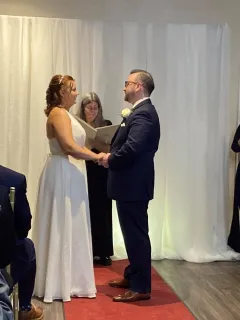 Greg & Emily
Mari Sargent was warm, professional and a joy to work with. She really understood what we wanted and helped us make our wedding an expression of all that we are. Thank you ! Greg & Emily August 2019
Raffles & Jennifer
Mari Sargent was wonderful! She was warm and lovely to meet with, helped us feel prepared for everything on the big day, and was very flexible during the planning stages. She ran a beautiful ceremony and we couldn't be happier. Raffles & Jennifer. July 2019.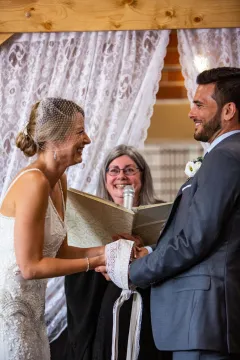 Shannon & Justin
Hi Mari Sargent, I wanted to formally thank you for officiating our wedding. It was such a pleasure to meet you and we were very happy with how your performed our ceremony. I only heard after the fact that there were lighting issues so I'm sorry if that caused you any stress but I'm glad we were able to get it sorted! Thank you so much for supporting our unorthodox ceremony and helping make everything so easy leading up to and during the day! All the best!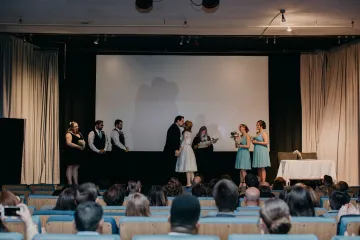 Heather & Joshua
Mari Sargent was absolutely wonderful to work with. She encouraged and let us create a custom ceremony off of her template which was perfect for us and it truly made our day so special. Mari also arrived a bit earlier so she could do a non-denominational prayer with our wedding party which was beautifully written. I couldn't sing her praises more! If we could relive one day over and over again it would be our wedding and that was in large part due to our ceremony.
Ashlee
I just wanted to say that Mari Sargent, did an absolutely amazing job on Sunday Aug 27th. It truly was a beautiful ceremony and conducted extremely well. I have included a small statement for your website with a picture of my daughter should you wish to use it. Mari was AMAZING! She brought such comfort and ease to the entire ceremony. It was short and sweet, just like our little Princess. Our family has never been to a ceremony like this before and thought it was absolutely brilliant. I would recommend Mari to anyone for their special occasion.
Rose & Alexis
We wanted that thank All Seasons Weddings and our wonderful officiant! Mari Sargent gave a beautiful service at our wedding and was very helpful throughout the entire process. She spoke well and was very inviting. All of our family and friends had nothing but wonderful things to say about her. We wouldn't hesitate to recomend her to anyone!!!! Thanks again Mari!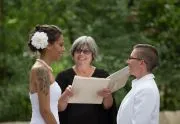 Christina
Mari (Sargent) wed us in August 2015 and it was magical. Her positive energy and kindred spirit were perfect for our intimate summer ceremony. Thank you and blessings. Christina
Carol & Jen
Mari Sargent was an absolute joy to work with and both Jen and I are were proud to have her at our ceremony. We received many compliments and inquiries on how we found Mari and have passed along all the details. The office staff were prompt and courteous and guided us through the process making it a very easy step in amongst all the planning.
Callie & Corrissa
From the first time we met with Mari Sargent, our minds were put at ease. She is genuine, kind and completely accommodating to your needs. She truly listened and cared about what you want to include and not include. She wasn't pushy and is really down to earth. Couldn't have picked a more perfect match.
Brianne & Natasha
Super friendly and accommodating. We loved our personalized ceremony. Mari Sargent has a wonderful loving, calming presence and energy about her and we are very happy that the start of our new chapter was officiated by her.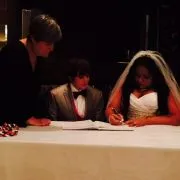 Carolyn and Robbie
Dear Mari, We wanted to send a note to say thank you for all of your patience and help planning our wedding day. On the big day itself, you were calm and collected (even when we were running late!). Your voice was clear and you worked seamlessly with the other celebrants. It was comforting to know that we could design any or every element of our ceremony. We had a few ideas about ceremony type and duration when we were starting out, and you helped focus them and put them into perspective. You were a great help when we needed inspiration, or just a helping hand with planning those easy-to-forget details (like how to actually stage all of our carefully-planned traditions!). Through your flexibility and breadth of experience, you made it feel very natural to talk about traditions that we admired but our families would not necessarily know – like jumping over a broom! Thank you again for helping to make our wedding day possible.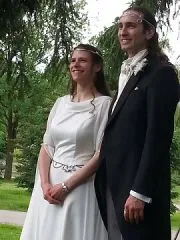 Trevor & Emily
Mari Sargent helped make our ceremony ours. It was personal and intimate, yet professionally delivered. She so clearly cares for others and seemed to thoroughly enjoy being a part of our special day. Mari has a calming presence, but also exuded genuine joy for our union. She was very reliable, organized and professional. We would definitely recommend her! Thank you Mari!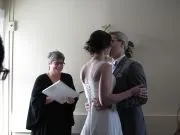 Cassandra & Manny
Mari Sargent did a great job and many people at the wedding remarked how the ceremony was unique and personal. They loved it. Mari, was absolutely wonderful. It was smooth sailing from start to finish, thank you Mari and All Seasons for making our wedding day Special.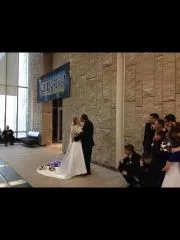 Mandy
"Thank you Mari for helping us make our wedding day our own. The ceremony was so in tune with Jeff and me, that it seemed the most natural thing to be doing. Many of our guests said it was the best wedding they'd ever been to. It was truly a blessing to get to create and share with you. Many thanks and blessings from the both of us!"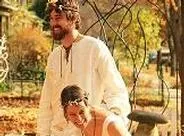 Shawn & Michele
Mari Sargent did an absolutely amazing job! She was very professional and courteous. We would have never found anyone better. Mari was so friendly, we felt that we had known her for years. She discretely led us through the ceremony when our nerves got the best of us. She was also very personable at all the right times. We have already spread the word to everyone we talk to and "all" our guests are also talking about the amazing ceremony Mari had performed.
Lisa & Scott
Mari Sargent was professional and polite. She was very helpful and gave us some great information when we met with her before the wedding. On the wedding day the speaker system at our venue wasn't working and she did a great job speaking loud and clear for all of our guests to hear! We would definitely recommend All Seasons Weddings to any of our friends that were in need of an officiant.
Chitra and Tricia
Dear Mari, Thank you so much for helping to make our special day such a success. Your poised and friendly demeanor were perfect for the mood. You tackled Sanskrit like a pro and put us all at ease. We are so glad we chose you as our officiant. All the best!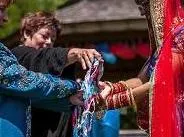 Lisa & Edward
It was so nice to be able to work with an officiant like Mari Sargent to customize the ceremony I wanted. Mari and I shared similar philosophies. She was very warm and helpful. My wedding truly was a fairytale come true. Everything was perfect. I received so many positive comments on the ceremony, the vows, the rose ceremony and Mari's role in it all. My guests felt that our wedding was an example of what weddings should be. Thank you so much!!
Katelynd and Trevor
To Mari Sargent.Thank you so very much for officiating our marriage. You were absolutely wonderful! Trev and I felt so comfortable with you and you made ourwedding day so special. Thank you for letting us add in several things to the ceremony that were precious to us. It made it much more personable and it is a memory we will cherish for a lifetime. Many many thanks!!!!!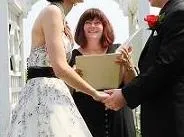 Sherry
I want to thank you so very much for being an important part of Lauren and Josh's wedding. You did a wonderful job as our Officiant! Some of our guests said that it was the most beautiful ceremony that they had ever been to! We were in full agreement, of course! Some asked where we had found our officiant. We would happily recommend you as a Wedding Officiant! Thank you Mari!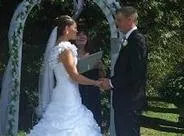 Lisa
Hi Mari, It has been a few weeks since our wedding. I just wanted to tell you how much we appreciated you officiating for us. You did a fabulous job. Everything was perfect. We had such a good time at our wedding. I truly feel that you helped us get our marriage off on the right foot. The ceremony was so intimate and heart felt. I loved the rose ceremony. The setting was beautiful. You fit right in perfectly. Thank you!!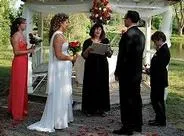 Annie and Kyle
We just wanted to let you know how truly grateful we are for Mari Sargent and that you were the one to officiate our wedding. You did such a wonderful job on the big day as well as being very helpful and supportive during the planning process. You played such a big role in making our wedding centered around what it should be - the ceremony!
John and Cressa
Mari(Sargent),we want to send you a note to say "Thank You" for the wonderful wedding ceremony you performed for us. We couldn't have asked for a better day, and the marriage ceremony you performed for us was just what we wanted. We had many comments from our guests on how "genuine" the ceremony was, and we appreciated how well it fit our personalities and perfectly set the tone for the day. We will certainly recommend you to anyone we know looking for an officiant!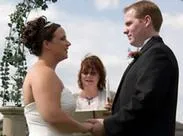 Leah & Andrew
Hi Mari Sargent, Thank you for making our day so special. We appreciated your organization, elegance and care you put in to make our ceremony perfect! We are so happy you were a part of our day