Lisa Bynoe-Stevens, BA (Guelph), MDiv (Tyndale)
I was born in Barbados, I now reside in the City of Hamilton. Personally, I love meeting and working with couples. I am passionate about people and community. I am well-travelled, adore hiking, a good cup of tea, and equal amounts of baking, cooking, eating, and working out. Did I mention I love speaking in front of crowd big or small. If you are looking for a wedding officiant with a big smile, who loves to laugh, and is both genuine and enthusiastic, then I'd love to meet you. I would love to be part of your special day, as someone once was for me.
Request Lisa Bynoe-Stevens
Areas Served
Ancaster, Beamsville, Brantford, Burlington, Caledonia, Dundas, Grimsby, Hamilton, Jordan Station, Lincoln, Oakville, Smithsville, St. Catharines, Vineland, Waterdown, West Flamborough.
Reviews
Jason & Alison
Lisa Bynoe-Stevens completely exceeded our expectations! Many of our guests complimented her! September 2022
Mateen & Chevelle
Lisa was amazing! And extremely helpful during stressful situations and planning. We love her! July 2022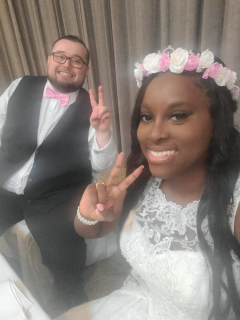 Michelle & Darcy
Lisa [Bynoe-Stevens] is a fantastic lady, and we are so happy with her help. She is super professional, kind and attentive. She also looked super foxy in her dress! 10/10, thank you Lisa. June 2022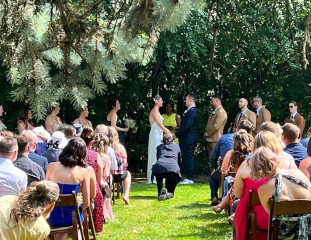 Taima & Sheila
Lisa Bynoe-Stevens was amazing .We appreciated the clear guidelines you submitted in your emails, the tasks, the list of potential celebrants, and all of the follow up. This helped to make our wonderful and successful wedding go smoothly. Lisa was amazing. She was helpful, very clear with information and tasks for us to prepare for our big day. Importantly, Lisa made us feel comfortable throughout the ceremony, she was a gentle guiding hand!!!! We really appreciated that she added small bits of information about us throughout the ceremony and was fun. November 2021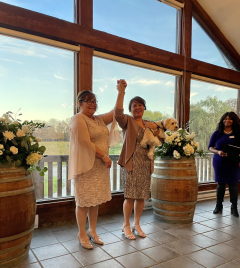 Dajun & Aurora
Lisa Bynoe-Stevens is a warm, kind and lovely officiant. It felt like we had known her for ages which is a testament to how personable she is. She was attentive and had great listening skills to fully understand what we wanted. She was also incredibly patient with us as we got closer to the date. All of our guests had nothing but good things to say about her and she led the ceremony with ease. Thank you Lisa for your incredible spirit! October 2021
Joseph & Nadege
Lisa Bynoe-Stevens was a heaven sent officiant for my husband and I. Ever since we had our first meeting, she was extremely friendly, attentive, and helped guide us to find our perfect ceremony. Our ceremony was just right for the two of us, and she did an amazing job officiating. She listened to what we said we wanted, and executed better than imagined. As well as helping us keep calm the day of, and even the days leading up to it. We'll never forget her for making our wedding day that much more amazing. Thank you, Lisa!! September 2021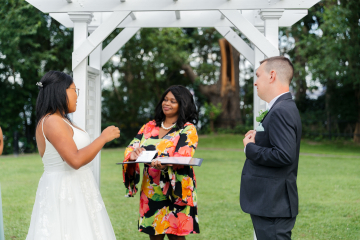 Kelly & Ishaka
Lisa Bynoe-Stevens was absolutely amazing! We really enjoyed the experience from the beginning until the end. Thank you, Lisa for being so professional, amazing, and making our day so special! 10 stars ⭐️ Kelly & Ishaka July 2021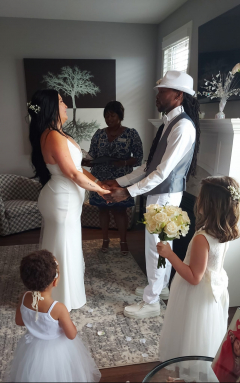 Ahmed & Melanie
Lisa Bynoe-Stevens was amazing. Thank you for making our day possible. Ahmed & Melanie February 2021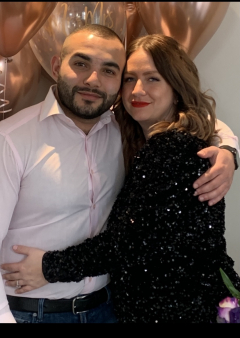 Steve & Lisa
Lisa Bynoe-Stevens was lovely and tailored our service for us in a way that made it personal and meaningful. We would definitely recommend your service to others planning their weddings especially, if they need something 'out of the box'. Steve & Lisa December 2020
Michael & Nicole
Lisa Bynoe-Stevens was above and beyond what we could have hoped for. She brought a special personal touch to our ceremony and we received many compliments on how pleasant and well spoken our officiant was. Michael & Nicole December 2020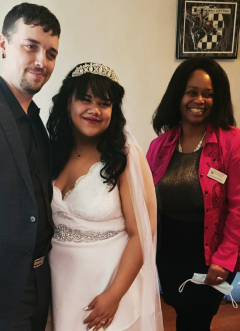 Jason & Aimee
Lisa Bynoe-Stevens was fantastic ,very accommodating and adventurous with us! Thank you :) Jason & Aimee October 2020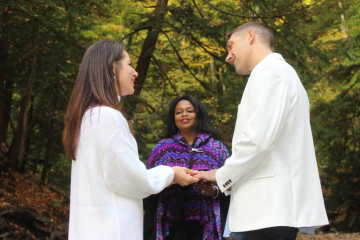 Matt & Lisa
Lisa, Thank you so much for being our officiant. The ceremony was beautiful. We had a few of our guests comment on how lovely your dialogue was. I was a little embarrassed and want to apologize on how we just handed you your payment. I had a card for you but forgot it back at the house I was very overwhelmed with the day. But thanks again for everything - it went perfectly. Thanks Matt and Lisa Sept. 2020
Hedylbert & Jessika
Lisa Bynoe-Stevens performed our small intimate wedding ceremony in the beginning of 2019 and I have nothing but great things to say about her! She met up with us in advance to discuss the details of the wedding. She was incredibly positive, friendly and professional! She truly understood our vision and respected our desire for a simple intimate wedding ceremony. She was punctual, positive and respectful the day of our ceremony as well. If you are looking for someone who is vibrant, accepting and professional... Lisa is definitely a great choice! I highly recommend her as an officiant for anyone's wedding ceremony. Hedylbert & Jessika January 2019