Lisa Bynoe-Stevens, BA, MDiv (Tyndale)
I was born in Barbados, and after living and working in Toronto and York Region for most of my life, I now reside in the City of Hamilton. Personally, I love the ministerial work I do, especially working with couples. I am passionate about people and community. I am well-travelled, adore hiking, a good cup of tea, and equal amounts of baking, cooking, eating, and working out. If you are looking for a wedding officiant with a big smile, who loves to laugh, and is both genuine and enthusiastic, then I'd love to meet you. I would love to be part of your special day, as someone once was for me.
Request Lisa Bynoe-Stevens
Areas Served
Ancaster, Beamsville, Brantford, Burlington, Caledonia, Campden, Carlisle, Cayuga, Clappison Corners, Copetown, Dundas, Dunnville, Elfrida, Freelton, Fulton, Grassie, Greensville, Grimsby, Hamilton, Jordan Station, Kilbridge, , Lincoln, Lowville, Lynden, Middleport, Millgrove, Milton, Mississauga, Oakville, Peters Corners, Puslinch, Rockton, Sheffield, Smithsville, St. Catharines, Vineland, Waterdown, West Flamborough, Woodburn.
Reviews
Steve & Lisa
Lisa Bynoe-Stevens was lovely and tailored our service for us in a way that made it personal and meaningful. We would definitely recommend your service to others planning their weddings especially, if they need something 'out of the box'. Steve & Lisa December 2020
Michael & Nicole
Lisa Bynoe-Stevens was above and beyond what we could have hoped for. She brought a special personal touch to our ceremony and we received many compliments on how pleasant and well spoken our officiant was. Michael & Nicole December 2020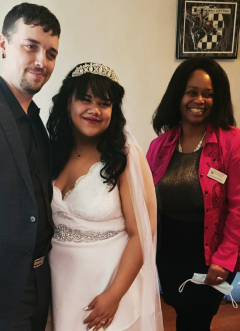 Jason & Aimee
Lisa Bynoe-Stevens was fantastic ,very accommodating and adventurous with us! Thank you :) Jason & Aimee October 2020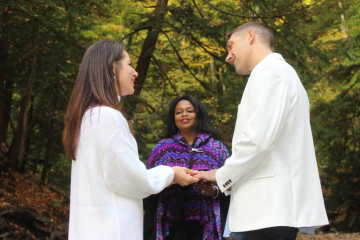 Matt & Lisa
Lisa, Thank you so much for being our officiant. The ceremony was beautiful. We had a few of our guests comment on how lovely your dialogue was. I was a little embarrassed and want to apologize on how we just handed you your payment. I had a card for you but forgot it back at the house I was very overwhelmed with the day. But thanks again for everything - it went perfectly. Thanks Matt and Lisa Sept. 2020
Hedylbert & Jessika
Lisa Bynoe-Stevens performed our small intimate wedding ceremony in the beginning of 2019 and I have nothing but great things to say about her! She met up with us in advance to discuss the details of the wedding. She was incredibly positive, friendly and professional! She truly understood our vision and respected our desire for a simple intimate wedding ceremony. She was punctual, positive and respectful the day of our ceremony as well. If you are looking for someone who is vibrant, accepting and professional... Lisa is definitely a great choice! I highly recommend her as an officiant for anyone's wedding ceremony. Hedylbert & Jessika January 2019