Larry Greenspan, BA, BEd
I am a lover of the arts, have an offbeat sense of humour, and enjoy sharing laughter, and music with our community theatre. I absolutely enjoy being an officiant serving the St. Catharines area and beyond if needed, as it provides me the opportunity to perform a wedding ceremony for you that creates a meaningful and memorable union, manifesting your personal desires, needs and love. I've got a BA, a B.Ed. and a Special Ed. from from the University of Toronto. I grew up in Niagara, but raised my daughter and son in Toronto. I am a Big City boy with Small Town sensibilities. I look forward to celebrating with you.
Request Larry Greenspan
Areas Served
St. Catharines, Niagara Falls, Niagara on the Lake, Welland, Grimsby
Reviews
Rodney & Patty
This was sooo easy after trying other methods with no success. This was a renewing of our vows on our 25th wedding anniversary and there were many great things. How quickly I was able to book, getting Larry to agree with helping on what I believe to be a short notice, the location and the price! Oh and several people saw us renewing our vows with the Falls in the background and came up to congratulate us. They were completely stunned to know it was 25yrs of marriage, not an initial marriage. :-) Larry Greenspan, such a wonderful person with a wonderful smile, personality and patient!! He was also very prompt with his responses and they were also humorous at times; very easy to converse with. August 2023
Ian & Kathleen
Larry was warm, personable, professional and made our intimate ceremony so special!! He was so accommodating to our little changes / requests for the ceremony and I can't thank him enough for making us and our family feel so at ease. We recommend Larry without any hesitation!! April 2023
Mike & Chelsea
Larry Greenspan was fantastic! He was friendly and genuinely nice. October 2022
Matthew & Keri-Lynn
Larry Greenspan was easy to work with and made accommodations every step of the way. Larry learned how to go a traditional Scottish handfasting ceremony and made sure our day ran smoothly! August 2022
James & Udeshi
We picked Larry because we thought he had a beautiful smile. It wasn't until we spoke to him we realized that Larry was the perfect fit for us. He was kind and so very thoughtful, very professional and passionate about his work. He delivered exactly what we kind of briefed on and we could not be happier. Larry was amazing and perfect in every way! August 2022
Chantel & Andrew
Larry Greenspan went above and beyond our expectations. He kept us calm and took the lead during our ceremony, we felt absolutely no stress, it was quick and painless. Exactly what we wanted. Not only did we like him but our friends and family liked him as well. Just an all around great person! Thanks again Larry!! June 2022
Duncan & Carol
Larry Greenspan was the officiant for our wedding in Vineland and he made our day as special as we could have hoped for! Larry is warm, charming and caring; he has a great sense of humor. Larry was very creative in helping us plan our vows. We had chosen not to do a ring ceremony and Larry suggested a wine ceremony instead. It was perfect - very personal for us and unique for our guests. The ceremony was memorable. Thank you Larry! May 2022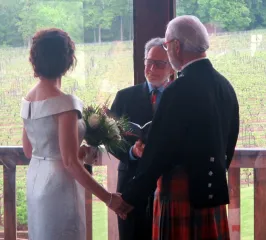 David & Erica
Larry [Greenspan] was absolutely wonderful! His kindness and professionalism was 10/10! We felt honoured to have him part of our wedding day. We are so grateful to him for making our wedding so special. David & Erica, July 2021
Ivan & Estrella
Larry Greenspan is amazing, we had a perfect small gathering Covid wedding. Everyone at the wedding loves him! Thank you for making the day perfect. Ivan & Estrella September 2020
Ivan and Lu.
We greatly enjoyed working with Larry Greenspan. He helped us turn a wedding ceremony into a touching and very personal event. Larry went over the ceremony script a number of times with us to make sure that it matched our expectations! Ivan and Lu. June 2019