Kimberly Witmer, BA (York)
I live in Kitchener, born and raised in Cambridge, with my family and our two dogs. I have a BA from York University and I am also a Designated Life Celebration Minister. I'm a romantic at heart, patient and have a sense of humour and being part of one of the most important days of your life would be an honour. I love to cook and entertain, especially in the warm summer sun, and I LOVE weddings. I want your wedding ceremony to be uniquely yours, extra special, reflecting on your love for each other and your dreams for your future. It should be everything you hoped for and envisioned.
Request Kimberly Witmer
Areas Served
Kitchener, Waterloo, Cambridge, Guelph, Paris, Brantford, Ayr New Hamburg, Baden, Fergus, Elmira, Elora, Rockwood, Mary Hill, Acton, Plattsville Breslau, Bellwood, Glen Morris, Abergoyle, Conestogo, Drumbo, St. Agatha, Wellesley, New Dundee, St. George, Puslinch, Rockton, Flamborough
Reviews
Jarrett & Alanna
Kimberly Witmer was an amazing officiant who made us feel at ease from our first interaction. She brought warmth and lightness to the ceremony and we felt taken care of during the whole process. Our day was made very special from her attention to detail of what we told her about our lives and our relationship and our family members really appreciated her kind references to those who couldn't be there with us during the ceremony. We would highly recommend Kimberly as an officiant! Thanks so much Kimberly!! June 2022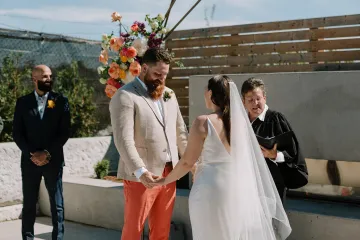 Josh & Claire
We are so happy to have chosen Kimberly to officiate our wedding. Her guidance made it very easy for us to piece together our ceremony in a way that best suited us as a couple, and it turned out even better than we expected. Many of our guests remarked on how beautiful the ceremony was and the excellent job that she did. What a wonderful person to have be a part of our special day! Thank you so much, Kimberly! (September 2022)
Evelyn & Pamela
Kimberly Witmer was very friendly and we enjoyed the service and how helpful she was with our questions. October 2022
Jess & Nic
Kimberly Witmer was an absolutely wonderful part of our big day - so many of our guests have come up to us since to tell us what a great job she did as our officiant. She matched our energy (which was a little goofy), she loved our dog, and she performed an absolutely unforgettable ceremony full of charm and personal touches. Thank you Kimberly! September 2022
Michael & Susan
Kimberly Witmer was very friendly and has a great sense of humor! Definitely recommend. Sept 2022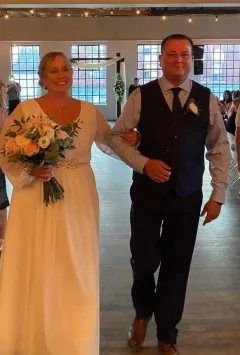 Kate & Riley
Kimberly Witmer exceeded our expectations because you can tell she really enjoys doing this and has passion for it. She was warm, well spoken and went above and beyond for us! Definitely would recommend her! September 2022
Karen & Mathew
Kimberly was great to work with. It was a beautiful day. July 23 2022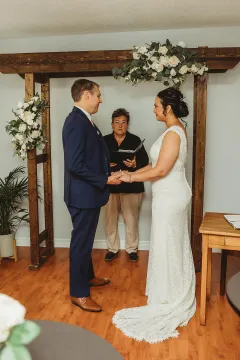 Jesse & Rebecca
We had a lovely experience with Kimberly! She was meaningful and funny when it needed to be. She added personal touches and really took time to get to know us as a couple. She's very genuine and you can tell she loves love! Thanks for everything! July 2022
Jon & Emily
Absolutely and then some! Kimberly was awesome to work with from the first time we met her for coffee, to the "you may now kiss the bride!" Kimberly took the time to get to know us and create a ceremony that not only was the style and feel we wanted, but also had a few personal touches that she had learned about us along the way. We had Kimberly do a rehearsal for us, and I have to say that this greatly calmed our nerves for the ceremony the next day, she made us feel relaxed and had us smiling and laughing the whole time. We were so happy with the way everything was handled, and her friendship, that we invited Kimberly and her partner to our reception to enjoy the rest of the evening with us. The day would not of been the same without her. June 2022
Melanie & Wallace
We cannot say enough good things about Kimberly Witmer. From the first time we spoke with her we knew she was a perfect fit for us. The ceremony was beautiful! She did her homework and went over and above! It is obvious that Kimberly is passionate about what she does and she truly loves love. 5 out of 5 stars. We are looking to have a big party for our one year anniversary and we are considering asking Kimberly to renew our vows. My step-daughter feels she has met her officiant - and many others in attendance expressed how amazing Kimberly is. Don't hesitate... contact her! July 2022
Gary & Avril
We can say, in all honesty, that there wouldn't have been a wedding without Kimberly! We had originally booked with someone other than All Seasons. And, as a delicate merging of cultures, we'd worked really hard to create a ceremony that we felt would honour the faith of our family while staying true to ourselves and our values. So when we found out on the morning of the wedding that our officiant had double-booked, we were devastated - and also panicked! To our incredible luck, Kim was able to step in, meeting with us just a half hour before the ceremony to get a sense of what we'd planned, what we hoped for, and who we were as people. I am still in absolute awe of how beautifully she delivered a ceremony that was personal, lighthearted, and still brings me to tears. We're so grateful for her presence with us that day and cannot recommend her talents and professionalism enough! She's truly wonderful.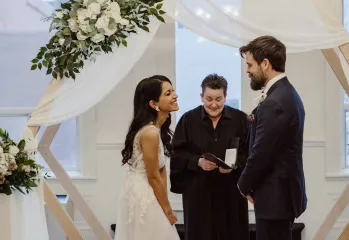 Peter & Gail
We loved the ceremony. Short and sweet. Kimberly Witmer was very professional and made us feel relaxed. It was a wonderful experience and we would recommend her and your company for anyone looking for an officiant. Peter & Gail September 2021
Justin & Jessica
We were so thankful for Kimberly Witmer's flexibility and willingness to come further out of her way to officiate for us! Justin & Jessica June 2021
David & Katie
Kimberly Witmer meet all of our expectations she is a lovely person ! David & Katie October 2020
Benjamin & Sayaka
My husband and I pulled the trigger on getting married in the summer before schools opened up in September. We did not have high expectations for a last-minute officiant, but we were pleasantly surprised when we came across Kimberly Witmer. We had a good feeling when we read her bio and saw her photo, and that was confirmed when we chatted over the phone to ensure it was the right fit. Kimberly was genuine, kind, and wonderfully well spoken. The warmth she exuded at our ceremony had our parents convinced that she had known us for years! We are so grateful Kimberly was able to be a part of our wedding. Benjamin & Sayaka, September 2020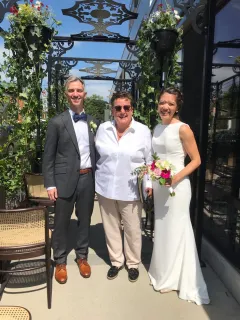 James & Lisa
Kimberly Witmer was very flexible and supportive to our wants! It was a pleasure having her for our ceremony! James & Lisa August 2019
Scott & Christine
Kimberly Witmer was such an integral part of making our day momentous! She captured our essence, told our story with humour and warmth and fit right in with our family and friends- people thought we'd known her forever! The personal touches Kimberly added to our service were wonderful and added to the intimacy of a small wedding. Everyone was commenting on her warmth and personality. We were blessed to have Kimberly officiate our wedding! Scott & Christine June 2019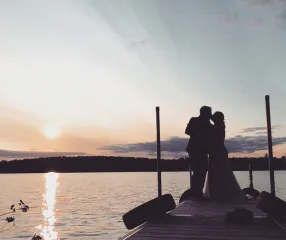 Nick & Jessica
Hello, We had Kimberly Witmer marry my wife and I. We couldn't have been happier to have her be a part of our day. She made the ceremony very personal and touching. She even offered to help carry a few items back to our reception! Our guests thought she was amazing, we had many compliments on her words. Our Aussie absolutely adored her as well, if anyone is including animals in their wedding. All in all, we would be thrilled to recommend Kimberly to anyone. - Aug, 2018
Meghan & Laura
I could not have been happier with the professionalism, sincerity, and wit Kim demonstrated as our wedding officiant! She made arrangements to meet us prior to the wedding and made us feel at ease while asking us a series of questions about our relationship in order to get to know us better. I was so impressed with her ability to take our light, informal conversation and turn it into the most beautiful wedding ceremony that truly reflected us as a couple. She listened to our preferences clearly and made that very special moment of the day absolutely perfect. I would recommend Kim to any couple!