Kerry Moeller
You can find this yoga enthusiast, camper, and animal lover in the outskirts of Oshawa living a little bit of country, a little bit of city. Kerry is an experienced minister with the Devine Light Spiritual Church and understands the importance of your wedding ceremony and has open arms and heart to all faiths, gender and spirituality. Whether you are looking for a relaxed backyard (barefoot perhaps?) private ceremony, or one that packs the house in your finest attire, Kerry will perform your unique wedding ceremony with ease, complete with her attention to detail, and filled with love. We think you'll discover Kerry's enthusiasm and joy for the simple things in life is contagious.
Request Kerry Moeller
Areas Served
Ajax, Blackwell, Bowmanville, Courtice, Hampton, Newcastle, Oshawa, Port Hope, Port Perry, Uxbridge, Whitby
Reviews
Paul & Jennifer
Really easy process to navigate Kerry is amazing, we loved having her officiate our wedding and would highly recommend her to anyone else. She was kind, compassionate, easy to work with and a pleasure to work with May 2023
Greg & Caolaidhe
There was no better officiant than, Kerry. She was absolutely perfect for our double wedding. She added a very nice touch to honor my late father.... We also had some great laughs. She has a beautiful heart and sense of humour . March 2023
Mark & Kayla
Kerry Moeller was wonderful ! Thank you ! March 2023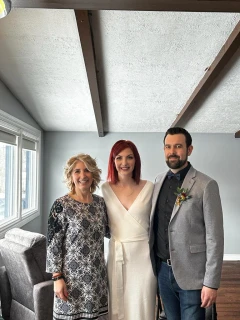 David & Robin
Kerry Moeller was absolutely wonderful! We have recommend her to others ! My son is getting married in July and also has Kerry as their Officiant ! Thank you Kerry . April 2023
Matthew & Erin
We were so happy with our choice of Kerry as our officiant. We loved the energy she brought to the entire process. At the start of our ceremony, she said a few words quietly to just the two of us to help us settle and become present with each other. It can all be so overwhelming and fast-paced, so we really appreciated this touch. Kerry incorporated a bit of humour into the ceremony and we received a lot of positive feedback about her from our guests. We highly recommend choosing Kerry as your officiant for your special day! October 2022
Andy & Heather
Kerry Moeller was fantastic!! From our 1st meeting with her she made us feel so at ease and as if we had all been friends for years. The vows she wrote for us, after just having met once....they were so incredibly personal and tailored to us, we cried just reading them. She was able to make the vows and ceremony so personal to us and we couldn't have imagined how amazing it was going to be. Thank you so much Kerry for everything....if we could get married every year we would have you each and every time! September 2022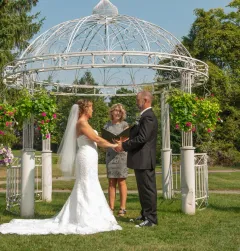 Jen & Trevor
Kerry was so sweet and helpful. She helped us and made lots of changes to the script in order to get it absolutely perfect. On the day of, she did such an amazing job, she was very well spoken, very personable during the ceremony, and made us feel so comfortable. We couldn't have asked for anything better! We're very happy, thank you. ? July 2022
Carmen & Warren
Warren and I wanted to thank you from the bottom of our hearts for your services this weekend. Kerry, you were amazing and a hit with our guests. Thank you so much again! May 2022
Hailey & Logan
It was a great day, Kerry was great! She was very kind and professional! Thanks Kerry! September 2021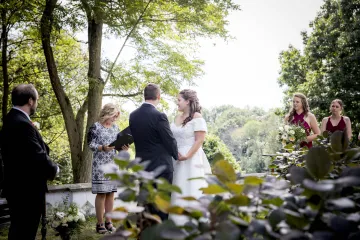 Matthew & Michelle
Kerry Moeller was the officiant for our wedding ceremony and she was absolutely wonderful. She was very kind, professional and brought warmth to our wedding ceremony with her happy and bright demeanor. We could not have asked for a more wonderful officiant! Thank you so much, Kerry! September 2021
David & Michelle
Kerry Moeller was absolutely wonderful! So helpful before, during and after the ceremony. Kerry exceeded my expectations and I would encourage anyone looking for an officiant to get Kerry. You will not be disappointed! June 2021
Will & Brittany
Thank you so much for being apart of our special day. Kerry Moeller was fantastic. I honestly can't say enough good things about her. She was absolutely lovely! I wish we could've spoken longer. I will definitely be recommending to all of my engaged friends. May 2021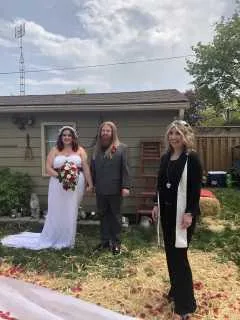 Em & Dan
Hi Kerry! Just wanted to say thank you sooo much for our beautiful ceremony on Saturday. It was seriously magical and we could not have asked for a better officiant! You obviously love your role and everything about your delivery, your passion for it, just everything was so so perfect. We couldn't be happier!!
Mark & Darlene
Kerry Moeller was excellent we can't express how happy we were with her...I feel she was beyond our expectations... Thank you ! March 2021
Tony & Debby
Kerry Moeller was very friendly and easy to talk to. We loved Kerry and would highly recommend her. December 2020
Jeff & Tammy
Kerry Moeller was amazing, beautiful, well spoken and met our every need! Definitely would recommend her to any of my friends and family should a need arise! Super happy, she made our special day one with ease! October 2020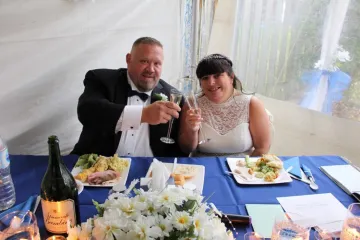 Michael & Courtney
We had a smaller package so we didn't meet Kerry before. However, she was ready and had everything. She went beyond our expectations! Kerry Moeller made our small, intimate, ceremony perfect. What she said was meaningful and brought us to tears. She was on time and so easy and pleasant to talk to. It felt like we had known her for a long time. We even forgot a few things that we left her with and she brought it by our house! Thank you so much for everything! August 2020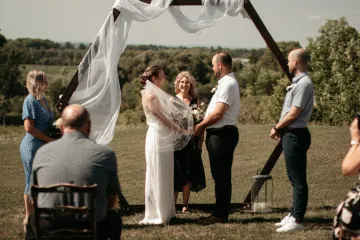 Ryan & Kate
Kerry Moeller helped make our day so so special! She was on time, so friendly, and followed all instructions given to her... what she wrote for our vows so beautiful and timeless and we will forever member her! Thank you Kerry! Xo July 2020
Eric & Alison
Kerry Moeller arrived on time, she went over the ceremony with us prior to it beginning and we didn't feel rushed. The ceremony had good energy, and it was at good pace . Kerry made the ceremony exactly what we wanted. Thank you for making our day special. January 2020
Tyson & Jacqueline
Kerry Moeller was very down to earth and easy to work with! Was happy to make adjustments based on our expectations. Kerry responded within a timely manner and provided all relevant information. Thank you for making our day perfect ! August 2019
Stephen & Zoe
Kerry Moeller was amazing. We could not have asked for more for our wedding! Thank you for everything! August 2019
Tracy & Chad
Kerry Moeller did an outstanding job! She met with us a few weeks before the wedding and discussed all details about the big day, even things we hadn't thought about yet. She was very professional and organized. She is very easy going, and flexible. We had our son, and our 6 nieces and nephews performing various antics during the ceremony, and Kerry ensured everything still went off without a hitch. She was loud and clear, no microphone needed. We were so happy that Kerry was able to marry us and recommend her to anyone. Tracy & Chad