Kerry Armstrong
Kerry who lives in Oshawa, is one of our most experienced wedding Officiants. The wedding ceremony is the heart and soul of your wedding and Kerry ensures the ceremony reflects the uniqueness of each couple's commitment to one another. She is passionate about weddings and has excellent organizational skills to help alleviate stress. Her willingness to listen to your every wish and try her hardest to make it a reality will capture the romance in each ceremony. If your ceremony is a top priority Kerry is for you.
Request Kerry Armstrong
Areas Served
Pickering, Ajax, Whitby, Oshawa, Courtice, Bowmanville, Newcastle.
Reviews
Shawn & Heather
Kerry Armstrong was wonderful! We could not be happier with our officiant. She was professional, personable, and made the whole process easy for both of us. I could not recommend Kerry more :) September 2022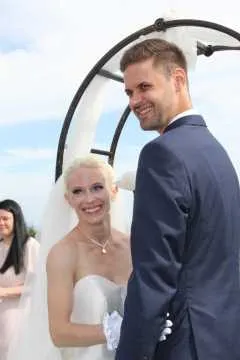 Ian & Jennifer
Kerry Armstrong was awesome. Kerry made everyone feel part of our day. We loved how smooth it was and how Kerry made our celebration the absolute best! Ian & Jennifer
Adam & Elaine
Kerry Armstrong was great! She adapted to the times by setting up our first meeting virtually and made the process seamless. She was fun and considerate and very easy to work with. Adam & Elaine September 2020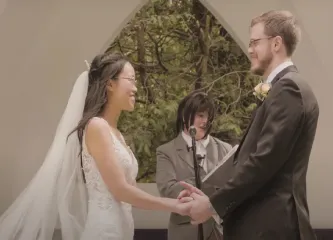 Mitchell & Natalie
Kerry Armstrong worked with us to customize our ceremony and it ended up being perfect. Kerry was friendly, approachable and organized. Thank you for helping to make our day so special! Mitchell & Natalie July 2019
John & Wilhelmina
Kerry Armstrong was great. Her professional approach and advice was part of the day's joy. We enjoyed being introduced as Mr. and Mrs. April, 2019.
Benjamin & Jessica
Kerry Armstrong was absolutely wonderful. She had several helpful tips during our pre-wedding meeting and the day of was absolutely perfect. We received so many compliments from our guests too! June, 2018.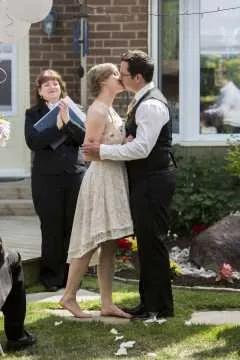 Rebecca & Jeff
Kerry Armstrong was great and she made everything so easy! I've already passed on All Seasons info to another friend getting married next year.
Kayla & Brad
We had a great experience with Kerry Armstrong. She was so helpful in making our ceremony so personal. She took her time to go over every aspect with us so we understood how it worked and how we could make the ceremony special for us. We had rain on our wedding day and Kerry was so understanding and patient while we decided if we would continue with the ceremony outside. She truly was a pleasure to work with and a perfect fit for my husband and I.
Suzanne & Lawrence
Kerry Armstrong actually exceeded our expectations. She was absolutely wonderful! Extremely, warm, friendly, helpful and of all our guests loved her!
Melanie & Xerxes
Kerry Armstrong was absolutely wonderful - she was so flexible and very calming to work with especially for a wedding. She really made our ceremony special and we are so happy that she was part of our big day!
Lisa & Jonathan
Kerry Armstrong was wonderful, very professional, but also very genuine, and kind. She helped us to create our perfect ceremony, with suggested readings and advice, and also provided us with some Irish blessings, and readings to try to incorporate my husband's heritage into the ceremony. She was just perfect for our day.
Vanessa & Roger
This is the second time we have used your services, Kerry Armstrong married myself and my husband now my daughter and son-in-law. She did a wonderful job 4 years ago and an amazing job on Aug 20th especially half way thru the ceremony it began to rain but she got us thru. Thanks to everyone at All Seasons Weddings for all your help. Regards, Carol Ann Harris
Keri and Tony
We had the pleasure and privilege of meeting with, and having Kerry Armstrong perform our Wedding Ceremony. She was a delight to work with, very open and friendly to suggestions and comments we had. She gave us the Wedding Ceremony that we chose, and helped us put it all together. Her voice carried outside, as our ceremony was outdoors, so that everyone could hear and really be apart of our day. Thanks you so much for providing us with Kerry's services, she was truly the best!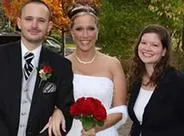 Josie and Justin
I wanted to let you know that we received, including ourselves, many many compliments on Kerry Armstong's officiating of our wedding ceremony. It was beautiful. She is a wonderful person, big smile and made our wedding extra special. She customized our ceremony and embraced the inclusion of our children (we have 4!). She was most welcomed by our family and friends! A great job. We couldn't have asked for a better person than kerry Armstrong! She is considered a friend of the family and will be referred to our friends.
Anonymous
We could not have found a better person to do the job than Kerry Armstrong. She was very professional, empathetic, patient, and personable. She helped us personalize and tailor the ceremony to fit our personalities .We were able to modify our ceremony so that it expressed exactly what we wanted. Kerry was always available to help us via phone or email. To be honest, and I may be biased, but I have never been to a wedding with such a beautiful ceremony performed by such a warm and pleasant person.