Kathryn Haynes, BA; B.Ed; MA (Brock)
Kathryn, who lives in Newmarket, believes that your celebration of marriage should be as special as the two of you! She is dedicated to providing the kind of wedding ceremony that you, your family, and, your friends will always remember. As an Appointed Designated Minister, she has been solemnizing marriage since 2016. Kathryn enjoys music and plays the Alto Saxophone and Fife. An avid history buff and 'time-traveler', Kathryn re-enacts the American Revolution as a loyalist refugee and volunteers with the Stratford Perth Heritage Foundation.
Request Kathryn Haynes
Areas Served
North York, Thornhill, Woodbrige, Vaughan, Richmond Hill, Markham, Stouffville, Newmarket, King City, Keswick
Reviews
Avery & Mary
Our officiant Kathryn Haynes worked with us to make the day as beautiful as it was. Thank you for making this process stress free! (Amr Jay Photography) Jul 2023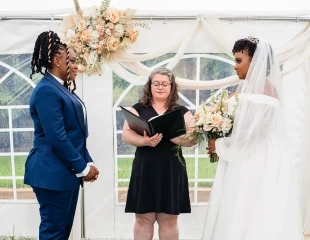 Credit: Amr Jay Photography
JuanMa & Pilar
Kathryn Haynes was absolutely amazing. She is warm, down to earth and so considerate of us and our special day. We HIGHLY recommend her services!! September 2022
Andrea & Scott
Kathryn Haynes exceeded our expectations!! She took the time to get to know us , was professional and did an exceptional service on our wedding day!! We are very Thankful she was a part of our special day! August 2022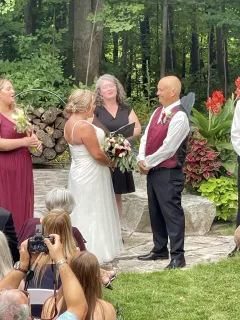 Sean & Bailey
Kathryn Haynes was absolutely perfect. She brought a sense of whimsy and joy to our ceremony that exceeded any expectations. She was calming, friendly and charasmatic while still maintaining a level of professionalism and order needed to keep things moving along smoothly. She handled every bit of chaos from my family (including our 3 dogs, who decided to partake in the ceremony, uninvited) with grace and humor. She put a smile on everyone's faces and helped to make our day as magical as possible. I truly could not speak more highly of this wonderful woman. August 2022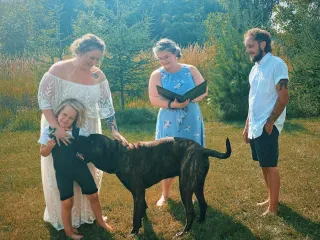 Hailee & Dane
Kathryn Haynes was very kind and accommodating. I appreciated her sensitivity and patience for our ceremony and the way she performed was excellent! February 2022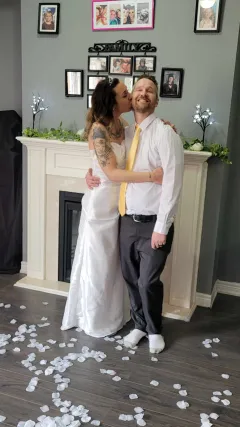 Hannah & Andrew
Kathryn Haynes was the best! She went above and beyond for us for the entire process. We cannot say enough about how much we enjoyed Kathryn!!! Jan 2022
Dan & LeVi
Kathryn Haynes was really wonderful, kind, and met all of our expectations for our wedding day! She thoughtfully accommodated all of our requests, which we really appreciate given the COVID-19 situation. Kathryn's delivery of the ceremony was beautiful, very clear and concise. We are so happy to have Kathryn be such a key part of our special day and would highly recommend her to all newlywed couples! Dan & LeVi September 2020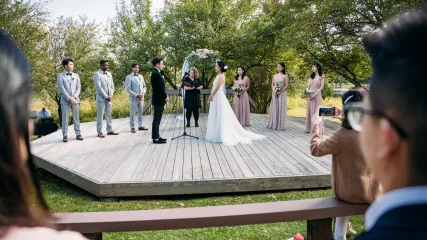 Josh & Kasey
Kathryn Haynes is an excellent officiant. She went above and beyond all of our expectations, custom-building our ceremony, helped us arrange the ceremony, procession and everything else. Kathryn is easily the part of our day we are most happy with. She blew away all expectations, and we've been complimented by many of our guests about the uniqueness, personalization, and perfection of the ceremony for us. Josh & Kasey September 2019
Eric & Charlotte
Kathryn Haynes was friendly, professional, and worked closely with us to put together the perfect ceremony. Her attention to detail is outstanding and she explained the process and answered all of my questions before I even had to ask. Thank you Kathryn. Eric & Charlotte June 209
Veronica & Kenley
Kathryn Haynes was great! Very professional, put together and knowledgeable about the process. Kathryn was a great addition to our wedding. When we met earlier, she had a great questionnaire that we filled out together and helped us get our thoughts together on the details of the ceremony. Things that we wouldn't have thought about. She also gave us the freedom to write up or change some of the wording of the vows (leaving in the legal stuff), which was a great personal touch.
Chuck & Thalia
Kathryn Haynes was so amazing and our wedding was so good because of her thoughtful ceremony.
Laura & Scott
Kathryn Haynes exceeded our expectations! She was warm, kind and very responsive to our ideas on how to make our ceremony more personal. She was an absolute pleasure to work with and we would highly recommend her to other couples.
Angela & Ryan
Kathryn Haynes was a fantastic wedding officiant for my new husband and I. Kathryn was very professional and she did an excellent job during our ceremony. Her input in helping us design the ceremony was crucial to its success. Kathryn was prompt and she was always willing to help us with questions and with our wedding coordination. I would recommend Kathryn to other friends who were getting married as she made the day exceptionally fun and stress free.