Kathleen Everett
Kathleen is a previous winner of the 'Best Wedding Officiant in Ottawa and District' award. She has many years of experience conducting weddings and it is her goal to help you relax and enjoy one of the most special days of your life. She will do her very best to help you make your wedding day all you want it to be. Kathleen is comfortable in any wedding setting. Prior to becoming a wedding officiant, she was a professional social worker having graduated from the four year program at Laurentian University in Sudbury. Kathleen is a professional in every sense of the word. Just read her testimonials!
Request Kathleen Everett
Areas Served
Metcalfe, Alexandria, Alfred, Bourget, Casselman, Chesterville, Clarence, Cornwall, Cumberland, Embrun, Gloucester, Hammond, Hawkesbury, Kenmore, La Nation, Limoges, L'Orignal, Marionville, Martintown, Maxville, Navan, North Stormont, Orléans, Ottawa, Plantagenet, Rockland, Russell, Sarsfield, South Stormont, St-Albert, St-Bernardin, St-Isidore, Vanier, Vankleek Hill, Vars, Winchester
Reviews
Michael & Taylor
Kathleen Everett is fantastic! She has such a great sense of humor! We loved having her be a part of our big day! October 2022
Jen & Steve
Not only did Kathleen meet our expectations, she exceeded them. From our first discussion with her, we felt like we had known her for years. So lovely, friendly, helpful and kind, she was such a pleasure to work with. We truly could not have chosen a more perfect officiant for our special day. Thanks again, Kathleen! :) June 2022
Corey & Natalie
It was really an excellent experience. I was so impressed with everything. Kathleen Everett was able to provide the two witnesses and although we've never met before, they felt like family. I recommend Kathleen. She is such a nice and kind person. We had a great time; it was like "magic." Thank you so much All Seasons Weddings. I will recommend you to anybody that wants to get married. May 2022
Kevin & Brandy
Kathleen Everett is very down-to-earth, respectable, friendly, and pleasant to communicate with. She is an excellent officiant, and we were able to instantly acknowledge her many years of experience in this profession. She was not only fun, but also calming and always had a smile on her face. We would highly recommend her! Aug 2021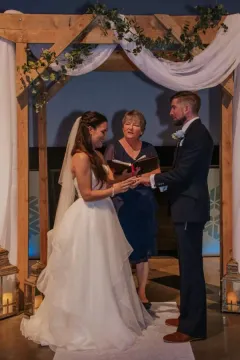 Julie & Mark
Kathleen - thank you for performing the ceremony, we could not have picked a more special person to do this for us. Thank you for everything! Aug 2021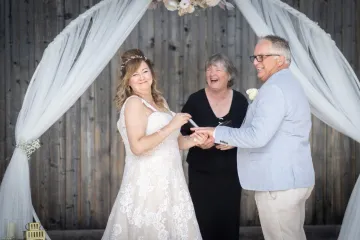 Jacqueline & James
Kathleen Everett was incredible! From the very first phone conversation, to the planning meeting and on the day of - she was calm and happy. She made us feel comfortable and we really did feel like she had our best interest at heart. She was fantastic! Jacqueline & James August 2021
Katie & Mike
We had the opportunity to hand select Kathleen from the All Seasons Weddings Officiants list, and are very glad that we did. Throughout the entire process she kept in touch with us, and was so kind and supportive while we made change after change, and sacrifice after sacrifice to hold our wedding during COVID. Kathleen did a wonderful job leading our wedding ceremony, and truly made our special day even better. She fit everything we wanted from an officiant: kind, caring, humorous, and extremely down to earth, we couldn't have picked anyone better. We cannot thank you enough!! Katie and Mike September 2020
Matthew & Jeannette
Kathleen Everett meet all of our expectations, she was wonderful! Thank you ! Matthew & Jeannette August 2020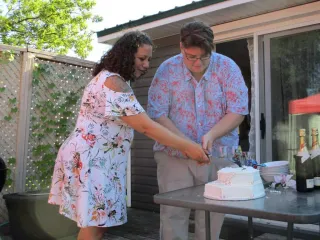 Calli & Kurtis
All Seasons helped us find our officiant Kathleen (Everett) who was the perfect fit for our family. The process was so easy to go through during the uncertain times of COVID 19 that I would 100% recommend All Seasons and Kathleen! Calli & Kurtis, August 2020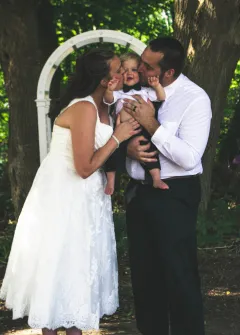 Bruce & Stephanie
Kathleen Everett was excellent, we really appreciate her service. She made our special day even more special! Bruce & Stephanie November 2019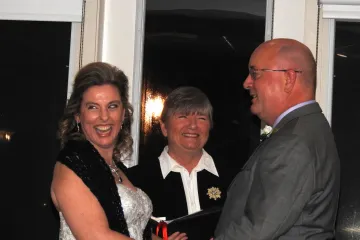 Joel & Anastasia
Kathleen Everett performed a lovely service. She was great to work with and we appreciate how far she traveled to be part of our day. We would definitely recommend her services to any friends getting married. Joel & Anastasia October 2019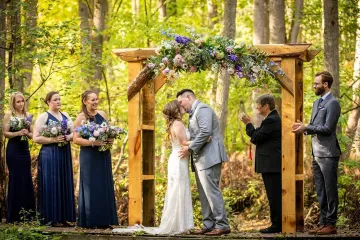 Olivia & Stephen
Hello Kathleen (Everett), We wanted to say thank you from the bottom of our hearts for the beautiful ceremony you put on for us September 15th. Although it was hot as ever, you remained calm, cool and collected as we proceeded through the ceremony. Thank you for all of your help along the way in preparing us for the big day! You were amazing and your help (and all your wedding day tips and tricks) was extremely appreciated. We have received countless compliments on the beautiful ceremony.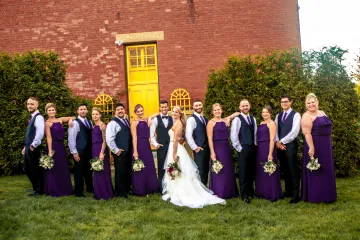 Jennifer & Ryan
We had a fantastic experience with Kathleen Everett. My fiance and I couldn't be happier with our wedding ceremony! Kathleen was amazing and we are so happy we chose her. Leading up to the ceremony, Kathleen was very accommodating, even when I wanted to make last minute changes, and was so easy to communicate with! During the ceremony, despite the intense heat, Kathleen was so pleasant and relaxed and she made sure I was relaxed as well. The ceremony was beautiful and it was exactly what we wanted! Thank you Kathleen. Kayla & Dave
Hello Kathleen!! We wish to thank you for the awesome ceremony you performed for us! Your tips and insights kept us at ease throughout the entire process and helped set the tone for a very special day. Involving our guests in various aspects of the ceremony inspired many memories for all in attendance. We wouldn't change a thing. Thank you! I have attached a picture of 'the kiss' which you are more than welcome to use on your webpage. Thank you again, and we won't hesitate to recommend your services to the rest of our friends and family!! Have a great evening. Warmest, Kayla & Dave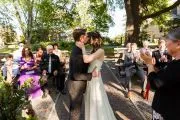 Stuart & Sebastien
Kathleen, having you officiate our wedding was a complete joy. Your guidance and assistance, before, during and after the big day was greatly appreciated. You made our beautiful day even more so with your smile and sense of humor. A sincere thank you. Stuart and Sébastien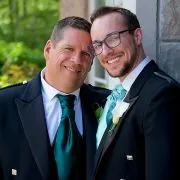 Coreen & Matthew
Thank you so much for all of your help with our wedding this past June. Kathleen was amazing! She helped us get everything ready at the rehearsal and she helped keep my husband relaxed during the ceremony even though he was really nervous. I would highly recommend both this service and Kathleen to anyone who is getting married. Everything regarding booking and payment was so easy. Zero complaints. Thank you so much for helping make our special day perfect.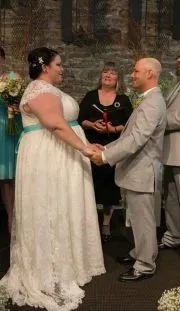 Heather & Brady
Kathleen (Everett) was an excellent officiant and I would recommend her to anyone. She was professional and efficient, and also friendly and kind in walking us through the process. She made some great suggestions for our ceremony. She was well spoken and clear and we received many compliments on our ceremony. I felt in very good hands and had nothing to worry about leading up to our wedding ceremony!! Thank you so much for everything Kathleen!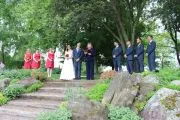 Andrea & Amir
Dear Kathleen, Thank you so much for performing our wedding ceremony! Your kind demeanour, attention to detail, and encouragement to create the ceremony we dreamed of, was exactly what we were looking for. The blending of two cultures/religions isn't always easy, but we (and even more importantly, our families) were thrilled with how it turned out! We had the perfect day, thanks for being an important part of it! We hope to see you again soon!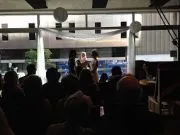 Chris & Shawna
Thank you so much for making our day so special and run smoothly. You helped ease any stress/nervousness with your calm and soothing words. You made everyone feel welcome and comfortable Our day went off without a hitch, minus Shawna and I getting hitched that is haha. Thanks again from the bottom of our hearts.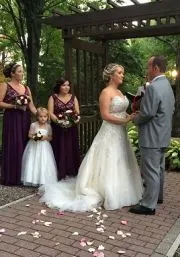 Betty & Len
Dear Kathleen, We cannot put into words the special role that you played in our fairy tale wedding. Many of our guests thought you were part of the wedding guests And you truly fit into our family and friends. You made the ceremony feel like a natural event and neither Len or I were nervous with your calming effect. We hope to be able to cross paths again and will highly recommend you so that we can meet again. Thank you once again, Two very happy people...Betty and Len
Gabrielle & Andrew
Hi Kathleen, Apologies for my delay - it has been amazingly a very busy month. I really want to thank you for the time you took with us, initially in getting our ceremony together, as well as the day of. You read such a beautiful ceremony and had such a calming presence for me. I know Andrew also really enjoyed having you there, and so many friends and family have spoken so highly of the ceremony you gave and the humour you put throughout the ceremony. Thank you so much for sharing such a special moment with Andrew and I.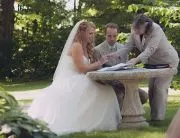 Phillip and Tyonek
Kathleen, you exceeded our expectations and gave us the ceremony we dreamed of. It was an absolute pleasure working with you. Thank you for making our day a memorable and perfect celebration.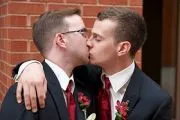 Hello! We had our wedding on September 12th, 2015 and we wanted to thank All Seasons Weddings and specifically Kathleen Everett for making our day absolutely perfect! Kathleen was such a pleasure to work with. She was warm, supportive, helpful and witty! She made the process clear and easy for us, and performed our ceremony beautifully. We highly recommend using All Seasons and having Kathleen be a part of your big day! Thanks!! Melanie and Trevor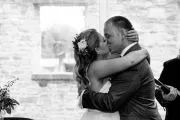 Brandon & Taylor
Kathleen went above and beyond. We had quite a huge setback when our first officiant cancelled three weeks before our wedding. My fiancee called, understandably crying, and Kathleen answered. She calmed her down and offered to meet us the very next day. We met her and she went over the entire process, which we wouldn't have been provided with our original officiant. She took over our wedding was wonderful and we don't know what we would have done if she hadn't been so accommodating. She calmed our nerves and let us focus on the wedding, not on who would marry us. We also received plenty of nice comments about her after the wedding. She was charming and super helpful throughout the entire process.
Christina and Ryan
Thanks Kathleen! We are so happy with how the day turned out. Went by all too fast mind you! But thank you very much for officiating the ceremony for us. So many people commented on how warm the wedding felt and they all attributed that to you! We will definitely keep an eye out for the certificate and be sure to let you know when it gets here. I have attached a couple of pictures for you! We will also be sure to add a testimonial to the website! Thanks again, Hi Kathleen- I realize Christina already sent you a thank you note for your excellent work on our wedding day however I want to send one as well! A sincere thank you for your kindness and being so warm and genuine during our marriage ceremony- you guided us every step of the way in preparation leading up to the exchange of vows and we had a comfort level upon first meeting you that you would be perfect to preside over our ceremony. You made a difference on our special day which we will not soon forget. Thank you so much. Married life is great! Ryan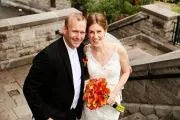 Terrie & Stewart
Our officiant Kathleen Everett was wonderful ! Never having met her due to being out of town we were worried but she was the most wonderful woman ever! She made our day unforgettable and had so many great ideas to make our ceremony one of a kind.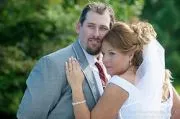 Kate & Sean
Kathleen Everett was excellent. Even family complimented us on how she was a perfect fit with our celebration. Our ceremony was perfect and it reflected everything about who we are. Kathleen was the perfect officiant who was able to integrate the unique moments our little girls offered to make our ceremony about "us" as family. We couldn't have dreamed of a better ceremony or day to start our "happily ever after".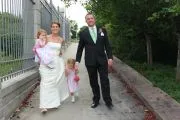 Tammy and Brett
We had a GREAT time despite the heat, and you kept everything short and sweet, just like we wanted. But most importantly, you made me feel comfortable, which was what mattered most to me. Thanks to you, the atmosphere was very relaxed and laid back, and for that we are very grateful. We couldn't have asked for better service! Feel free to use one of our pics on your web site. And no, we would not hesitate to recommend you to other couples. In fact, we already have! Take care and thanks again!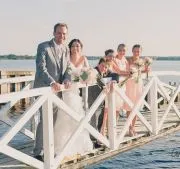 Kim & Jay
Thank YOU so much Kathleen for the beautiful ceremony. We also received many compliments on your behalf. I am not sure how I managed to hold my tears back; I tried to focus on you and Jason only but many others admitted to teary eyes...even some guys!!! We thought that the whole day was perfect :) Over all a stressFREE and fun time when among such wonderful people. The love vibes were very strong indeed. Thank you again for being with us in such a big way on our day! It meant a lot to our family to have you officiate our wedding.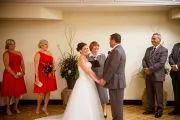 Manisha and Ben
Kathleen was such an important part of our wedding day. Her support throughout the process was valuable and she performed the ceremony beautifully. Her calm and easygoing nature helped create a lovely and serene atmosphere for our small ceremony. We especially appreciated how Kathleen kept things light at the beginning - it helped to calm our nerves a little bit! We cannot thank her enough!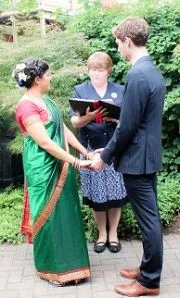 Sarah and Matthew
Our experience was nothing short of wonderful. We are very greatful to Kathleen for making it OUR special day and not just a cookie cutter wedding - We even have guests telling us how much they enjoyed her! Kathleen went above and beyond!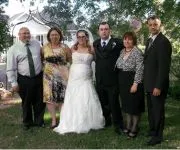 Stephanie and Steve
Dear Kathleen, Thank you for being such an important part of our special day! We had no idea there would be so many little details to remember, but you made it all so easy - from all of the advice and guidance leading up to the ceremony, to such practical things like having readings and vows printed out and ready for us. Our wedding ceremony is a memory that we will cherish forever, and you were an integral part of it! Attached is a photo of the ceremony taken by one of our wedding guests - you will see that we are all laughing, which reflects the mood of the day. Thanks again!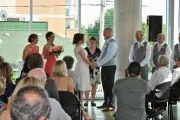 John, Darlene, Grace & Evan
Dear Kathleen Thank you for your support at the renewal of our wedding vows over Easter weekend. All Seasons Weddings did an excellent job and exceeded our expectations. We appreciated your experience, professionalism, positive communication style, good ideas, and support as we personalized our service. You made it easy to incorporate both our children and parents, making it even more special. Your kindness in wearing the video "necklace" provided footage of the event that our family will always treasure. We loved the chapel. It was the ideal venue for 100 family and friends who joined us. Everyone commented on the amazing woodwork, stained glass and natural light. We recommend All Seasons Weddings. Thanks again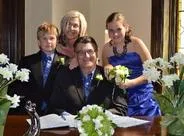 Nikki and Corey
Hi Kathleen I just wanted to thank you again for the beautiful job you did officiating our wedding. It was an amazing night, and you were a huge part in helping to make it so wonderful. Nikki and Corey It was a pleasure dealing with you at this special wedding at the Sens game and the ceremony was beautiful. You did a fabulous job! Should there be an opportunity to work together in the future we would love to! Staff from The Bear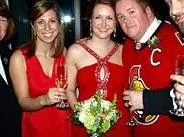 Meghan and Melissa
Dear Kathleen I cannot tell you how grateful I am that you were the chosen officiant to marry my beautiful daughter Meghan and her partner in life, Melissa. The words that you spoke were full of love, joy, and honesty, sincerity, inclusiveness and so very gentile. You brought many blended families and friends together in a ceremony that was truly intimate. Their wedding day was truly magical, for many reasons and you were able to express and share that emotion with all who were present, as well as with Meghan and Melissa. Your presence and your words made this special day more special than we could have imagined. Thank you from the heart. Kathy (Mother of the Bride) Meghan, Melissa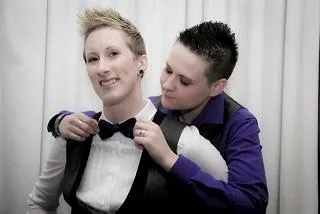 Michelle and Andy
How do WE begin to thank you for being such wonderful woman and allowing us the pleasure of your company? We had a wonderful wedding, with all of our thanks going to you. Our day was filled with sunshine, laughter and a lot of love. We are so happy that you accepted our wedding as you brought us even more enjoyment. I have never felt so comfortable as I did with you. You were like the mother figure to me and I could see the joy in your eyes just being there for us. That day will always be special to us, but more so because we made a new friend, with many happy tears shed and the moments will always be preserved in our hearts. Once again, you are a wonderful woman with a heart filled of pure gold. We thank you for your well wishes and of course for taking on a wild bunch of youngens!! Lots of Love, xoxoxo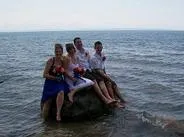 Dan and Jillian
Hi Kathleen, Thank you so much for your kind words. Sorry I am a little late getting back to you. Dan and I only just returned from our honeymoon 2 days ago. We had such an incredible time and the wedding was so beautiful. I'm glad our family and friends made you feel so comfortable. You did an excellent job and definitely helped me to feel at ease as well. It was a lovely ceremony and everyone keeps talking about the site and the leaves falling in the background. It was the perfect day for a wedding…that's for sure…minus the lady bugs and bees. Haha But to be honest, I think it made the ceremony more "us" with all the little laughs, giggles and quirks. Dan forgot to take your advice about not forcing my ring tho. Haha But again…it caused laughter which I think we needed in that moment. You did a great job and were so well spoken. Thank you so much for everything you did for us. Dan and I so appreciate it and won't ever forget it. We will certainly recommend you to our friends and family members for their future weddings. Thank you again Kathleen for everything and for your best wishes. We're so happy. Take care and please keep in touch. 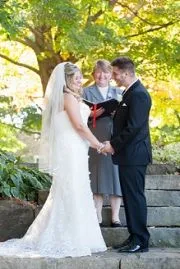 Griffin and Erin
I just wanted to pass along my sincere appreciation to Kathleen, she officiated my son Griffin Douglas' wedding September 27, 2014. She was fantastic, fun, PATIENT with our delays and just a true delight! I would recommend her to anyone getting married. She was an absolutely lovely person. Please pass along our gratitude.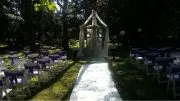 Earlana & Kevin
What can we say about you? You were phenomenal, outstanding...words fail. We were so impressed at how you helped the boys unpuzzle the whole attaching the boutonniere issue, to helping our photographer out by getting people to look at the camera, and the ceremony was beautiful, you were lots of fun and we had some good laughs. Wedding days should be fun because it is the beginning of getting to really learn to laugh at life. Kathleen Everett , Kevin and I want to thank you, we loved our wedding day and you being a part of that day made it even better.