Katharine Tapscott, B.A., J.D.
Katharine Tapscott lives in downtown Toronto and she is delighted to be a wedding officiant. She appreciates both the joy and the importance of your promise to one another and she will work with you to ensure your ceremony is everything you hope it will be. Katharine is married with one daughter. Their family Bernedoodle, George, is a happy boy who loves to play and watch the Raptors with the family. Katharine holds degrees in Psychology from McMaster University and Law from the University of Toronto and is a lawyer with the Ontario government.
Request Katharine Tapscott
Areas Served
Maple, Markham, Mississauga, North York, Oakville, Ontario Place, Richmond Hill, Scarborough, Thornhill, Toronto - Downtown, Unionville, Vaughan Weston, Willowdale
Reviews
Maude & Michael
We just wanted to take the time to reach out and thank you Katherine Tapscott for the wonderful job you did. You were excellent, and we cannot say enough good things about you. You made our special day that much more enjoyable and perfect. Merci, Maude & Michael
Arwen & Julien
Katharine Tapscott we absolutely cannot thank you enough for your part in our amazing day. It felt like we got so lucky with every single detail, including finding you for the ceremony. You brought such a lovely sense of calm to everything and we wouldn't have had it any other way. Thank you Arwen & Julien Aug 2023
David & Ashley
We had Katharine Tapscott as our officiant and she was awesome! Whenever my husband and I had a question leading up to the wedding she was quick to reply and always informative. She had a warm personality and seemed very sincere about her desire to officiate weddings. The actual ceremony went off without a hitch! We also booked a rehearsal with Katharine and she was great about running through the order of things a couple times just to get the nerves out of the way and ensure everyone knew when and where they needed to be on the big day. Overall we had a great experience! June 2023
Soegtrop & Elizabeth
Katharine Tapscott was an incredible officiant to work with. She really listened to our wishes and helped make our ceremony dreams come true. She was responsive, helpful, and knowledgeable. I would recommend working with her and the All Seasons team to anyone. Thank you! September 2022
Alex & Jennifer
Katharine Tapscott was amazing! She is so kind and helpful to us every step of the way leading up to the wedding day! The ceremony was perfect, we absolutely loved everything about it and I would recommend your services to anyone in need. October 2022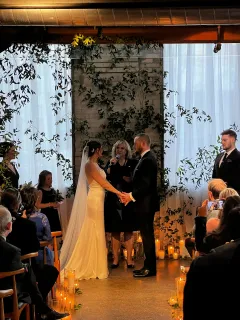 James & Kristy
Katharine Tapscott was absolutely wonderful to work with! She was extremely kind, helpful, responsive, and professional. Leading up to the day, Katharine answered all of our questions no matter how big or small and was very accommodating. It was a pleasure having her officiate our wedding and we thank her for helping to make our day as special as it was! September 2022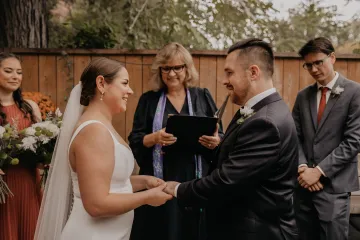 Rachel & Leorah
Katharine Tapscott was so wonderful and kind. We were so happy to have her officiate. She was so organized, arrived early the day of and made everything so easy. Aug 2022
Steph & Irfan
We couldn't have asked for a better ceremony, and you are the main reason for that. Everything ran so smoothly and exactly the way we wanted it. Hard to believe with all the planning we did over the past couple of years, the day completely flew by us! Thank you again Katharine! All the best to you and your family!
Jess
I wanted to send you a quick note to thank you for a wonderful ceremony. It was perfect. Thank you for your help to make the day very special. August, 2022
Margaryta & Yandro
It was such a pleasure having Katharine officiate our Wedding! She truly possesses a special spark and such positive energy. Katharine was always available when needed, answered so many of our questions, and made us feel so at ease leading up to the wedding. After our first short conversation we had no doubt in our minds that she would be the perfect fit for our day! We felt she was just fully immersed in our story and knew exactly what we wanted for our ceremony; intimacy and warmth. On the day of the wedding we had a family member running 20 min late and Katharine was so understanding and patient with it all! Not realizing, I left my hand written vows with Katharine during the ceremony and she was so kind to mail those back to me, even including a sweet note to go along with it. We are so extremely grateful that she was a part of our day! Katharine truly has the talent for it. Oct 2021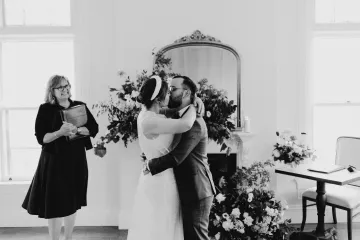 Josh & Cassie
Katharine Tapscott was amazing through the entire process from our initial meet-and-greet to the big day! She is warm, kind and speaks from the heart. The personal touches she put on our ceremony were so heartfelt and her words were so touching and beautiful. It felt like we had known her for ages. She also helped calm our nerves and ensured the ceremony felt relaxed and flowed smoothly. Highly recommend Katharine and all seasons wedding if you are in need of an officiant! Josh & Cassie June 2021
Earl Grey Events
I am a GTA Wedding Planner and Katharine was the officiant for a couple of mine this past January 29th, 2021. She was so quick to reply to any texts/emails I sent, she was extremely gracious and professional when dealing with her over the phone (and while watching her perform the ceremony) and she also performed the ceremony beautifully and with just the right amount of humour to lighten the complicated nature of a COVID/Zoom ceremony. Katharine not only met my expectations I have as a wedding professional but surpassed them like an officiant extraordinaire! I have used All Seasons many times for my clients (including my own wedding in 2017!) and have always been impressed with consistent, great service. Earl Grey Events
Debbie and Nasko
Hi Katharine, Just wanted to share with you some photos from Saturday. Thank you again for the beautiful ceremony. :) Best, Debbie and Nasko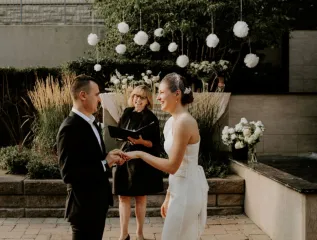 Jen and Tanner
Katharine Tapscott was incredible throughout our entire wedding planning process. She was flexible in arranging phone meetings (as we live outside of Toronto), and in meeting us for coffee to discuss what we wanted in our ceremony. She is incredibly approachable and filled with joy. She understood the exact mood that we wanted for our ceremony and pulled it off with grace. We had countless guests comment on what a wonderful job she did. I hadn't seen Katharine for months before walking down the aisle and I honestly felt as though I was meeting an old friend. It was magical. Thank you for an amazing day that we will never forget! Jen & Tanner January 2020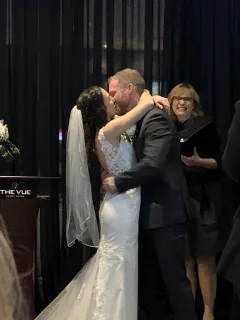 Mike & Claire
Katharine Tapscott was fantastic to work with. She was so professional and organised she instantly put me at ease. We really wanted to make the remarks and vows ourselves. We wanted the legal part of the ceremony to be as unobtrusive as possible. She listened carefully and really understood the type of ceremony we wanted. She offered helpful suggestions and was very quick to create a draft ceremony and to respond to all emails. On the day she was a wonderful calming presence and everything went beautifully. I am so grateful for her understanding and support throughout the process. I can't recommend her more highly. Mike & Claire September 2019
Victoria & Peter
Hi Katharine, I wanted to reach out and thank you again for Saturday. You performed such a beautiful ceremony and your warm presence made us both feel calm and at ease throughout. We could not have imagined it to be more perfect. Thank you!! Oct. 2019
Rob & Cindy
Thank you so much for your beautiful words, kind sensitivity, and superb wedding presentation - you are a true professional and skilled artist. Very much appreciated! All the best.
Edward & Cara
Katharine Tapscott was very accommodating and met with us in person before the wedding in our own neighborhood to ensure we were comfortable with the ceremony. She also ran through the details and timing of everything in advance so the ceremony would go as smoothly as possible. Katharine was very organized, personable and eloquently spoken. You can tell she has a passion for what she does and she takes great care to make sure the ceremony is executed perfectly. We were so pleased with Katharine and that she was able to share in our special day. I would highly recommend Katharine. Edward & Cara July 2019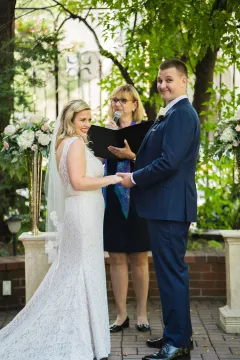 Aurelio & Anna
We really enjoyed Katharine Tapscott as our officiant!... From the first time we spoke on the phone, we knew that she resonated with us and understood what we wanted... We worked together to draft our ceremony, and Anna and I were very happy and pleased with the results!... It was everything we wanted! Thank you, again, Katharine!... :-) Aurelio & Anna May 2019
Graham & Jessica
Katharine Tapscott exceeded all of our expectations during the planning process and at the ceremony. During our introductory call and planning meeting, she instantly removed any stress and made the process fun. She guided us through the ceremony prep in a very conversational way. The end result was a ceremony perfectly tailored to us, without feeling like we put any work or effort into it at all. Katharine was proactive and clear in her messages to us. Of all the variables and moving parts on our mind in the days leading up to our wedding, the officiant was far from our 'worry' list. During the ceremony, Katharine performed exceptionally. She has the perfect balance between being confident and low-key meaning she did not 'take over' the ceremony, something we've seen from officiants in the past. Her friendly demeanor earned her many rave reviews from our guests. The All Seasons office staff was responsive and instructions were clear. The resources provided were helpful in us understanding the ceremony planning process. We will refer Katharine to anyone planning a wedding in the GTA. [September, 2018]
Katie and Nitin
Hi Katharine, We truly had the best day of our lives! You were amazing. Our friends and family have been complimenting you and we were SO thrilled with the ceremony. It was so comforting to look over at you and see your big smile through it all. We can't thank you enough. We wanted the ceremony to be personal and a fusion of our cultures, and this is exactly how it felt. Take care and thank you again.
Nicole & Daniel
Hi Katharine, Thank you for doing such a wonderful job of officiating our ceremony! You were perfect, and made the day feel extra special for us. It was everything we hoped for, and we are so happy to have chosen you to be our officiant.
Lisa & Josh
Thank you so much for everything! We couldn't have asked for a better officiant. You were amazing. Our day was wonderful and the ceremony perfect. Thank you for all your time and attention to helping us with our special day.
Jess & Ben
Katharine, both Ben and I wanted to truly thank you for last night. We absolutely loved your service and thought you did such a fantastic job. Thank you for being part of our special night. All the best.
Audrey & Sam
Katharine, you have our heartfelt thanks for officiating our wedding. You made our special day even more special with your beautiful ceremony. Thank you for being so understanding and caring.
Amanda & Kamran
First off thank you Katharine so much for enduring that heat last Friday! Our ceremony was extremely important to us and it was exactly what we had hoped for. You were able to spend the time with us to highlight what is really important to us and we really appreciate that! Thank you, you were fantastic!
Sarah and Phil
I hope you are doing well Katherine. I think of you and our wedding ceremony often. It really was my favourite part of the day, and when I remember the ceremony I have the warmest feelings of joy. You did such an incredible job of making it feel special and right for us. I heard you performed the ceremony for friends of ours Mark and his wife Carly in October, as well.
Carly and Mark
Thank you again so much for Saturday Katharine. You did an amazing job. You really made us feel comfortable up there! Thanks again.
Evan & Eliot
Thank you so much for performing our beautiful ceremony Katharine. We had so many compliments about how heart-felt everything was, and I think that is mostly due to how much attention you gave us and your amazing spirit! The atmosphere in that tent was magical. I can't think about it without crying! I'm not sure if she already emailed you, but my maid of honour (Kim) got engaged the day after our wedding and told me she was interested in booking you for their ceremony. So hopefully I will see you again soon! Thanks again for everything!
Andrew & Kim
Thank you so much for your help with everything. The ceremony was perfect and exactly what we wanted - everyone loved it. All the best to you in the future.
Lauren and Mike
Katharine, From our honeymoon in the Amalfi Coast, Mike and I wanted to extend a big thank you to leading such a lovely ceremony last Saturday. It was so magical and we received lots of compliments on the feel and flow. This is largely to do with your excellent officiating abilities! We felt so comfortable having you marry us. It was a whirlwind of a day so I wanted to reach out now that we've had time to let it all sink in and thank you from the bottom of our hearts. All the best.