Karen Morley
I would consider it my privilege to perform your wedding ceremony. I live in Ganaoque and I am a proud mother of two adult children, and an even prouder Gram to six wonderful grandchildren. I enjoy golfing and kayaking in the summer and confess to being a bookworm during the winter months. I'm an experienced speaker and enjoy providing pulpit supply for my church when called upon. I can't think of a better way to support my community than to be a wedding officiant and be part of the first step in the joining of two lives.
Request Karen Morley
Areas Served
Battersea, Gananoque, Ivy Lea, Kingston, Lansdowne, Mallorytown, Rockport, Seeley's Bay
Reviews
Rousseau & Madeline
Karen Morley was wonderful and performed a perfect little wedding ceremony. February 2023
Justin & Kate
The service was excellent. Karen was lovely and exceeded expectations. We can't thank her enough. August 2022
Miriam & Carlos
We would like to thank Karen Morley for the special and lovely way she delivered the ceremony It was amazing for us. Every word, the message and the vows, absolutely perfect Thank you for mentioned my parents and my brother. A lot of good feedback from all friends and family. Thank you again.
Miriam & Carlos
Karen Morley was just perfect. She went above and beyond for our wedding ceremony. She made our special day even better with her words, her messages and the way she delivered the ceremony. We requested some special mentions and she did it so naturally and lovely. We have been receiving so much good feedback from all family and friends who share with us in presence and remotely. Thank you Karen!!! You are amazing. July 2022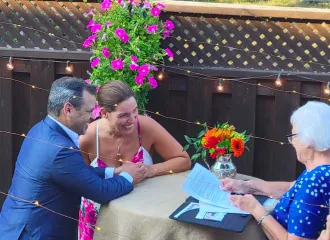 Jocelyn & Tyler
The website matched us with Karen Morely who was absolutely fantastic! We explained to Karen that we were having a surprise wedding & she was 100% on board, she even brought gifts for the babies as a cover story! She was easy to talk to and always available to answer any questions. She made planning the ceremony absolutely stress free. I would recommend her to anyone getting married. Jocelyn & Tyler August 2021
Jessica & Richard
Karen (Morley) was a terrific officiant. She went above and beyond for our wedding ceremony. We were on vacation in Terrace Bay and had decided that after 17 years of being together we would get married. We were provided with Karen's contact information and she did not hesitate to be available in two days. We contacted All Seasons Weddings and arranged for Karen to meet us at Terrace Bay Beach. Karen provided our two witnesses as well (who were also delightful) - which was good because there was no one on the beach that evening! Everything about the evening exceeded our expectations. Karen performed a beautiful, thoughtful, perfect ceremony for us. She was so kind and generous and she will forever be a part of our family. Jessica & Richard 06/07/17