Juli Conard
Juli, who lives in Prince Albert, has a natural ability to connect with people, and is equipped with knowledge, ideas and experience to ensure that your ceremony is as authentic as you are. Juli has a deep respect for the many different ways that people experience Divine in their lives, and lovingly supports all relationships anchored in love. In addition to being a Designated Minister she is also a Registered Massage Therapist, assisting others in connecting their body, mind and spirit for their optimal well being. Her grace-filled gifts are the ability to listen, offer gentle guidance, create a safe place, and support others. In her spare time, Juli enjoys quality family time, meditating, reading and camping. If you are looking for someone to help you personalize a memorable ceremony that reflects both you and your love as a couple, Juli is the Officiant for you!
Request Juli Conard
Areas Served
Port Perry, Greenbank, Prince Albert, Epsom, Blackstock, Janetville, Nestelton, Bethany, Caeserea, Millbrook, Cavan, Columbus, Oshawa, Myrtle, Myrtle Station, Brooklin, Manchester, Raglan, Goodwood, Whitby, Ajax, Claremont, Copins Corners, Uxbridge, Udora, Leaskdale, Sunderland, Blackwater, Seagrave, Cannington, Beaverton, Woodville, Manilla, Lindsay, Omemee, Little Britain, Oakwood, Valentia, Zephyr
Reviews
Josh & Alisha
Our experience with Juli [Conard] was incredible. The ceremony was better than we could ever imagine. Juli was professional, kind and very well spoken. Even our family was impressed with Juli. We will recommend Juli to all of our friends and family. Josh & Alisha, June 2021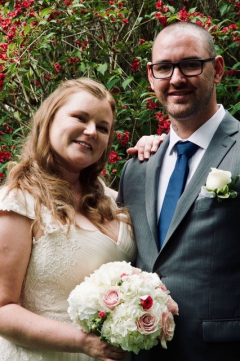 Emily & Dylan
Emily, myself, and all those who were present and watching virtually loved the ceremony. What you put together for us was genuine and something that we will always remember. We had a lot of people who were watching online express how much they loved what you said and how well crafted it was to suit who Emily and I are. Your guidance and help through the process was incredibly helpful and something we are extremely grateful for. Emily & Dylan, August 2021
Erin & Scott
Thank you for making our wedding so special and personal! We are so grateful that you were our officiant and brought with you such warmth and light. Erin & Scott, June 2021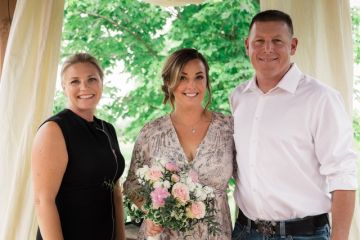 Harley & Alycia
We had a great experience with Juli Conard she was amazing! We would highly recommend her to anyone looking for an officiant! Harley & Alycia October 2020
James & Victoria
"Thank you so very much for doing such an incredible job helping to organize and perform our wedding ceremony! Everything was absolutely perfect and felt so personal and true to us! We are so grateful for your positive, cheerful attitude and constant communication and reassurance. You made it so easy and far less daunting for us and we are so lucky to have found you!" - James & Victoria September 2020
Taylor & Carlie
Juli Conard was amazing and made us both feel comfortable. We loved having her there and wouldn't have wanted anyone else!!! Taylor & Carlie August 2020
Brian & Shannon
Juli Conard exceeded our expectations in every way! Such a pleasure and easy to work with. Thank you for everything , we will be sure to recommend you without hesitation! Brian & Shannon September 2019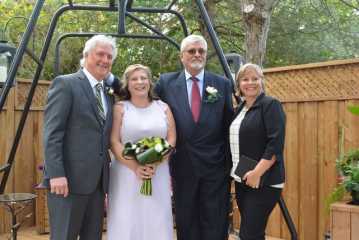 Massey & Melissa
Juli Conard went above and beyond our expectations! She always sent e-mails to make sure everything was looked after! Thank you! Massey & Melissa July 2019
Meghan and Dee
Thank you so much for guiding us through this process. You brought a sense of calmness and stability which was very appreciated as we approached our big day. You have been a joy to work with. You will be highly recommended to any of our friends/family looking to get married in the area. Thank you for everything you have done for us,
Jason and Tammy
Thank you so much for being our officiant Juli (Conard)!!! Since our wedding, all of our guests raved about our beautiful ceremony and completely amazing wording. We are forever grateful to you and will never forget your guidance, advice and professionalism throughout our journey in becoming married. Jason and Tammy July 29th, 2017
Trevor and Breanna
Juli (Conard) was fantastic during the preparations for the ceremony and the day of. Very responsive to emails and making sure we got everything covered. Come the day of, she was brilliant with guiding us through everything and helped make sure the day went smoothly. I would definitely recommend her!! Trevor and Breanna June 22nd, 2018
Colin and Nyl
Thank you to All Seasons and especially Julie (Conard) for a wonderful day...Julie was out standing in her presentation. All of our guests just loved her calm and smiling demeanor, even through a small hiccup...We could not have had a better wedding officiant for our day. Thank you for everything! Colin and Nyl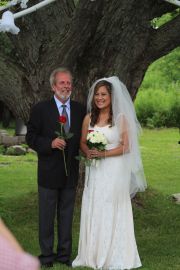 Aislin & Spencer
Juli Conard was wonderful! She was flexible with our ceremony, made herself available for a rehearsal and delivered our ceremony in a manner that was both compassionate and professional. We were so lucky to have her as our officiant on our special day!