Judith Ritcey
Originally from Halifax, my family and I now live in Penticton, located in the beautiful Okanagan Valley. I married my childhood sweetheart, and we have one son and three beautiful grandchildren. I am credentialed as an Ordained Minister with Clergy Support Church. I would be honored to work with you to make your wedding day one of loving, happy memories -- memories you will carry with you for your entire lives. My wish is to provide you with a caring presence on this, your special day.
Request Judith Ritcey
Areas Served
Penticton, Naramata, Summerland. Kaleden, Keremeos, OK Falls, and Oliver
Reviews
Florian & Rebecca
It was so great having Judi [Ritcey] officiate our wedding! She helped our big day go seamlessly and we couldn't have asked for a better officiant to marry us. She was great to deal with and has excellent communication skills. She is outstanding at her job and we wouldn't hesitate to recommend her for any other wedding. July 2022
Sydney & Andrew
Judith Ritcey was absolutely wonderful!! We had no idea what we were doing and she made the entire process so fun! Would definitely recommend her to anyone, she made our day so special! July 2022
Karly & George
Thank you to Judith who gave a great ceremony on the best day of our lives :) July 2022
Kevin & Nicole
Judith Ritcey went above and beyond for us. She made the ceremony personal which was exactly what we asked for. A lot of our guests enjoyed the length of the ceremony and had very nice things to say about the day. Judith played a huge role in helping us plan our day, and even though we don't plan to marry again, we would recommend Judith for anyone getting married in the future. June 2022
Rick & Lana
Judith Ritcey was an amazing wedding officiant, very loving, kind and funny . We loved her. June 2022
Ailsa & Dave
As Dave and I wrap up our honeymoon, we've been reflecting back on our wedding and the magic of that day. In all the excitement and fun of the wedding, the ceremony stands out as one of our favourite moments. We wanted to reach out to thank you for contributing to the Dream Big Wedding giveaway. We were so impressed with the content and flow of the ceremony and the way you delivered it. You helped put us at ease so we could be truly present in the moment. Thank you for your generosity and for helping make this a wonderful memory to carry us into our married lives. Wishing you all the best, Ailsa and Dave Oct. 2021
Karlee & Warren
Judith Ritcey was wonderful to work with. She is professional, kind, and very helpful. She went above and beyond for us, a couple who rescheduled our wedding twice due to Covid and then decided to elope! Judith was easy to contact and responsive to any questions we had. The day of, she was efficient and extremely organized. Her ceremony was perfect - simple and beautifully written. She created a ceremony that was perfect for our tiny wedding and reflected who we are as people. We would recommend Judith's services in a heartbeat! Karlee & Warren July 2021
Jagger and Jamie
It was such a perfect day. It was everything we wanted in a small/intimate wedding ceremony. It was lovely working with you and you were able to catch our personalities so well in front of all of our family and friends! Such a wonderful day Thank you, Jamie and Jagger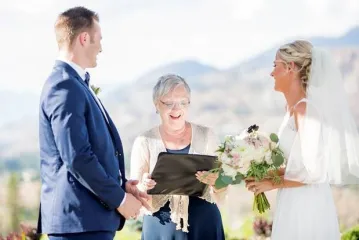 Adam & MaryAnne
Judith Ritcey was wonderful! Performed the ceremony to the highest standards with the right touches of humour, tenderness, caring and guidance! Can't thank her enough for making that part of the wedding so memorable! Adam & Mary Anne September 2020
Shawn & Natalie
Judith Ritcey exceeded our expectations! She was so welcoming and so helpful leading up to the ceremony and on the day of. We loved the ceremony and her delivery. We couldn't have asked for a better person to marry us. Thank you Judith! Shawn & Natalie August 2020
Adam & Mikayla
Judith Ritcey was amazing to work with and I have already recommended her to others. Thank you ! Adam & Mikayla August 2020
Tyson & Katherine
Judith Ritcey was amazing! Thank you for making our day so special . Tyson & Katherine September 2019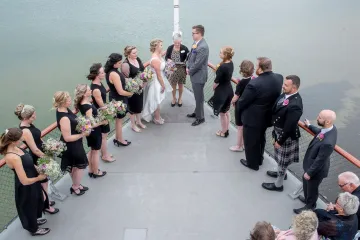 Rory & Wendy
Words cannot express how grateful that we hired Judith Ritcey ! She was immediately personable when we first spoke to her over the phone. After speaking to several potential pastors/officiants/commissioners, we immediately liked Judi, as she had a sense of humour, was obviously experienced, and genuinely cared that we had the day that we envisioned. She was flexible and willing for us to devise the ceremony exactly how we wanted. She sent us sample scripts, which we could either use as is or revise to our liking. Because of Judi, we created and executed a ceremony that was personalized and very special to us. She met with us before the wedding and went over every possible detail to ensure the day ran smoothly. She coordinated with the pianist before the ceremony to ensure he was primed for his cues. She truly is such a special gem of a person and I cannot recommend her enough! She is fabulous and will ensure your wedding is perfectly executed. Rory & Wendy August 2019
Thomas & Katherine
Judith Ritcey warm and personable manner, along with her clear communication and humour added a very special touch to the entire process and ceremony. With her services, she gifted us with a full copy of the ceremony printed out on lovely paper for our wedding memories. She is a wonderful person to work with, and is very accommodating in many ways. Thank you Judith for adding heart to the ceremony! Thomas & Katherine July 2019
Cody & Jessica
Judith Ritcey was AMAZING!!! She is such a fun, kind and thoughtful person. She made our day extra special. She found the most perfect blended family ceremony, and let us pick and choose parts we loved. It was the most special day, and we LOVED having her there with us. 10/10 recommended her and the company to anyone getting married! Cody & Jessica August 2019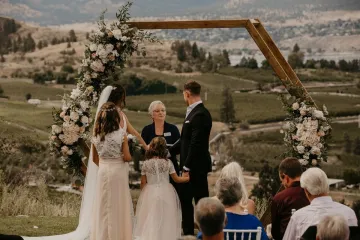 Russell & Kaitlyn
Judith Ritcey did a fantastic job... she worked with us to ensure everything was perfect, including incorporating all of our traditions. She worked seamlessly with our coordinator. I'd highly recommend her to anyone. Russell & Kaitlyn July 2019
Andrew & Jody
Judith Ritcey was very friendly, organized and helpful throughout the whole process! Thank you Judith. Andrew & Jody June 2019
Vanessa & Jeremy
Judith Ritcey was wonderful! She made us feel very comfortable and made the ceremony very special and personal. When she spoke the words they were heartfelt and genuine and it was a wonderful day, thank you !! [October 2018]
Adria & Scott
We had Judi Ritcey officiate our wedding and she was fantastic! Meeting her beforehand was a pleasure and she did our ceremony exactly as we wanted. I could not have asked for a better more friendly officiant and would highly recommend her for your upcoming wedding! Thank you Judi! [September 2018]
Emily & Yuri
Judith Ritcey was the perfect fit for us! We really enjoyed working with her. She made our ceremony special and memorable. [September, 2018]
Chelsie & Byron
Judith Ritcey was wonderful! We loved her. She was the best. I was VERY happy with her, she made the emotional day run so smoothly. [September 2018]
Julie & Scott
Many thanks again Judith! We had so many rave reviews about the quality of the ceremony it's no question that you outdid yourself ringing in our marriage. Thank you so much for a very special wedding ceremony that will go down as one of the best weddings any of our guests attended. Much love!
Krista & David
Judith (Ritcey) was so awesome. She helped me create the perfect vows for my ceremony, she was available and organized. Couldn't have been happier! Krista & David June 30th, 2018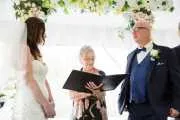 Kimberley & Scott
Judith Ritchey was very personable, fun, experienced, professional, with timely communication. Judith was really fun to work with and we appreciated her help to create our perfect wedding ceremony. She asked helpful and thoughtful questions to prepare and execute her role, and also good direction of what she required from us (documentation, etc.). During the ceremony, Judith was confident and professional as a speaker, fun, and everyone loved her bright attitude! We feel grateful to have had her as our officiant and will miss working with her. Thank you :)
Sandi & Bernie
Judi Ritcey was an absolute joy to work with. She felt like part of our family. Thanks for everything Judi! Sandi & Bernie
Shauna & Cody
Judi, We would like to extend our most sincere thank you for your hard work and helping us create a beautiful memory with our friends and family that day. Thank you for your beautiful ceremony and walking Cody through the process. Our guests mentioned your beautiful words and how fitting the ceremony was for us as a couple. Thanks again so much!
Lisa & Ken
Judi Ritcey was amazing to work with. We met up and chatted about what we would like to said at the ceremony. If either of us had any questions, we were able to call or email her and she responded in a timely manner. Judi is professional, and I would recommend her to anyone!
Tara & Steve
Judith Ritcey was so welcoming and we felt so comfortable with her. She followed our ceremony wishes. Judith was also very helpful in preparation for the ceremony. Everything was handled professionally and efficiently.
Teresa & Chad
Judi Ritcey exceeded our expectations she was like a part of our family. We just loved her prescience she made our day very special.