Rev. Judith Davidson
I have believed from an early age that Love is Love, regardless of any stereotypes. I am a Reverend at the Divine Light Church and feel all people have the right to express their religion and spirituality in their own way. I want you to feel truly comfortable with my services. You can relax on your wedding day, knowing you will be taken care of, my only concern is providing you a ceremonial experience that is all you want it to be. I am especially flexible when it comes to interfaith and same-sex unions. I am open-minded and willing to work closely with you to create the kind of ceremony you truly want. This is your day and I want you to remember it forever knowing the service is the way you wanted it to be.
Request Judith Davidson
Areas Served
Ajax, Markham, Oshawa, Pickering, Scarborough, Whitby
Reviews
Ashley & Jennifer
Jude Davidson was amazing. She exceeded our expectations and ensured the day went off without a hitch. She was kind and thoughtful, everyone loved her energy, and she ensured my wife and I were comfortable and taken care of. June 2022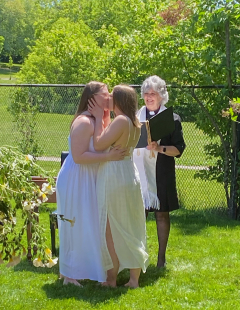 Liz
Thank you Rev. Jude (Davidson) for working with us and the large family and doing a unique wedding ceremony for us including the kids and grandkids. This made our day so special for us.
Kim
Rev. Jude (Davidson), Thank you for performing our wedding in the back yard of our house. I can't thank you enough for talking with everyone and making them feel at home while I took a little longer to get ready than planned. Everyone enjoyed the ceremony and told me the knot typing was special and they loved the wording. Kim
Jennifer & George
Rev. Jude (Davidson) gave us the ceremony that we wanted; we are non-traditional Goth people. She understood my wanting a Day of the Dead-type ceremony. I wore a black dress; my bridesmaids wore grey and Rev. Jude wore a white dress with butterflies to celebrate my Mom in heaven. We got married in a small wedding chapel and Rev. Jude stepped in and helped decorate when some of the bridal party ran late. She made George and my dream ceremony come true. Jennifer & George