Judith Andrade
Judith is a dedicated wedding officiant who lives in Alliston. She brings years of experience in community nursing and holistic wellness. She sees her work as a way of helping to make the mind and body connection in healing. Participating in a wedding ceremony to formalize the relationship between two people in marriage is a way of extending her commitment to an ideal of Love as the greatest healer. Judith is comfortable working with couples from a variety of backgrounds and cultures.
Request Judith Andrade
Areas Served
Alliston, Angus, New Lowell, Creemore, Glen Huron, Stayner, Wasaga Beach, Barrie, Beeton, Tottenham, Palgrave, Bolton, Vaughan, Cookstown, Bradford, Schomberg, Newmarket, Rosemount, Shelburne, Orangeville, Dundalk, Singhampton, Glen Huron, Duntroon
Reviews
Jessie & Linda
Judith Andrade was wonderful . Planning my wedding with her help was Easy! Thank you ! August 2023
Alwyn & Claudette
Thank you so much , we had a wonderful wedding ceremony! Judith excided our expectations and we cherished each and moment. The best part of the ceremony was when we said our vows ,and we're pronounced Husband and Wife. Thanks again Judith, you made out Dream wedding come true. June 2023
Sheyenne & Cobin
Judith Andrade did an amazing job! She was able to make our ceremony so amazing, she did a great job and made my husband and I very happy. She included all aspects of the ceremony that we wanted and I highly recommend her for any ceremony. Her calm and cool collective helped us to feel good about the day. September 2022
Heather & Jonathan
Judith [Andrade] was beyond perfect. She is so good at what she does, and we felt so comfortable standing with her. We cannot say enough nice things about her. Would recommend her to anyone! July 2022
Stephen & Pana
Judith Andrade was amazing and very understanding of our lack of organization. Thank you for making our day perfect . August 2022
Brittney & Elizabeth
Judith Andrade was such an amazing officiant. July 2022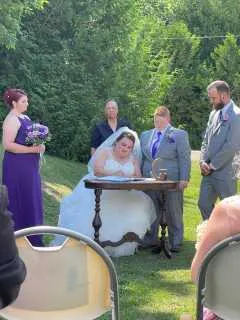 John & Jeannette
We were very happy with Judith, she was very efficient, helpful and friendly. Judith arrived on time and guided us through the ceremony and put us at ease. It was a wonderful experience. October 2021
Clayton & Lacey
Judith Andrade was wonderful. She did a fabulous job, and made our day even more special. Honestly we can't stress enough how great Judith was we will absolutely recommend her to other couples. September 2021
Alexander & Alexandra
Judith was exactly what we were looking for in an officiant and she went beyond our expectations! She was an amazing addition to our day and would hire her again if we could (not that we're planning on another wedding). Our guests all raved about how she was the best and we were so happy to share out big day with her. August 2021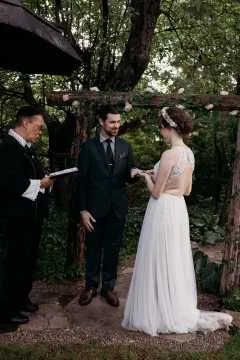 Jason & Ashley
Judith Andrade was amazing to work with from beginning to end. She's s very kind and understanding. She makes you feel comfortable, like you have known her for years. I would recommend Judith to any and everyone. June 2021
Stephen & Anne-Marie
Judith Andrade did a fantastic job.She helped make our wedding ceremony beautiful and memorable. Judith made the ceremony very personal for us and our friends and family. Thank you Judith , you made our day wonderful. Stephen & Anne-Marie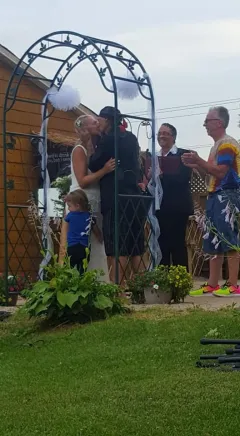 Lindsay & William
Judith Andrade was a perfect fit for us. Everyone complimented the ceremony! She was incredibly accommodating and a pleasure to have. Would recommend to everyone. July 2019
Chantal & Ken
I chose Judith Andrade as my officiant because of her calm and gentle demeanor (I had met her prior to asking her to officiate). Judith was lovely to work with, she was thorough and accommodating to our wishes. I believe Judith is a perfect fit for a super romantic couple as she has the ability to make you feel so comfortable that you only focus on your spouse! Judith went above and beyond exceeding our expectations. I would highly recommend Judith as an officiant, she's a natural fit for "love"! September 2018
Gertrude & Bryan
Judith's services were ideal for the small setting in which we had our wedding: an old house/B&B and a few family members and close friends. Her quiet manner created an atmosphere that was warm and informal, but recognized the significance of the occasion. It's not a common experience to have your sister officiate at your wedding, but I feel blessed that Bryan and my wedding day was made even more special by this family connection.
Florence & Wayne
Judith Andrade was fabulous. She went above and beyond the call of duty with serenity and kindness. Our daughter had a minor roadside accident about 15 minutes before we were to start, and Judith accommodated us with concern and compassion.
Abby & Bryan
Judith Andrade was by far the best choice! She was cool calm and collected and knew just what to say and how to guide us through the day. That women knows her stuff and was very thoughtful. Can't think of enough warm lovely thing to say about her. Thank you so much!
Amanda & Ian
Judith Andrade did a beautiful job with our ceremony. She made sure to speak at a pace where everyone could easily follow but were not bored and kept things interesting. We really appreciate her being such a big part of our special day!
Krystal and Shane
Judith Andrade exceeded our expectations. She was very professional and friendly. Judith did an excellent job preparing Shane and I for our wedding day. Judith was very professional and did a great job on the day of our wedding. Shane and I are very happy with the service she provided.